Event: Chasehill Poison Ivy-Champion; Wynot Pete-Runner-Up
Result: North American Woodcock Championship
Location: New Brunswick
Post Date: Nov 21, 2022
Submitted By: Russell Ogilvie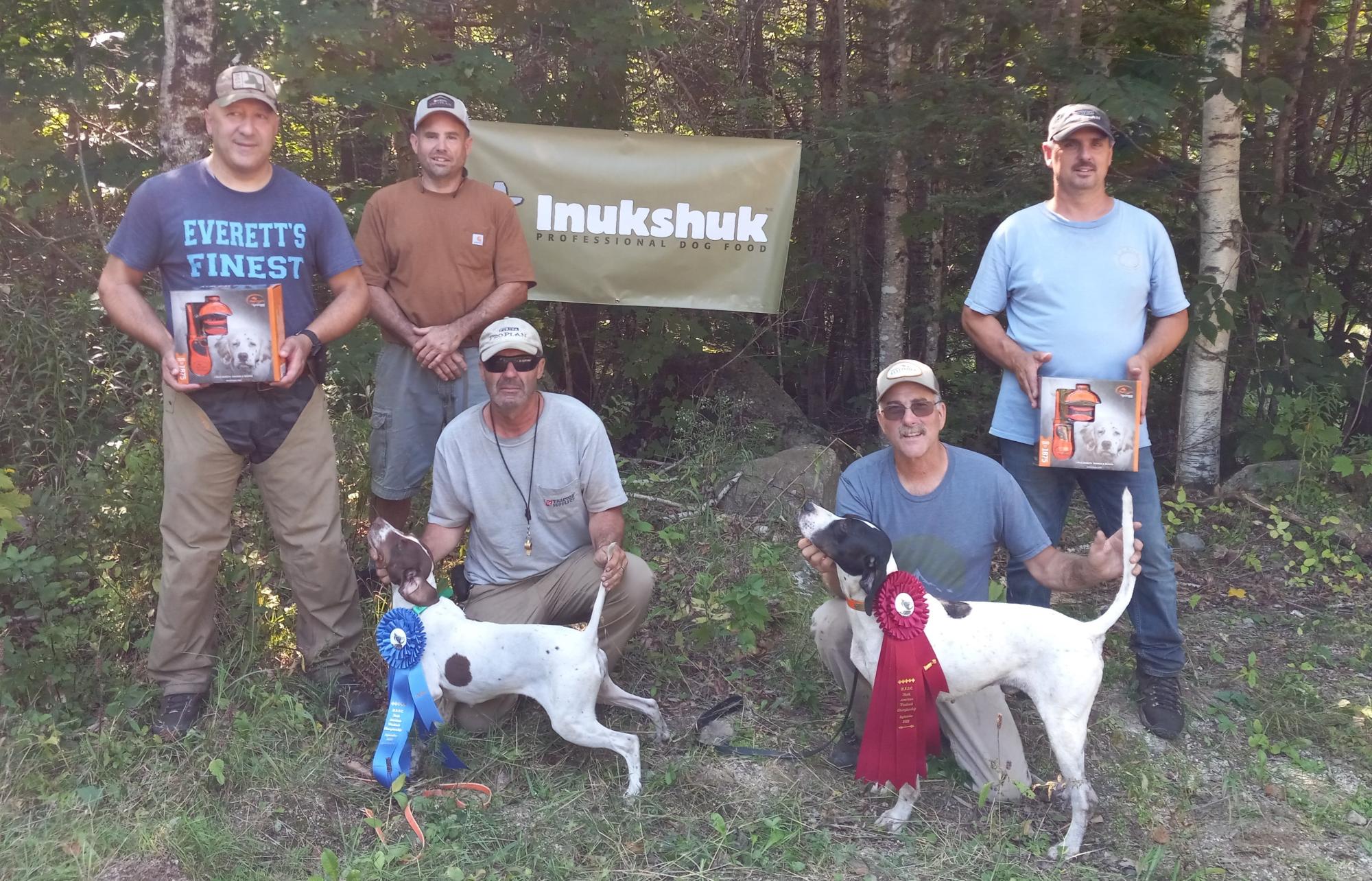 North American Woodcock Championship Winners. Front John Stolgitis with Champion Chasehill Poison Ivy Steve Forrest with Runner-Up Wynot Pete. Back Judge Eric Rizza, Allan Raiano, and Judge Leonard Sinclair.
The 50th running of the North American Woodcock Championship kicked off on Friday, September 9. What a difference a year made, both good and not so good. Crossing the border was once again fluid but as in most trials, weather plays a key role. Last year was torrential down pours, this year was beach weather. Preparing your dog and yourself to compete in not so perfect training conditions is so important and it showed this year.
The champion, Chasehill Poison Ivy owned by Allan Raiano and handled by John Stolgitis came out of the 11th brace. Allan was part of the gallery so he saw her performance first hand. Ivy was braced with Upper Ten Hot Rod, a nice young pointer owned and handled by John Adsit from Vermont. Both dogs were cut loose in 80 degree temperatures down the hill on Diggity Stream. It was a little fortunate that most of the course was on the shaded side of the hill. Ivy started off a little slow, not seeming to have her normal drive. As we strolled down the trail, Rod worked the cover at a moderate pace while Ivy ranged a little farther and deeper. Still not laying down the performance of previous braces. Ivy's bell fell silent at 13:00 to the right of the course. She was quickly spotted standing in some mixed growth. As Stolgitis moved in to flush, everyone slammed on the breaks and stopped to listen. And there it was...the unique sound of a grouse cluck. Out in front of Ivy stood a big ole drummer in all his glory fanned out. Once Mr Drummer realized the situation was not good, he thundered away and Ivy had her first find. The grouse sent Ivy into a new gear and when she was turned loose, she laid it down. Out in front and in the pocket making it easy for the judges to understand what was happening. Ivy stopped again at 26:00 but nothing could be produced and was moved on. In most cases, as a gallery member, it's not often you get to see much of the action at coverdog trials. At 31:00 Ivy treated everyone in tow as she was coming in from the right and as she hit the trail, she wheeled and slammed on point for everyone to see. Stolgitis stepped in and a grouse blew out just in front of her. After some mud puddle cool down, back to work she went. At this point, the heat had gotten the best of Tucker and he was picked up. Ivy went deep to the right and was crossing over out in front when her bell fell silent for a third time. This time the gallery got to see birds blow out as she had nailed a large brood. With plenty of time left, across the bridge and into the sunlight we went. Ivy did not disappoint as she drove up the hill until time was called. Ivy, a first year shooting dog, is not new to the podium. In her derby year, she notched her first championship as well as the honor of runner-up in the Invitational.
The runner-up, Wynot Pete owned and handled by Steve Forrest came out of the last brace of the trial.The 16th brace was a hot one and everyone was feeling it. Judges had a number of dogs to choose from so it was get it done or grab your lead. Pete was braced with Duckhook (Stolgitis) on Cassidy Brook. This course is a nice flowing course and tends to be one of the better bird course year after year. Up until this point, birds had been seen but not a single bird had been pointed.The final brace was cut loose and both dogs drove hard down the trail. Brute would be the first to return and cut back in to check the raspberry patches out. Pete was still deep, on the edge of the bell. Forrest walked on listening with the judges of the light ting out in front. Dogs sitting in a box for days before they run often have some pent up energy to burn off and once he was done, Pete came back, checked in, and went to work. As we passed the bog, Pete's bell fell silent to the right of the course at 15:00. As we searched, Brute's bell fell silent to the left of the course. Forrest was able to locate Pete in short order and as he worked out to the right of him, I watched Pete's eye's move from right to left making it obvious he saw something I couldn't. Forrest quickly made his way over and sent the grouse shooting out over the gallery. With all in order, back to the course and up the trail he went. Brute however was less fortunate. After a long search, he could not be located and the tracker was called for only to be found pointed with a grouse in front of him. As we walked, wondering when summer was going to cool its fire, the second judge caught up to us and had the opportunity witness such a fine performance. Pete, with the temperatures nearing mid-80's just plain worked and grinded it out. The biggest challenge that Forrest had was trying to get Pete to come in for water! When we popped out of the woods and onto the final stretch of road, it would have been easy for a dog to let down and or even quit. Pete had nothing like that in mind. He stayed deep and to the front with more run in him when time was called.
The 50th running of the North American was a good one. A strong field was presented to Judge Eric Rizza and Leonard Sinclair. Both fought the heat and the cover to make sure every dog received their attention. When judges have to talk often after the conclusion of a brace, you know the field is a quality one. Good coverdog judges are hard to come by and we thank them for taking time away from their jobs and family to support us.
The North American would not even be possible without the Maritime Bird Dog Club. In particular Bob Little. Many people know him for those who don't, Bob is a diehard bird dog man. His passion and his belief that field trials make better bird dogs is second to non. While the club has many members, we are spread far and wide so it was up to Bob and Donald Henderson to get everything ready. No small task to say the least. Club members and the trialers thank them for their tireless work. Well, if you have never been to the North American, then you haven't had the opportunity to stay at Normy's aka the Hoof and Paw B&B. I dare to say that it has to be one of the best places to stay at for a field trial. Plenty of space to stake out dogs, everyone stays at the same spot, its low key, great social atmosphere, and the food is great with plenty of it. Ah yes...and the stories.. Every trial is supported in many ways. We are proud to have Cory Nutrition, the makers of Inukshuk dog food, as a great sponsor of the North American. They graciously covered our advertisement and provided items for our raffle. On Friday, they were in attendance to provide updates on their product line and to answer any questions we had. They then stayed to watch and video some of the trial. I'm sure you can go to their site and located the footage. Great guys, company, and product. In the world of never ending dog food, they have come to the forefront. Last but not least we would like to thank Sport Dog Canada for donating the collars for this year's winners. We work our dogs hard and through some of the toughest conditions around. We need quality gear and Sport Dog produces it. If you every on the fence about attending, lean over and come. It's a great trial!
The Running
Springbrook Maximus (Ogilvie) and Wild Apple Hard Cider (Doherty) drew first brace of the championship. With some moisture still on the ground, the dogs were cut loose on Mann Rd. The gallery was large as everyone was excited to kick of the trial. Max and Cider drove forward. Action started early as Max worked the right side of the trail and stopped at 9:00. Cider came in and stopped as well. Max was located with Cider backing. Ogilvie flushed sending a pair of woodcock out across the road. With dogs collard back to the course, down the road they went. Max stopped just of the road on the left this time but nothing was home. Cider had moved forward and nailed a woodcock at 21:00. Max would be next as he stopped at 25:00 with a woodcock on the right of the course. Cider went back in action with another woodcock find at 35:00. After turning into the woods, Max would stop to the right at 39:00. When he was located, he didn't look sure of his self and he was taken on. He drove up the course with Cider working forward as well. They both hit the clearing with Max entering a peninsula. Max's bell stopped and shortly after Cider's did as well. After the dogs were located, Cider was honoring Max. The first flush attempt was unsuccessful and Max was relocated, He surged forward only to slam on point again the open woods. Again the flushing attempted failed and he was sent on only to come to another sudden stop. This time his eye movement showed a running bird and with an aggressive flush, the grouse was sent flying. Cider got right back in the mix with a woodcock at 48:00. Max would stop at 49:00 after we crossed the woods road but could not be located. He finally moved on just as time was being called. Cider finished his run with a stop to flush on a woodcock at 50:00. A great start to the trial.
The 2nd brace of the day was Elhew Snakecharmed (Doherty) and Chasehill Little Izzy (Stolgitis) on County Line South. Both dogs broke away strong. They made it across the powerline without much trouble. This turn, for whatever reason, tends to grab dogs and make it challenging to move forward. The dogs and the large gallery walked along. Izzy gliding through the cover going strong. Lizzy was running well and both dogs seemed to feed of each other. As we made the corner, Izzy's bell stopped to the front. As Stolgitis search, the gallery called point as they could see her standing out ahead. When the handler made it to her, a brood of grouse erupted from everywhere with all in order. With dogs once again moving forward, Izzy's bell stopped again at 57:00 within sight of the course. As Stolgitis moved in to flush, his brace mate came in to help him ending her day but everything was in order for Izzy's. With her run, Izzy was a dog the judges carried until the end.
The 3rd brace of the day broke away of County Line North. This course is very similar to county line south, we just break away in the opposite direction. Ralphies Chasaehill Rip (Stolgitis) and Magic Mist Sydni (Dahl) broke away. With no action before the powerline, the handlers worked to get them across. Just after we crossed, Rip was forward and Sydni was driving hard. Rip stopped out ahead at 16:00 while Sydni moved out to the left. As Stolgitis flushed, Rip moved up and ended his day. As this was going on, Sydni's bell fell silent but it was hard to pin point her location and after some searching, the tracker was called.
Brace 4 included Daddy's Little Boy Butch (Stolgitist) and Elhew Snakewood (Doherty). With the temperatures starting to climb, the dogs took of down the opening breakaway of Cassidy Brook. Both making a strong cast. Cobe would be the first to return but went back out. Unfortuantely both dogs had energy to burn and they missed some quality cover near the breakaway. Cobe would stop just of the trail at 14:00 but went with a woodcock. Butch, still making bold moves, returned and abruptly stopped at 25:00 in the trail. Stolgitis, not liking his posture, moved him on and nothing was located. If my math is right, Butch will be turning 8 but his run did not indicate that. We laid down a youthful race and with time running out, he stopped. Butch was located but was sent on but he could not pin anything down.
Brace 5 had Panola Bacon (Stolgitis) and Moonlight Crown Jewel (Joyal) heading down the hill on Diggity Stream. By this time the temperatures were in the 80's and the dogs needed any water they could find. Bacon had one of the better ground races of the trial but came up empty. The heat got to Crown and Joyal picked her up at 44:00.
The last brace of the day, brace 6, had Sunkhaze Viera Masardis (Flewelling) and Carolinas Great Pee Dee (Joyal). Lakeland is a great course for showing a dog as it runs through older growth timber with pockets of softwood and raspberry patches and it holds birds. Perfect for a driving grouse dog. Unfortunately, this go around had nothing to report other than Flewelling's derby, Viera 's had a mature ground race and with even one find, might of led to a long judge's discussion.
Day 2:
The morning started out with some welcoming fog and cloud cover. The heat was coming, we just weren't sure how long we had. Chasehill Hidden Jewel (Stolgitis) and Mooselook Fionn) McNulty were let loose on Mann Road. Both dogs moved well down the road but we didn't have any action like the previous morning. The handlers cut into the woods and Fionn eventually stop at 39:00 to the right of the path. A bird was seen lifting out but was not witnessed by either judge. Juju would came in to honor. Both dogs made it too the blueberry field without any success.
With the cloud cover holding on, Brace 8 broke away at County Line South. Sweet Southern Belle (Little) and Mooselook Mac (McNulty) had drawn the honors. Belle had other thoughts than trialing today and she got caught up in the corner and the tracker was called. Mac, had the right frame of mind and crossed the powerline and went to work. Mac's bell fell silent at 20:00 and McNulty produced a woodcock for his setter. With that find, Mac went into a different gear and really started to work. He was rewarded again at 35:00 with a mannerly grouse find to the right of the course. Mac laid down a solid ground race that might have been hindered do to the lack of a brace mate. Mac would nail his third find of the morning with a grouse just of the trail at 55:00. He would suffer an unproductive at 58:00.
Brace 9 had Wild Apple Boa Constrictor (Doherty) and Movelle's Chewy (Forrest). Both dog broke out into the first part of the powerline. Chewy going to the right. Forrest was able to get him to swing back across. Bo was not showing any signs of a strong race and was picked up. Chewy stopped to the left of the course at 12:00 and could be seen by the gallery. Forrest flushed but could not produce a bird. Forrest decided to take him back to the course and turned him loose. Chewy cut back down to the area he had pointed and was coming back up when a grouse blew out and ended his day.
With the sun showing all its glory, brace 10 had Wild Apple Snake Charmed (Doherty) and Little Miss Margarette (Stolgitis) cut loose on Cassidy Brook. Both dogs had strong break away's and missed some likely cover. Peppa returned earlier and hunted well. Margarette ran well and had a stop at 14:00 to the right of the course. Stoligist could not produce a bird and had an unsuccessful relocation. Both dogs finished the hot hour without any bird work.
Brace 11: Reported Earlier.
With the sun at our backs and the hill to the front, the final brace of the day included Movelle's Nino (Forrest) and Miramachi Rivers Real Coy (Little). Both glided through the woods. With bell's being similar, it was tough at times to identify who was doing what other than they were out in front. Nino looked really good going through the timber and for a good portion of the hour the heat didn't seem to phase him. However, Forrest noticed that when he came in, he laid down and decided not to risk it and picked him up. As we turned the corner at the old log yard to complete the last 15 minutes of the course, Little looked at a raspberry patch and made a comment about a likely grouse location. As Coy skirted the edge and everyone walked by, a brood of grouse suddenly blew out on cue. As people chuckled and shook their head, all we could do was move on. Less than 5 minutes latter a grouse was walked up and then a couple of more. As Coy swung in, birds were just randomly getting up. It didn't end well for Coy as he did not stop ending his opportunity. Birds seemed to bust up out of the raspberry patches and trees for the next 100 yards. Easily a dozen or so birds in that span.
Day 3
With very little dew and no cloud cover, day 3 was going to start out hot and quickly get worse. Old Glory Ben (Parsons) and Whynot Sully (Forrest) headed of down Mann Rd. Ben had some legs to him and hunted deep to the left. Ben would stop at 16:00 on the edge of the road but was sent on. He hung around the area for a bit before heading to the front. Sully was showing a moderate race as we turned into the woods. Sully would start and stop off the right. Forrest went in and decided that nothing good was going on and picked him up. Ben would move strong to the front. Just after we crossed the old road, his bell fell silent at 45:00. Parson's and the judges had missed him and as the gallery walked up, point was called as a little piece of orange was seen in the green growth. As the handler got close, a grouse lifted and all was in order. Ben would hit the blueberry field going well and would stop one last time to the left. After a long search, Ben was located but nothing could be produced.
Brace 14 included Calamy's Soul Man and Ralphies Chasehill Molly on County Line south. Both dog made it easily across the powerline and into the bigger woods. Molly running a solid race for a fall derby. Elwood was forward and going strong. The gallery walked up birds early but neither dog was near. Elwood would be the first to stop deep to the right at 47:00. There was a long search and even with a tinkle of his bell, he could not be found. At 58:00, he had enough and moved on. Molly was forward and stopped at 56:00 on a woodcock will all in order.
Movelle's Pete (Forrest) and Cairds Southern Child (Henderson) had hot conditions for brace 15. Rory and Pete had some legs and were challenging to handle. Rory had a stop at 14:00 but kept relocating until finally moving on. At 36:00, it looked like Rory was going to run himself out and with the heat, Henderson did the wise move and picked him up. Pete would stay down a little longer but he too was taken up.
Brace 16: Mentioned earlier.
When it was all said and done, we moved 50 birds for the trial. 38 Grouse and 12 Woodcock.
McAdam, N. B., September 9
Judges: Eric Rizza and Leonard Sinclair
NORTH AMERICAN WOODCOCK CHAMPIONSHIP [One-Hour Heats] - 27 Pointers and 5 Setters
Winner-CHASEHILL POISON IVY, 1694453, pointer female, by Panola Bacon-Chasehill Little Izzy. Al Raiano, owner; John Stolgitis, handler.
Runner-Up-WYNOT PETE, 1680454, pointer male, by Wynot Atom-Northwoods Maddie. Steven Forrest, owner and handler.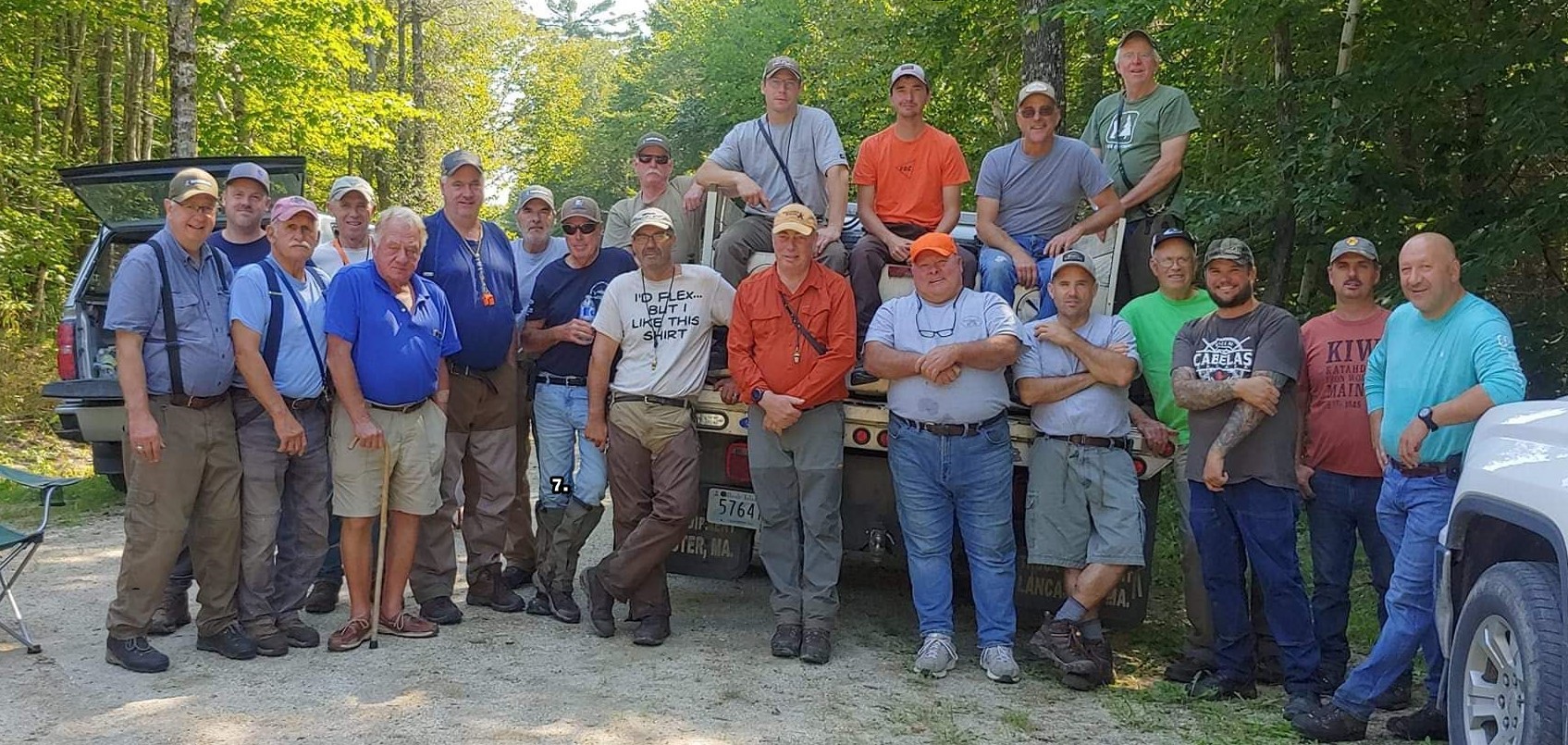 North American Woodcock Championship. 50th Anniversary. From left: Robert Lytle, Tyler Tunny, Frank Joyal, John Adsit, Chris Clarke, Jack McNutty, Don Keddy, Cal Robinson, Mike Best, John Stolgitis, Russell Ogilvie, Craig Doherty, Kyle Price, Gerald Movelle, Steve Forrest, Allan Raino, Mike Flewelling, Joseph Dahl, Donald Henderson, Judges Leonard Sinclair, Eric Rizza.