Result: NGSPA Hungarian Partridge Championships
Location: Cheyenne, Wyoming
Post Date: Nov 28, 2022
Submitted By: Keith Richardson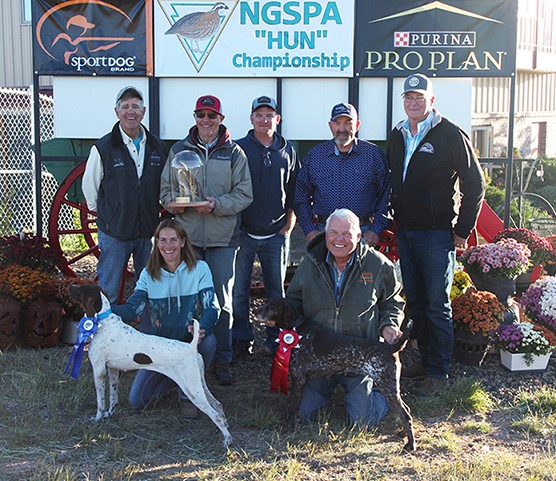 NGSPA Hungarian Partridge Open All-Age Championship. Back row: Mark Keegan, judge; Dr. Fred Ryan; Dan DiMambro; Rich Robertson Jr.; Dan Voss, judge. Front row: April Raber with Champion Chicoree's Glitter and Gold; Keith Richardson with R-U PW Out On A Limb.
The 20th running of the "Hun" Championship was a tremendous success. The added Handler of the Year points for a Species trial is a big attraction. 2022 marked the end of our "Dual Sanction" program with the AKC but attendance was undiminished. The only change was that we no longer hold retrieving stakes.
It ran from September 14 until of September 23. The weather was great. A little hot to begin with but nothing like other areas of the country, plus a little light rain and wind. All in all it was wonderful weather for running dogs, and when the afternoon temperatures climbed to low 80's for a few days there was water on course about every ten minutes. The Richardson Ranch is nearly 7,000 feet in elevation and very dry, and attendees are always advised to drink a lot of water and use ample sunscreen.
The "Hun" Championship and Region 8 are both held back-to-back at the Richardson Ranch and are two of the premier NGSPA Championships. The challenging grounds, and difficult birds provide an extreme test for dogs and handlers. Most folks stayed for both events. The two courses are remarkably different, each with its own challenges. The end of the day brings a relaxing time in the Bunkhouse including a wonderful home-made meal, beverages of choice, friendship and hospitality. One handler said he is always eager to get home after a field trial, but the Cheyenne trials are so enjoyable that he always hates to see them end.
We enjoyed the best lunches and dinners of any trial in the country, expertly prepared by Marya Kerchner who is our new "head chef", replacing Lynn Cook, who moved back to Maine to be near her family. Lynn has been a great friend for years and we all miss her and wish her our best. Marya had the amazing assistance of Diane Crabbs at all meals, and Sylvia Peppers for many lunches. Sylvia also provided home-made tamales one night which were a big hit. Fine aged wines from Keith's cellar were served by Gary Kercher, who ably filled in for our "Field Trial Sommelier", David Quinn, who was missed and promises to rejoin us next year.
Other benefits of the facilities enjoyed by all were: showers, laundry, and electrical and water hookups. Round pens and enclosures for most horses, plus ample areas for staking out dogs. Judges enjoyed first-class accommodations in either the Guest House or the Bunkhouse. Bobbi gifted everyone who would appreciate the experience: a massage by our neighbor, Carol Eisele.
These two back-to-back trials provide tremendous "on-the-job-training". The large number of challenging multiple chukar and Hun finds, running coveys, large explosive covey flushes, and concentrations of "old" scent will teach the dogs things that cannot be learned in training setups.
The "Hun" is the only trial in the American Field (and the entire country as far as we know) that uses pen raised Hungarian Partridges. The birds were young, strong, great flyers and remarkably like wild Huns. Large covey rises, with birds exploding in all directions tested the steadiness of every dog. A dog making it clean through the Hun Habitat continues up Derby Draw to Derby Rim where mixed coveys of jumpy chukar and Huns lurk. The immense pressure of many difficult, multi-bird contacts places the Hun Championship at a level of difficulty arguably exceeding that of the wild bird trials. Dogs that survived the "bird-gauntlet" were able to demonstrate their endurance during a mile of undulating prairie with a draw on one side and a drop to the Habitat on the other.
During our two weeks of Championships we were pleased to have several pros in attendance for some or all of the stakes. Dan DiMambro, Josh Nieman, Rich Robertson, Art Armbrust, and Jim West. We were happy to welcome a number of amateurs from outside of the region: Dean and Diane Crabbs (OR), Andy and Becky Dynkiewicz (OH), Drs. Fred and Ann Ryan (OH), Hank and Dina Lewis (OH), Dr. Kirk Loftin (TX), Sherri Tangsrud (MO), Greg Helsbush (MO), Heath Autry (TX), Tom Kosmack (UT), Joe Amatulli (CT), and Doug Carey (NJ), Our "local" amateurs from WY and CO included: Brandon and Jennifer Blum, Alan Davison, Keith and Cathy Bryant, Robin Lambourn, and Keith Richardson. Terry Zygalinski (CA) provided horses for judges and guests. We always appreciate "Ziggy" who had to leave after judging our AAA stake, but he left Lindsay Marshall to do the wrangling and she did a marvelous job.
We had a slate of excellent judges and our thanks go out to each of them. Our Open Shooting Dog stake was judged by Tim Carwile (Waynesboro, VA), and Mike Eades (Enumclaw, WA), and our Amateur All-Age Championship was judged by Tim Carwile and Terry Zygalinski (Watsonville, CA). Scoot Terrell was going to judge for us, but a medical issue prevented him from traveling. We wish Scoot the best as he recovers, and we thank Mike and Terry for filling in for Scoot with very little notice. Our Amateur Shooting Dog Championship, Open All-Age Championship and Open Derby were all judged by Dan Voss (Cambridge, MN), and Mark Keegan (Littleton, CO).
The Hun course gives the judges an opportunity to evaluate a dog's "total package". The cast-off crosses a half mile of rolling short grass prairie before entering the "Hun Habitat", which is a 3-mile flowing line of dense willow-lined creek bottom bordered by large mown fields, stands of wild plum thickets, and an irrigation ditch with dense grass and shrubs. The course then heads up the steep Derby Draw. Many dogs take the road up the middle, but it is exciting when they take either the left side up Chukar Hill, or the right side with a steep escarpment strewn with large rocks and dense shrubs. A right turn at the top takes the dogs along Derby Rim, a flat bluff with a steep rim and many pockets holding birds. The course continues along the Badlands with deep drop offs and steep draws, which tend to draw the dogs backwards. This demanding course finishes (time permitting) through the High Gate onto the rolling prairie.
We are grateful for our sponsors. Purina provided financial support and a pallet of Pro Plan for the winning dogs. We also welcome the sponsorship of Sport Dog with their gifts of excellent training collars. We missed seeing our friend, Jim Morehouse, but hope to see him next year. Beautiful Hungarian Partridge mounts, generous cash prizes and Gift Cards, Purina Product and Sport Dog collars were among the gifts to Champions and Runners-Up. Our good friends, Eldon and Terry Hongo, who own the local Bunkhouse Bar and Grill kindly gave $50 gift certificates to all Champions.
A special thanks to the organizational abilities and hard work of Bobbi Richardson without which these trials would not be successful. A big thanks also to all of the other folks who helped: Joe and Japheth Frauendienst, and David Clifton:-bird catching, planting, and feeding, and water sled filling. Gary and Chris Kercher-bird planting and organizational details. All participants were grateful to the "dog wagon team": Kaitlin Gaukel and Penny Robertson who booted all dogs with best-in-class boots from Ruff-Wear to protect them from cactus. They also picked up dogs and helped keep us on schedule. Other behind the scenes "heavy lifting" was done by Justin Peppers, and Brittiny Habercorn.
NGSPA Hungarian Partridge Open All-Age Championship
By Dan Voss
Judges: Dan Voss; Mark Keegan. Starters: 24 GSPs.
Chicoree's Glitter and Gold (Glitz), handled by Dan DiMambro and owned by Dr. Fred Ryan, was named Champion.
Prairie Wind Out on Limb (Libby), handled by Rich Robertson, and owned by Keith and Bobbi Richardson, was named Runner-Up.
The Running
The Champion and Runner-Up came from the Brace 3 on Day 1. Brace 3 broke away at 10:33 under clear blue skies , a light westerly breeze and 75 degrees. Both dogs were quickly up the cast-off draw and headed in a southeast direction across the short grass prairie. Both dogs encountered another east/west draw which brought them both to the east fence line with Glitz leading the charge.
The natural flow of the terrain/course lead the dogs to the east start of the "Habitat" which was located about mile east of the gate that the handlers, judges and gallery used to access this area. As we watched from a hill above and prior to dropping in to the "Habitat" we witnessed both Glitz and Libby flowing past the gate. At 7:30 both handlers dropped into the "Habitat." At this point, Libby was ahead of Glitz. It appeared that both dogs were testing the limits of the course.
The "Habitat" is a 3 mile long, narrow creek bed (now dry) consisting of irregularly shaped hayfields, water features, shallow ditches lined with tall/thick willows and plum thickets and is cross fenced in a few areas. Much of the course is green cut-grass. The course flows nicely with very few turns.
Both dogs took advantage of the first water tanks at approximately 10 minutes.
Glitz struck first nailing a Hun past the second set of water tanks on the left center island of the "Habitat" at 19:31. She showed her impressive lofty style until the handler reached her after the flush/shot. Libby had taken the right side of the course.
At 22:10 Glitz carded another Hun nearing the end of the "Habitat", and Libby recorded a stylish back at this find. Glitz again displayed impeccable bird-work.
26:10 Bottom end of the "Habitat", just prior to making the turn North to the third set of water tanks and Derby Draw, Libby carded her first find on a Hun.
27:00 Glitz was seen rimming the smallish U shaped hayfield at the end of the "Habitat", and ended up with another Hun find, again displaying impressive style and composure. Both Glitz and Libby were collared to the water for a cool down. They headed up Derby Draw at 30:00.
36:47 Libby took the left side of Derby Draw high in the rocks on Chukar Hill where she had a find, and displayed her lofty high head/high tail throughout her bird-work.
45:00 both dogs passed thru the High Gate and back out onto the prairie. Libby ran well forward to the right and Glitz ran well to the front on the left near the breakaway draw. Both handlers had to find a way to show their charges for the remaining 15 minutes. Each dog exhibited flowing/reaching gait and seemed tireless.
Glitz was seen uphill of the cast-off draw and was spotted making a gigantic cast up to the guest house, her handler sang to her as she swung south along the eastern fence. Glitz flashed across the front, crossed another draw to the far south eastern portion of the course. Time expired. As her handler and judge rode to the top of the hill that over looks the "Habitat" she was seen on the move near the eastern end of the Derby course at 65:00.
At 45 minutes, Libby watered at the High Gate before striking East into the vast open countryside. Her style on the ground was expressive of the qualities of an all-age dog as she reached forward at increasing distance and speed. Her handler expertly sang to the dog who responded regardless of the distance she continued to gain from him. Libby made a line cast to the right of the expansive open terrain, covering objectives on the rim-edge quickly and expertly, while maintaining significant forward progress. Dipping over the edge to hunt likely objectives, as her handler continued forward. At time, Libby was found on point close to the eastern boundary of the property well past Cathy's Bench, standing with impressive style at the head of a steep draw. She maintained style as the handler dismounted and moved down a ravine to her. A nice covey of Huns was flushed, and all was in order with high tail and head to conclude an excellent all-age performance at range. She showed a full 60 minutes of all-age run with a rhythm of performance between her and the handler that was exceptional.
Summary of Glitz
A stylish attractively gaited dog that exudes class both on the ground and on game. She was ever respectful of her handler's commands. She has appeared to look at the course in All-Age terms, ie: looking for a likely objective, and then going to it. She wasted no time in digging deep into the cover. She was more extreme on the ground than her bracemate.
Cheyenne, Wyo., September 21 - One Course
Judges: Matt Keegan and Dan Voss
NGSPA HUNGARIAN PARTRIDGE OPEN ALL-AGE CHAMPIONSHIP [One-Hour Heats] - 24 German Shorthairs
Winner-CHICOREE'S GLITTER AND GOLD, 1686474, female, by Chicoree's Immaculate-Chicoree's Country Fan. Fred Ryan, owner; Dan DiMambro, handler.
Runner-Up-P W OUT ON A LIMB, 1659130, female, by P W Contender-P W Eat Mya Dust. Keith & Roberta Richardson, owners; Rich Robertson, handler.
NGSPA Hungarian Partridge Amateur Shooting Dog Championship
By Mark Keegan
Judges: Dan Voss; Mark Keegan. Starters: 30 GSPs.
Twin Creek's Running Rocky (Rocky), owned and handled by Dr. Kirk Loftin, was named Champion.
Rocky was top dog in brace 5 which cast off at 2:33 on September 19. There were high north-west winds and mid-80s temps. His bracemate was Hi-N's Dirty Secret (Badger), owned and handled by Hank Lewis. Both dogs passed through the first gate at 9:28 and drifted far to the right of the course. 9:51 scout pulled Badger back on course, while Rocky hunted aggressively forward heedless of the strong winds. Badger had a find at 10:05, with acceptable style. At 14:44 Badger again pointed a hun. At 17:08 Rocky stood with style and Badger backed but the hun was dead. At 22:30 Badger had his third find. At 23:55 Rocky had his second dead hun find. At 26:20 Rocky had a hun find showing considerable style and finish in his bird-work. Both dogs were released up Derby Draw at 35:38 and they took the road cresting the top together. Rocky had a find on Derby Rim at 51:10 again showing impressive finished style throughout his bird-work. Both dogs watered at the High Gate at 57 and the temperature had risen to 89 degrees. They were sent off into the prairie to show a finish. Badger lost ground speed at the end, but Rocky powered forward as if he just started with speed and intensity; hunted edges well, was forward at distance but handled; impressive finish; championship caliber entire 60 minutes.
B M B's Madison Ave. (Madison) handled by Brandon Blum, and owned by Brandon and Jennifer Blum. was named Runner-Up.
Madison came from the first brace which was cast off September 19, at 8:00 with skies clear and sunny and a cool 63 degrees. Madison was braced with Carey's Blazing Cooper (Coop), owned by Doug Carey and handled by Joe Amatulli.
Both dogs cast left on release, both well forward but nicely turned with handler without scout needed. They entered the Habitat together at 9:18, and moved nicely through it with Madison in the two water tubs at 11:18. Madison was consistently well forward of Coop. Coop had a hun find at 15:09 in the Habitat, with all in order.
Madison made a far-reaching cast along the ridge to the right of the course on Suicide Hill, where she was seen standing with high head and tail and intense style while awaiting her handler. Three relocations were done nicely, the dog firm on each relocation with style held until released, all in order on a nice covey. Due to the amount of time taken to locate her bird, Madison was sent to the front along the fence-line road. During his habitat run, Coop disappeared. At 31:05 Madison attacked uphill on Derby Draw, running the ridge from south to north beautifully with intensity, ground speed, and style. On the way she encountered a chukar on the road handling it nicely. After cresting the draw and rounding the corner of Derby Rim at 41:35 Madison pointed a chukar with style and manners. After Derby Rim Madison worked the Badlands-a series of ridges and deep ravines notorious for drawing dogs backwards. She responded nicely to the handler who managed to keep her forward. At 49 bottom dog Coop was declared lost and picked up by handler. Madison finished strongly with no loss of ground speed. Throughout the hour she displayed a consistent, forward-reaching, aggressive and stylish race. She required no scouting and handled very kindly. Madison had a strong performance, but the Champion's was a bit stronger.
NGSPA HUNGARIAN PARTRIDGE AMATEUR SHOOTING DOG CHAMPIONSHIP [One-Hour Heats] - 30 German Shorthairs
Winner- TWIN CREEKS RUNNING ROCKY, 1685652, male, by Twin Creeks Running Ruger-P J Wildfire's Little Lexi. Kirk Loftin, owner and handler.
Runner-Up-B M B'S MADISON AVE, 1670283, female, by Trueblu's B D K Ace Inthe Hole-Time To Pay The Piper. Jennifer & Brandon Blum, owners; Brandon Blum, handler.
NGSPA Hungarian Partridge Amateur Shooting Dog Championship. Back row: Mark Keegan, judge; Dr. Kirk Loftin; Keith Richardson; Brandon Blum; Dan Voss. Judge. Front row: Sherri Tangsrud with Champion Twin Creek's Running Rocky; Hank Lewis with R-U BMB's Madison Ave.
NGPA Hungarian Partridge Open Derby Classic
By Dan Voss and Keith Richardson
Judges: Dan Voss; Mark Keegan. Starters: 20 GSPs.
This was a very large derby stake. It was run as an out and back utilizing the entire 3 mile Habitat from the eastern corner of the Richardson's property to the western end of the Ferguson property. There is very little cactus in the habitat so that the dogs did not need to be booted. It was run after the three Championship stakes and 500 huns had been planted. No additional birds were released, but there was a lot of bird contact throughout the stake.
The judges stated that they had a lot of quality dogs in the stake. Prior to the running, the judges had a discussion as to what they were looking for. They agreed to seek the dog with the best future potential as either an All-Age dog or a Shooting Dog.
Chisholm Creek Sweetie Pie (Pie), handled by Josh Nieman, and owned by Mark Wasserman, earned First Place.
The judges concluded that Pie possessed the best future potential of the stake, and she was an All-Age dog. She was exciting to watch as she demonstrated a powerful, independent run. She was nearly steady to wing and shot, and her desire to go with the handler at a distance was impressive. There was no doubt that she was the class dog of the stake.
Stoney Hill Wildfire (Sparky), handled by Dr. Kirk Loftin, and owned by Dr. Kirk and Larry Loftin, earned Second Place.
Sparky was braced with the first place dog in Brace 8. She had a strong performance, and good range, but she did not match the consistent performance of Pie.
Llano's Cadillac (Caddy), handled by Josh Nieman, and owned by Joe and Chad Inderman, earned third Place.
Caddy ran in Brace 7 and showed good potential as a shooting dog, but her range and application was behind the standards set by the other two placing dogs.
NGSPA HUNGARIAN PARTRIDGE OPEN DERBY - 20 German Shorthairs
1st-CHISHOLM CREEK SWEETIE PIE, 1701856m female, by Chisholm Creek Riptide-Allie's Miss Sassy Pants. Mark Wasserman, owner; Josh Nieman, handler.
2d-STONEY HILL'S WILDFIRE SPARKY, 1697837, male, by Hi N's Zip It-Wild Fire Little Lexi. Kirk & Larry Loftin, owners; Kirk Loftin, handler.
3d-LLANO'S CADILLAC, 1699281, female, by Llano's Game On Dude-Llano's Sunflower Sue. Joe Inderman & Chad Inderman, owners; Josh Nieman, handler.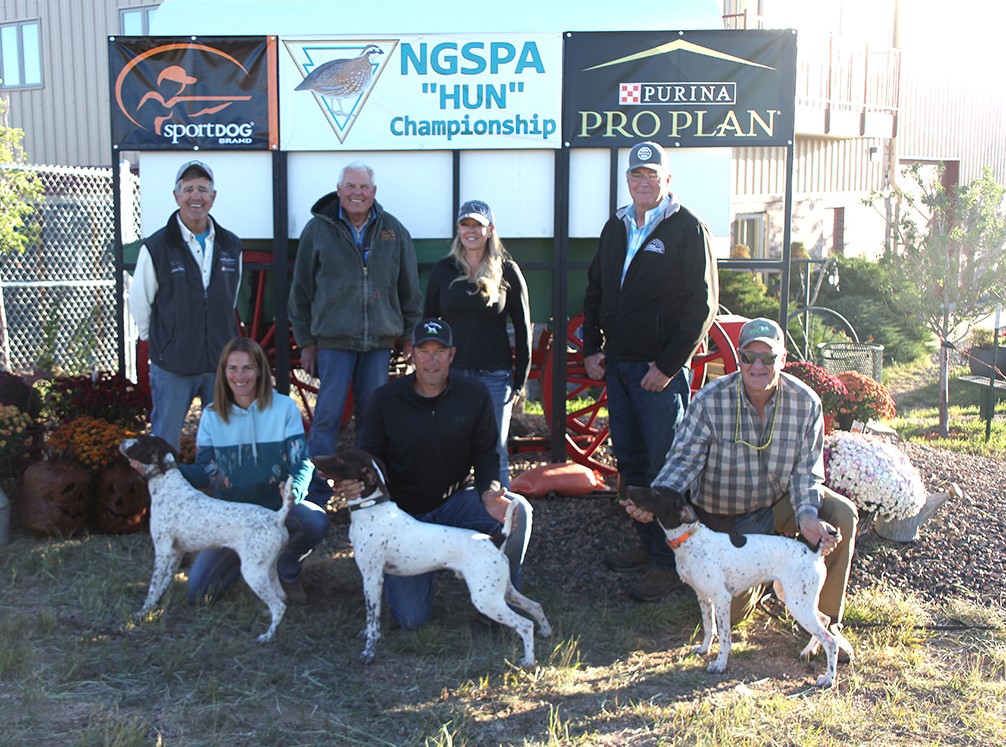 NGSPA Hungarian Partridge Derby Classic. Back row: Mark Keegan, judge; Keith Richardson;
Sherri Tangsrud, Dan Voss, judge. Front row: April Raber with 1st Place Chisolm Creek Sweetie Pie; Dr. Kirk Loftin with 2nd Place Stoney Hill Wildfire; Keith Bryant with 3rd Place Llano's Cadillac.
NGSPA Hungarian Partridge Open Shooting Dog Championship
By Keith Richardson
Judges: Tim Carwile and Mike Eades. Starters: 40 GSPs.
This was a very large stake with a lot of very good dogs. There are three very different terrains, each having its own challenges and presenting opportunities to show the natural abilities, bird handling skills, biddability, stamina and range of the dogs. Unlike most venues, it is possible to see and evaluate the dogs at long distances and it requires a shooting dog that is superbly broke and wants to go with its handler. The first brace was cast off at 8:00 am on September 17. The size of the stake required 7 braces to be run the first two days and 6 braces the third day. Thanks to the judges for working long and hard days and to the handlers and Prairie Wind dog collection and booting crew to keep everyone on time, plus thanks to the handlers for getting to the line on time. It should also be noted that by this time there had been over 300 huns released and they were starting to covey up into large and flighty coveys.
Quijano's W D Forty Rusty (Rusty), handled by Josh Nieman, was named Champion.
The Champion, Rusty, came from brace 19 which was next to the last brace in the stake. As a quick summary, he had five evenly spaced finds with excellent style and bird work, two huge casts in the final leg of the brace including a big and strong finish in the prairie for the last ten minutes, and all with no hacking, and very little scouting.
Rusty had five finds in total with three hun finds at 19, 26, and 32 in the Habitat. He was then cast-off up Derby Draw, where he made a bee-line to Derby Hill. Unlike most of the dogs in the stake he did not take the road up Derby Draw. He was rewarded with a find on top of the hill at 37. He was sent on to Derby Rim where he had his fifth find at 47 on a nice covey of chukar. All of his bird-work was impressive with classy style and no movement. No relocations were required because he pinpointed his birds exactly making flushing quick and easy for his handler.
Handler then sent him off into the prairie to the north where he made a big powerful cast to the front which was completed at the High Gate without any whistle or verbal commands. His final cast from the gate across the prairie was another impressive move as he filled up the country finishing back at the breakaway hill. Overall Rusty and handler "painted a pretty picture". Unlike most dogs in the stake he did not use the roads, his bird-work excelled, and his run was purposeful, and powerful with no let up at the end. Rusty ran a very exciting race in which the dog had no "holes". Josh did a nice job showing him. A truly memorable championship performance.
Llano's Game on Greta (Greta), handled by Josh Nieman, was named Runner-Up
Greta ran in the last brace (11) of the morning on day 2. She had one find in the habitat at 31, and three on the upper course at 46, 52, and 57. She ran the left edge of the habitat which is a long edge of dense willows and grass. It was a pretty move as she flowed along the meandering line searching for game. This move requires more time to make than the rather straight line offered by the right side of the course. On the other hand it is where the wild birds would be lurking in a true hunting situation. She was rewarded at the very end where she found huns in a small cul-de-sac. Upon being cast off up Derby Draw she hunted the right side which is the opposite side the Champion took. This side of the course is challenging to any dog who does it right, as Greta did. She hunted the heavy rock and shrub cover on the steep slope of the bench from beginning to end, rounding the corner on Derby rim where she had her first of three finds on the rim. She ended her hour at the High Gate with two minutes to show a finish in the prairie. Her bird work was stylish and well done. She was forward running with plenty of power and a very smart searching pattern. She had less power and "punch" than the Champion, but put on a good show.
Judges: Mike Eades and Tim Carwile
NGSPA HUNGARIAN PARTRIDGE OPEN SHOOTING DOG CHAMPIONSHIP [One-Hour Heats] - 40 German Shorthairs
Winner-QUIJANO'S W D FORTY RUSTY, 1683347, male, by Llano's Game On Dude-Bray's Henna. David Quijano, owner; Josh Nieman, handler.
Runner-Up-LLANO'S GAME ON GRETA, 1679141, female, by Llano's Game On Dude-H K's Angies Slick Image. Chad Inderman, owner; Josh Nieman, handler.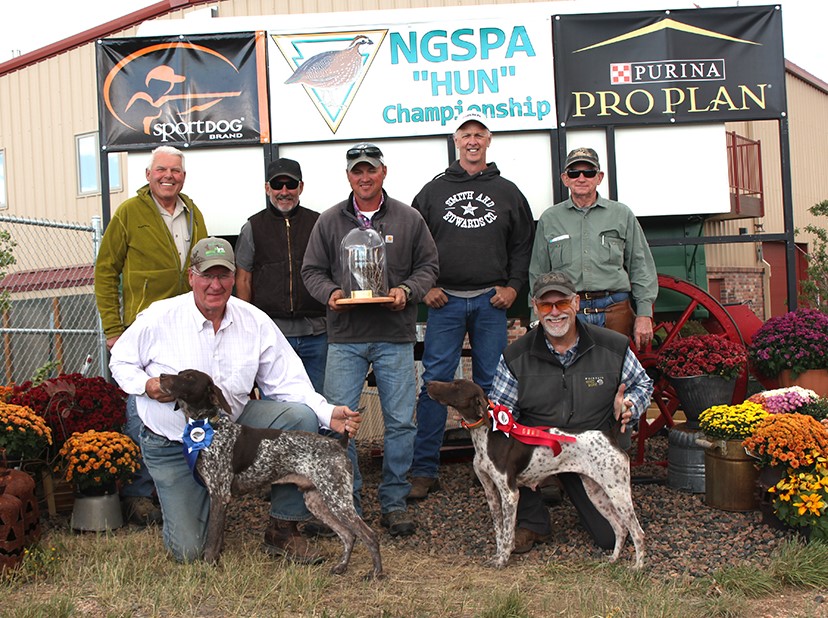 NGSPA Hungarian Partridge Open Shooting Dog Championship. Back row: Keith Richardson; Terry Zygalinski; Josh Nieman; Mike Eades, judge; Tim Carwile, judge. Front row: Keith Bryant with Champion Quijano's WD Forty; Alan Davison with R-U Llano's Game on Greta.
NGSPA Hungarian Partridge Amateur All-Age Championship
By Keith Richardson
Judges: Tim Carwile and Terry Zygalinski. Starters: 19 GSPs.
We appreciate our amateurs running their all-age dogs. This was a very large AAA stake with a lot of good dogs and competitive handlers.
A O Tripps to Win (Tripp), owned and handled by Alan Davison, was named Champion.
Tripp ran in the second brace on day 1. He had a strong cast off to the Habitat and had his first find at the plum thicket on the right of the course after the second gate and to the south of Suicide Hill. He had a reaching run through the rest of the Habitat, and was watered and sent up Derby Draw. He went up Chukar Hill and had his second find. After his release he had his third find on Derby Rim. He had a reaching, powerful finish in the prairie after the High Gate. Overall his bird-work was superlative with classy style. He was forward running with a strong undiminished gait throughout the hour.
P W Bert's Joke on Us (Bart), owned by Keith and Bobbi Richardson, handled by Keith Richardson, was named Runner-Up.
Bart ran in the last brace of day 1. He had a huge cast off and was not spotted until he was found standing off course on the south side of the willow line before the second gate. He had been standing there a long time and the birds were pinned directly in front of him, and he marked them as they flew low over his head. His second find in the Habitat was on the willow line before the end where a nice covey was produced. His third find was in the cul-de-sac at the end of the Habitat. He was cast off at the water tanks and powered in a direct line to Chukar Hill where he had his fourth find on a nice covey of chukar. Handler cast him off into the prairie where he made a far-reaching move that took him to the High Gate. He jumped in the water and continued on through the gate far ahead of the handler. He was seen cresting the ridge at Cathy's bench and a few other times as he displayed a huge finish on the prairie. He had a powerful All-Age race with a big finish, but appeared to be a bit "jumpy" on his birds, Even though his bird work was in order, he lacked the stoic intensity of the Champion.
Judges: Tim Carwile and Terry Zygalinski
NGSPA HUNGARIAN PARTRIDGE AMATEUR ALL-AGE CHAMPIONSHIP [One-Hour Heats] - 19 German Shorthairs
Winner-A O TRIPPS TO WIN, 1671013, male, by Kimberland Tactical-Sixem's A Cut Above. Alan Davidson, owner and handler.
Runner-Up- P W BERT'S JOKE ON US, 1655432, male, by Slicks Cuttin Wild-P W Fast Forward. Keith & Bobbi Richardson, owners; Rich Richardson, handler.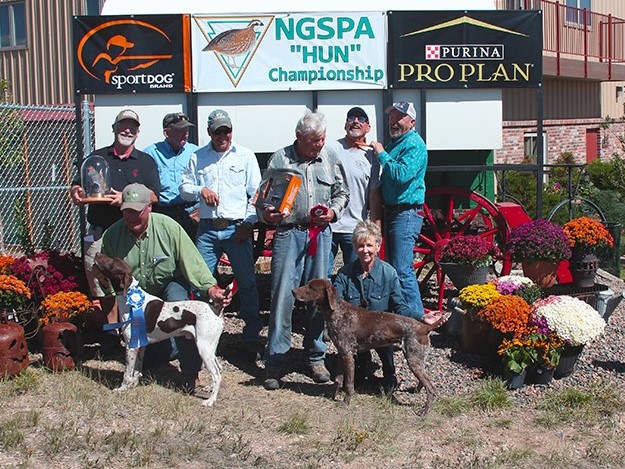 NGSPA Hungarian Partridge Amateur All-Age Championship. Back row: Alan Davison; Tim Carwile, judge; Josh Nieman; Keith Richardson; Terry Zygalinski, judge; Rich Robertson Jr. Front row: Keith Bryant with Champion AO Keg Creek Tripps to Win; Bobbi Richardson with R-U Bert's Joke On Us.