Result: National Prairie Chicken Shooting Dog Championship
Location: Bancroft, Wisconsin
Post Date: Dec 1, 2022
Submitted By: Ed Liermann
The National Prairie Chicken Shooting Dog Championship run on the Buena Vista Grasslands in Bancroft Wisconsin started on September 23, and drew an entry of 24 dogs. Participants, friends and helpers came from every direction. Birds were plentiful with ample opportunities. As usual the cover was a challenge, although certain pure grass areas appeared to be a bit thinner than normal. Judges for this years' championship were Dennis Sneed of Ewing, Illinois and Lee Long of Berkey, Ohio. Both men are well traveled. Their decisions were well received, many thanks to them for riding with us. Dennis has judged and run dogs at this trial, also he has been active with many field trial clubs and organizations. First time here for Lee, also very active in clubs and organizations in Ohio and Michigan.
THE WINNERS
The winner and new champion of the 2022 National Prairie Chicken Shooting Dog Championship was Confident Nation, owned and handled by Scott Jordan of Grant, Minn. The 4-year-old white and orange pointer male ran in the 3rd brace on the first day of running. This brace produced a multitude of bird contacts and was quite a show. Confident Nation ran a forward, powerful prairie shooting dog race. He had impressive finds at 4, 8 and 11 with high style. He also backed from a great distance at 2 and again at 15, and again 22 that produced a skunk, then backed again at 34 with all in order followed by an unproductive at 50. He finished the hour strong, showing far to the front searching in all the right places.
The runner-up was B G K'S Luke, two-year-old white and orange male pointer owned by Jarrett Bell of Troy, Missouri. Luke ran on the second day in the last brace of the championship. He ran a strong classy forward race and had a nice find at 37 with all in order, a divided find at 56 with all in order and a stop to flush at 58 and finished the hour going away. As stated earlier the temperature, a bit cooler than normal with overcast skies made it somewhat easier on the dogs. The 15 mph strong winds made it tougher to get the birds pointed. That being said, we saw birds on every course with many opportunities. Thanks to all the people that make this trial a success. Thanks to Gary Wolfe, a Wisconsin DNR biologist and our dog wagon driver. Since 1999 Gary has taken vacation time to drive the dog wagon and is key member in running this championship. Anne Erhke and Judy Reisner provided the hard-boiled eggs that are a trial tradition and a favorite, especially after the first brace in the morning. Blocking road crossings is vital for safety at this trial and was attended to by Gary Wolfe, George and Ann Ihrke, Doug and Judy Reisner and Terry Tryzinski.
The roots of this trial stems from support of the Wisconsin Department of Natural Resources. For us that starts with site manager Lesa Kardash. The dedication by Lesa and her crew to this site is immeasurable. Thanks to Lesa and her team that entails John Soergel and Joey Biebl, they work tirelessly on the grounds and are supportive of this event. We were pleased to have guests this year that included Andy Lewandowski, Dog Committee Chairman for the Wisconsin Wildlife Federation and a delegation of DNR officials that were here to view the running and visit with our group.
We would like to thank Bureau of Wildlife Management - Regulation and Policy Specialist Scott Karel, Bureau of Wildlife Management - Wildlife Damage Specialist, Brad Koele and Wisconsin DNR Assistant Turkey and Pheasant Ecologist, Alissa Kakatsch for riding hanging out with us. We had a great group of field trialers in attendance from around the country with some new faces that included Frank LaNasa, Minnesota, Richie Boumeester, Minnesota, Chris Sellers, Tennessee, John Mathys, Wisconsin, George and Ann Ihrke, Illinois, Doug and Judy Reisner, Wisconsin, Scott Jordan, Minnesota, Mark Johnson, Illinois, Jarret and Allison Bell, Missouri, Sean Patrick Derrig, Illinois, and Ian McTavish, Minnesota. Purina has been a big sponsor of this event for years. Longtime friend and Purina rep Terry Tryzinski stopped in and helped out wherever needed. The Monday night Purina dinner at the Chatterbox was a big hit as we enjoyed Thanksgiving dinner.
Thanks to Purina, Greg Blair and Terry Tryzinski for supporting our trial, dinner and auction. SportDog also sponsors our trial and auction by donating collars. Thanks to SportDog and Jim Morehouse, a longtime friend and supporter of field trials. We appreciate their support. It is a tradition to switch the morning and afternoon courses for the Open Championship. Breaking away on Monday morning at 8:00 a.m. on Course 1 we cross Griffith and swing east. Tough conditions with overcast skies and a prevailing 15 mph winds.
THE RUNNING
B G K'S Bolt Action (Bell) and Sellers Pasha Skylos (Sellers). Both dogs away and immediately into birds at 1 1/2 with a nice find for Bolt with all in order and Skylos credited with a stop to flush. At 4 birds were in the air and Skylos was up. Bolt had second find at 23 and finished the hour with a nice forward race.
Erin's Tin Lizzie (Johnson) and Northern Confidence (LaNasa). Both dogs moved out fast and forward. Lizzie had a find at 24 with all in order, and another at 28 with good style and manners. She had stop to flush at 50 and finished the hour forward. Northern Confidence had a nice run at the course with an unproductive at 25 and finished the hour forward and going away.
Confident Nation (Jordan) and Boumeester's Duramax (Boumeester). There were an abundance of birds on this course. Confident Nation's hour was noted earlier. Duramax ran a forward race with a stop to flush at 2, 8 and again at 15. He had a nice find at 21 with all in order and nice finds at 50 and at 58, both with nice style and all in order.
Cedar Creek Sixgun (Liermann) and Erin's Country Rebel (Derrig). Both dogs away after lunch fast and forward. Birds in the air at 4 near Sixgun and handler elected to pick up. Rebel had a nice find at 9 with nice style and all in order and ran a nice forward race throughout the hour.
Southern Confidence (Lanasa) and Boumeester's Evangelist (Boumeester). Both dogs out fast and forward with Evangelist scoring a find at 3. He had a stop to flush at 34, and an unproductive at 40, Handler elected to pick up at 50. Southern Confidence had an unproductive at 14 and again at 30 and was up.
Erin's Southern Comfort (Derrig) and Cold Creek Belle (MacTavish). Both dogs out fast and forward. Southern Comfort had a big, strong forward race and handled kindly throughout the hour and finished without any bird contact. Belle had a nice find at 10 with all in order. She had another find at 30, left with the bird as was up.
Erin's Wild Rum (Johnson) and Notorious Dominator's Heir (Mathys.) Both dogs were fast and big. Wild Rum was running big, covering a lot of ground. Handler elected to pick up at 40. Dominators Heir had a nice forward far reaching application with no bird contact. Strut Nation (Jordan) and BGK'S Savage Arms (Bell) Both dogs out and moving forward. Strut had an unproductive at 10. He was running big and covering some ground, gone for a bit, handler asked for the tracker at 44. Savage Arms ran a nice forward race without a bird contact. Notorious Slapshot (Mathys) and Games Surgeon (MacTavish) Both dogs had a nice forward race throughout the hour. Game Surgeon had a nice find at 32 with good style, and Slapshot backing. All in order here. Both dogs finished going away.
Cold Creek Uncle Sam (MacTavish) and Dry Creek Lickety Split (Bell). Uncle Sam hunted hard throughout the hour but had no bird contact. Lickety Split was covering a lot of ground and had an unproductive at 26. Handler asked for the tracker at 40.
Cheyenne Nation (Jordan) and Notorious Front Range (Mathys) Both dogs out big and moving along nicely forward through the cover. Cheyenne Nation had a powerful far reaching race with a nice find at 31 with all in order. She had another find at 35 and released on her own and handler elected to pick up. Front Range ran a nice far reaching forward course, but finished the hour with no bird contact.
Cold Creek Hank (MacTavish) and BGK'S Luke (Bell) Hank ran a nice race and had a divided find at 56 with all in order. B G K'S Luke's run was noted earlier.
Bancroft, Wis., September 26
Judges: Lee Long and Dennis Sneed
NATIONAL PRAIRIE CHICKEN SHOOTING DOG CHAMPIONSHIP [One-Hour Heats] - 24 Entries
Winner-CONFIDENT NATION, 1684546, pointer male, by True Confidence-Southern Songbird. Scott Jordan, owner and handler.
Runner-Up-B G K'S LUKE, 1690405, pointer male, Dunn's Tried'n True-The White Pearl. Jarrett Bell, owner and handler.
Sidelights
Each year we have a "Chicken Championships" Auction at our Saturday night Purina banquet under the tent. Through the proceeds the Central States Field Trial Club gives away a $500 and a $250 Scholarship sponsored by the Wisconsin Wildlife Federation to University of Stevens Point students. The students are enrolled in the College of Natural Resources and volunteer on the Buena Vista grounds through the Adopt-A-Wildlife Program. This year's recipients were Tristan Stanton and Parker Kreie. Both students devoted countless volunteer hours to various projects that include habitat improvement at the Buena Vista site. We auctioned off a variety of goods but there were several highlights, one being an original painting of a field trial scene at the Buena Vista grounds by good friend and bird dog enthusiast Rick White. Rick is no stranger to this event as he has donated his work in the past. His work records and depicts the beauty of our sport. Also Jim Morehouse and SportDog donated a TEK 1.5 Tracking collar, and Greg Blair donated additional bags of dog food. Thanks to Rick, Jim and Greg for helping to support this effort.
Also thanks to our Auctioneer, outdoor enthusiast and friend of the Wisconsin Wildlife Federation Pete Winistorfer and lovely wife Kim for helping us out. A good time was had by all.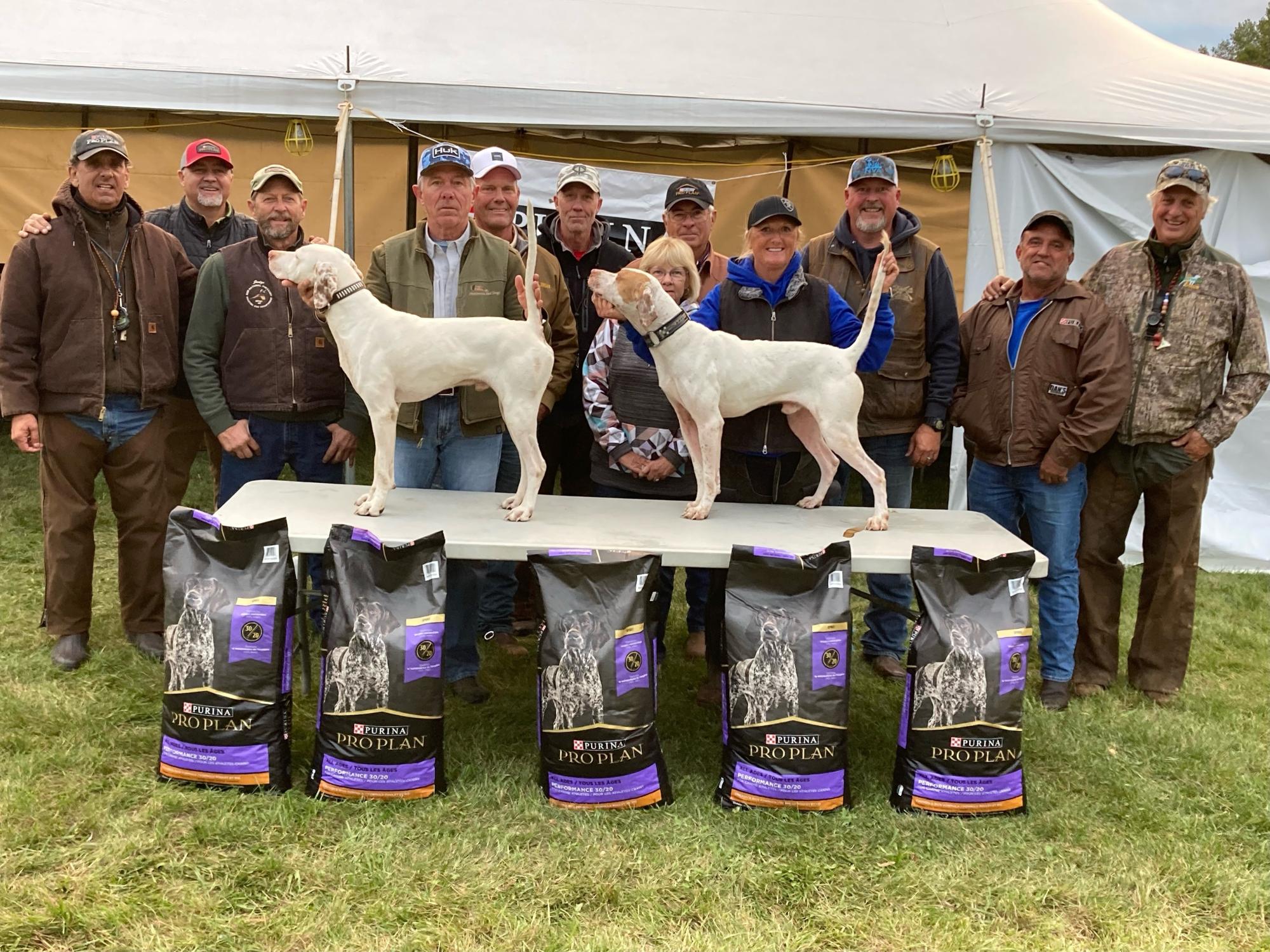 National Prairie Chicken Open Shooting Dog Championship winners: From left: Ed Liermann, John Mathys, Judge Lee Long, Frank LaNasa, Scott Jordan with Confident Nation, Ian MacTavish, Delenise Sneed, Judge Dennis Sneed, Allison Bell with B G K's Luke, Jarrett Bell, Richie Boumeester, Mark Johnson.