Result: Ohio Valley Field Trial Circuit Trial
Location: Kevil, Kentucky
Post Date: Jan 29, 2021
Submitted By: Mary Sue Schalk
Horseback field trials embody a culture of hard work, intense competition, friends and family. The last weekend of January 2021 highlighted all those pieces of our sport.
The Ohio Valley Field Trial Circuit held their annual trial hosted by the Coalfield Bird Dog Club at West Kentucky Wildlife Management Area in Kevil, Ky. This event has taken place for more than a half a century on these grounds.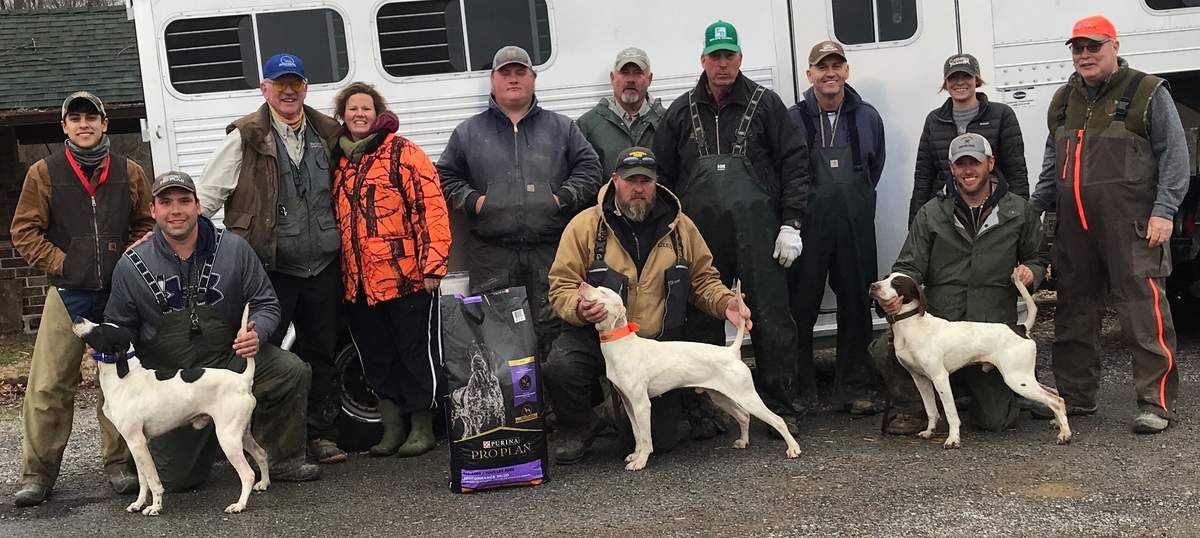 Nathan and Eddie Berendzen of Higbee, Mo., served as the judges. Both Nathan and Eddie have long been active members of the horseback field trial community. Nathan, just 20 years old, has served as judge, scout, handler and trial chairman for both amateur and open stakes. His father, Eddie, has done the same for a few more years, but all the same the contributions of the Berendzen family to the sport of horseback field trials are immeasurable. We are thankful they were able to serve as judges for our event.
THE WINNERS
The Amateur All-Age Stake drew a formidable field of eighteen dogs. In the field were champions, runner-up champions and multiple dogs of the year winners hailing from Kentucky, Indiana, Missouri, Tennessee, Ohio and Illinois.
Besting the field of pointers, setters and one Drahthaar was first year all-age dog Crouse's Quiet Man. Running the first brace Saturday morning, the white and black pointer male ran the country with strong purpose. Owned and handled by Mike Crouse, "Duke" was biddable at great range and was relentless in his forward hour.
Phillips Off Line and Redeemed claimed second and third, respectively, neither handler nor dog a stranger to the winners' circle. Mike Small handles Off Line owned by Nathan Phillips. Off Line was braced with Shagtime Ole Red, setter male owned and handled by Chris Cagle. The pair ran the 5th hour of trial and were able to took advantage of the open crop fields on the course. Ole Red finished his hour, while Off Line the lone bevy of the trial, and had a solid forward ground race.
Redeemed, owned and handled by Jim Pendergest, was braced with Crouse's White Dragon, owned and handled by Mike Crouse, in the final brace of the trial which ran the third hour. Redeemed is also a young competitor, although his manners and forward hunting style emphasize a seasoned field trial veteran. A solid hour from Redeemed and active hunting proved him worthy of the third place spot.
The Derby drew ten dogs hailing from Missouri, Indiana and Kentucky. Besting the field was Storm's End, pointer female by two-time Invitational Champion and National Champion Dunn's Tried'N True. "Kate" is owned by Megan Henry and Matt Pendergest, Matt serving as her handler. She is flashy on the ground and reaches with great enthusiasm. Her performance certainly earned the first place spot without questions. Pendergest also earned the third place spot with Awakened, a Pointer female. Between the Pendergest placements, R W Maybelle earned second for owner-handler Roger Watson. Another flashy pointer female that got the job done on this rainy Saturday.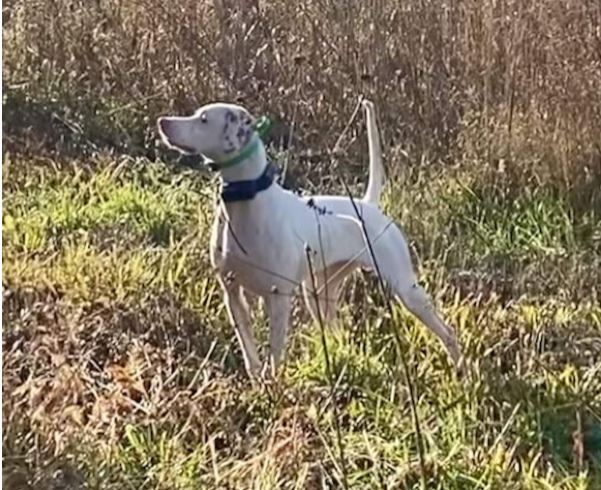 Sunday morning the Shooting Dog Stake wrapped up the weekend with six dogs.
Crouse's Icee Beauty won the stake for owner/handler Mike Crouse and was scouted by first time scout Vincent Major, high school senior in Western Kentucky who shows a budding interest in the game. "Ice" is a petite pointer female sired by National Champion In the Shadow; her mother is a granddaughter of National Champions Whippoorwill Wild Agin and Lester's Snowatch. Her pedigree certainly supports a solid field trial performance and she delivered! Well mannered, she hunted for her handler throughout the hour.
Michael Kennedy of Opelika, Ala., made the most of his trip, running two dogs and placing them both! Kennedy's Lil Sunshine, pointer female sired by National Champion Lester's Sunny Hill Jo, earned the second place laurels with her efforts. Kennedy's Tying Force, pointer male, took the third for the Alabaman. A solid six-dog stake closed a solid weekend of fierce competition.
The Coalfield Bird Dog Club and Ohio Valley Field Trial Circuit are grateful for all involved in making this event a success! Purina and Greg Blair are great supporters of our Circuit and we appreciate their contribution of dog food to those top five points- earners in each dog of the year category.
Greg Veatch served as our dog wagon driver once again, and for his constant volunteer hours we are forever grateful. There are never enough "thank yous" for the judges and participants, but to say it one more time: Thank you to all who participated in the Ohio Valley Field Trial Circuit Trial. Best of luck as the field trial season continues!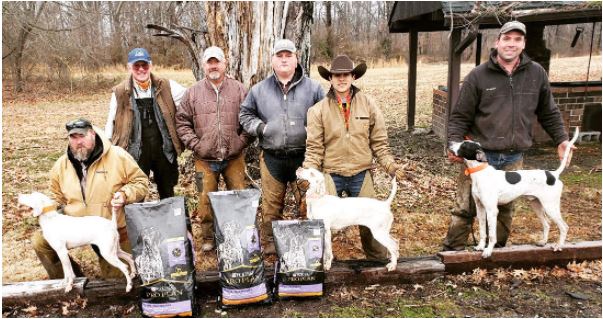 [As an aside, Mary Sue Schalk, secretary/treasurer of the Ohio Valley Field Trial Circuit and active competitor, was in attendance. Thirty-nine weeks pregnant, her participation was limited; however, she was able to turn dogs loose, help with the dog wagon and bring the food.
[Happy to participate in the trial, although limited capacity, she delivered her first child on February 2, 2021. Anna Katherine Schalk was born in Baptist Health Hospital in Paducah, Ky., to parents Mary Sue and Matt Schalk. Healthy, happy and growing fast, Anna Katherine is a reminder to count our blessings every day. Thank you from the Schalk and Crouse families for your prayers and gifts as we prepared for her arrival.]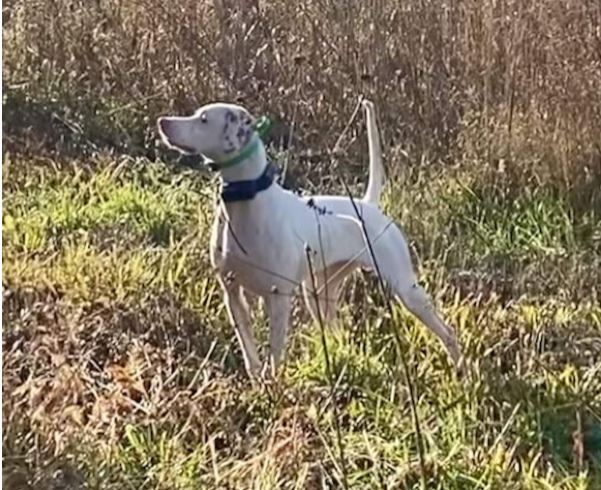 Kevil, Ky., January 29
Judges: Eddie Berendzen and Nathan Berendzen
AMATEUR ALL-AGE [One-Hour Heats] -- 14 Pointers, 3
Setters and 1 German Drahthaar
1st--CROUSE'S QUIET MAN, 1685396, pointer male, by Crouse's Ebony Masterpiece--Crouse's Gerri Wind. M. D. Crouse, owner and handler.
2d--PHILLIPS OFF LINE, 1656000, pointer male, by Phillips Warning Linie--Phillips Bottom Line. Nathan Phillips, owner; Mike Small, handler.
3d--REDEEMED, 1682542, pointer male, by Reloaded--Dialed In. Jim Pendergest, owner and handler.
OPEN DERBY -- 10 Pointers
1st--STORM'S END, 1687221, female, by Dunn's Tried'n True--K F Prairie Storm. Matt Pendergest & Megan Henry, owners; Matt Pendergest, handler.
2d--R W MAYBELLE, 1688025, female, by Stash The Cash--R W Susie Q. Roger Watson, owner and handler.
3d--AWAKENED, 1692621, female, by Touch's Grey Street--Intentional. Jim & Matt Pendergest, owners; Matt Pendergest, handler.
AMATEUR SHOOTING DOG [One-Hour Heats] -- 6 Pointers
1st--CROUSE'S ICEE BEAUTY, 1669122, female, by In The Shadow--Crouse's Samuri Watch. M. D. Crouse, owner and handler.
2d--KENNEDY'S LIL SUNSHINE, 1683621, female, by Lester's Sunny Hill Jo--Crouse's Pine Landy. Michael Kennedy, owner and handler.
3d--KENNEDY'S TYING FORCE, 1668295, male, by Elhew G Force--Mohawk. Michael Kennedy, owner and handler.