Result: Bear Pond Field Trial Club
Location: Berea, Kentucky
Post Date: Jan 24, 2023
Submitted By: Pam Tucker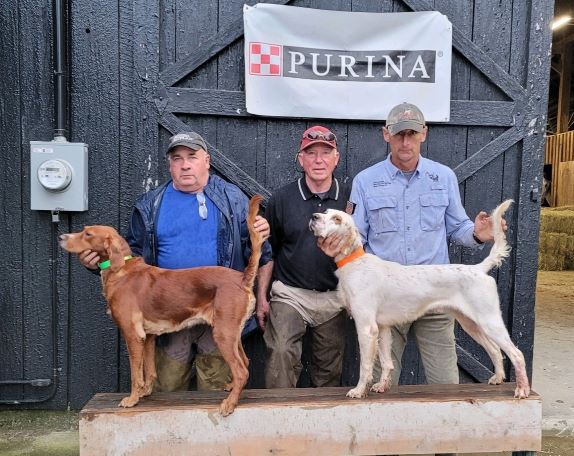 Open Shooting Dog Classic. From left: Tim Hammons posing 1st place Little More Shine, Barry Stumbo, Calvin Curnutte posing Woodland's Ridge Jim.
The 10th running of the Bear Pond Shooting Dog Classic ran on the Miller Welch WMA, Berea, Ky., October 29-30.
Purina sponsors and provides dog food for the placement winners, pays for our published ad in the American Field/United Kennel Club, and hats. We gratefully appreciate their generosity and interest in our sport of field trialing bird dogs.
Eighteen entries in the Shooting Dog and 4 entries in the Open Derby were judged by Scott Kermicle, Dawson Springs, Ky., and Bill Vest, Ezel, Ky. Both experienced judges provided the highest standards and their decisions were well received. Bear Pond Field trial appreciates both men's time away from their families and businesses, their hard work riding long days in the saddle, their providing their own horses, and their judging the dogs on the merits of their performance.
Little More Shine, Kris Hammon's Irish setter female placed first with two finds. Heir first find was at the end of the Dewey Bottoms and the second was a divided find with bracemate at the top of the hill on Course 1. Little More Shine had a strong forward brace and was handled by Tim Hammons.
Second place Woodland's Ridge Jim, setter male handled by Drowning Creek Kennels, Calvin Curnutte. Jimmy (Woodland's Ridge Jim) is owned by Bob Angen and Aaron Ferguson, Tom's River, N. J. Jimmy had a big breakaway into the Dewey Bottoms, showed to the front in the third big field, found forward standing on his find at the top of the hill. Bear Pond thanks Calvin Curnutte for completing our judge's books, donating a heavy duty tote filled with snacks, and his entries.
Casey Creek Crystal Ice, third place winner, pointer female, owned and handled by Buster Tucker ran in the heat of the day. Crystal had a find at 20 and an unproductive at pick up time.
One placement first was awarded in the Open Derby. Smooth Operator, pointer male ws handled by owner Ed Stevens of Rattle Snake Creek Kennel, West Union, Ohio. Smooth Operator made a big cast through the Dewey Bottoms then crossed the concrete bridge, making another cast went around the old tobacco barn and finished back at the clubhouse.
It takes many KFTA members to run a field trial. Barry Stumbo, Bear Pond President would like to thank Kris and Tim Hammons, Matt Pendergest, Buster and Pam Tucker, Charlie Turner, Ed and DeeDee Stevens for marshalling, scouting, being there riding the braces, driving the dog wagon, preparing and serving food, making judge's guests comfortable, and putting out birds. Great generosity is recognized of members who provide safe trained horses for judges and others to ride.
Berea, Ky., October 29
Judges: Scott Kermicle and Bill Vest
OPEN SHOOTING DOG [One-Hour Heats] - 10 Pointers, 5 Setters and 3 Irish Setters
1st-LITTLE MORE SHINE, 1671392, Irish setter female, by Red Rock-Covered In Red. Kristine Hammons, owner; Tim Hammons, handler.
2d-WOODLAND'S RIDGE JIM, 1676234, setter male, by Hot Blooded-Sky's The Limit. Bob Angen & Aaron Ferguson, owners; Calvin Curnutte, handler.
3d-CASEY CREEK CRYSTAL ICE, 1676908, pointer female, by Casey Creek Icy Hot-Charlie's Dream Girl. Buster & Pam Tucker, owners; Buster Tucker, handler.
OPEN DERBY - 4 Pointers
1st-SMOOTH OPERATOR, 1701773, male, by Erin's Redrum-Dominator's Rebel Maiden. Rattle Snake Creek Kennel, owner; Ed Stevens, handler.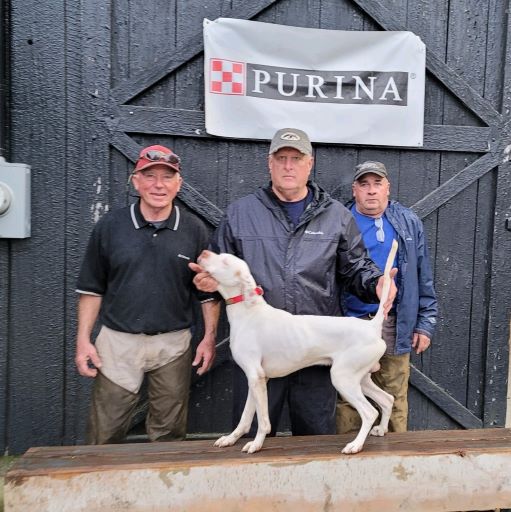 Open Derby. From left: Barry Stumbo, Ed Stevens posing 1st place Smooth Operator, Tim Hammons.