Result: Arizona Open Shooting Dog Championship
Location: Mesquite, Nevada
Post Date: Mar 4, 2022
Submitted By: John Beauchamp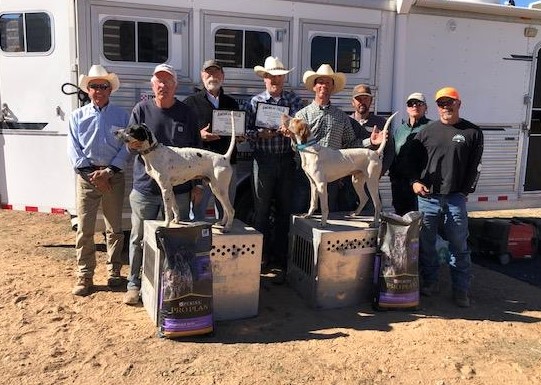 From Left: Judge Bruce Hale, Dennis Hidalgo with Mick, Steve Bailey holding plaque, Brian Gingrich holding plaque, Matt with Earl, Judge Lance Ayers, John Beauchamp, Brian Smith.
The Arizona Open Shooting Dog Championship cast off the morning of Friday, February 11, following the conclusion of the Wally Wallace Derby Classic.
By comparison to the earlier stakes that had cold temps made even colder by high winds. The Arizona Championship was the extreme opposite, we had unseasonably warm temperatures as high as 80 and at times the breeze left us altogether. Combined with very dry soils, scenting conditions were challenging.
And although 80 isn't too hot to run dogs in February when the dogs are used to 30 cooler temps, it sapped them pretty good and led to multiple pickups. All that said, just about all the braces had bird contact and 75% of the dogs had birds. The winners distinguished themselves from the rest with multiple finds and quality bird work.
THE WINNERS
Champion Tumbling Dice (Mick) was up in the eighth brace handled by Steve Bailey with Almosta's Wilma Flintstone (Spot), handled by John Beauchamp. Both Dogs started well and crossed the big wash about the same time. Mick scored the first of four finds against the hill. Spot point immediately after but had trouble and was picked up. Mick continued to work across the base of the ridge scoring find after find.
Runner-up Ramblin Rivers Natural (Mick), handled by Brian Gingrich, was up in the fifteenth brace with Turtle Mountain Tempest (Tempe), handled by Steve Bailey. Mick ran a solid forward brace, requiring minimal scouting. Mick carded two clean finds with all in order. It was getting warm by this brace, but Mick put down a very good performance for the full hour.
Thank you all. This was our first venture to the Summit grounds out side of Mesquite, Nev. We had help from Mr. Warren Eisenberg who extended his permits to allow for Region11 and Region 12 to partner on our Championships. The course was long, with few access points.
Mr. Karl Von Wolfe who is a bird dog man, but not a field trailer, was considerate enough to make the journey from Buckeye to Mesquite and bring his Ranger which served as the dog truck in the rough country. Karl has done this for us before and is very good about being in the right place at the right time, with the right dogs.
And of course, thank you Purina! Greg Blair supported us again this year. Having worked with Greg for a few years. He always responsive, timely, and accurate. With all the challenges and changes one encounters in planning and executing these trial, Greg is person you can count on.
Finally, Region 12 would like to thank Mr. Bruce Hale for taking care of the lion's share of the planning and getting the equipment trailer to the grounds.
I can't sign-off without thanking my wife Patti for pulling the lunches together.
Hope to see you all down the road. Safe travels.
Mesquite, Nev., February 11
Judges: Lance Ayers and Bruce Hale
ARIZONA OPEN SHOOTING DOG CHAMPIONSHIP--[One-Hour Heats]--30 Entries
Winner--TUMBLING DICE, 1670904, pointer male, by Erin's Kentucky Gambler--Burning Edge Julie. Spero M. Manson, owner; Steve Bailey, handler.
Runner-Up--RAMBLIN RIVERS NATURAL, 1688693, pointer male, by Chelsea's Thunder Bolt--Upfront's Southern Star. William Stapleton, owner; Brian Gingrich, handler.