Event: Russell County (Ala.) Field Trial Club
Result: Russell County (Ala.) Field Trial Club -- Leon Shriver Open Shooting Dog Classic
Location: Hatchechubbee, Alabama
Post Date: Mar 7, 2022
Submitted By: Elias Richardson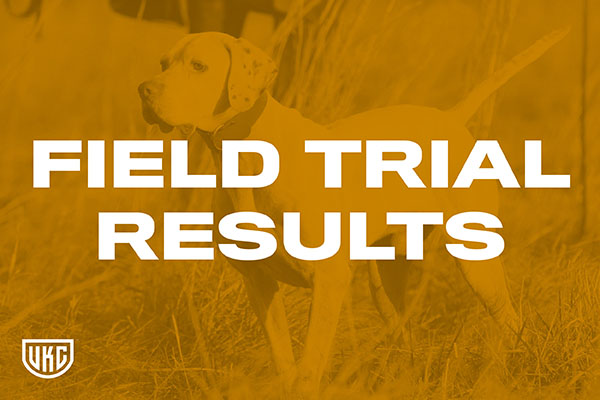 HATCHECHUBBEE, ALA. -- First and foremost I would like to thank Judges Harold Johnson and Steve Hutto. Great judges are needed for a stake like this and they were that and more. They are highly respected and appreciated. Due to their attentiveness, knowledge and awareness all placements were well received.
Second, the Pat O'Neall Field Trial grounds were in perfect shape. A huge thank you to Allen Atkins for the mowing and all the work he put in. As we all know, the late Pat O'Neall will be forever known as the Queen of Alabama Field Trials. She is dearly missed and a moment of silence was held to give thanks and remembrance of her generosity and life before the winners were announced.
The well attended drawing for the 35 dogs was held at the Southern home of Eli Richardson complete with the Eli style cocktail and hors d'oeuves spread. Eli was ably aided by Bailey Pierce who helped with the drawing and the entries.
THE WINNERS
First place went to Class Act Express, pointer male that had three finds of the highest caliber and was handled by Anthony Martino for Mr. Tony Gibson. This was Anthony's first placement as a pro. He has a nice touch with his dogs and his future with the Gibson team looks bright.
Second place went to Miller's Upgraded The Ante who had two finds and a good race. Ante is owned by Allen Linder.
Third was Town Creek Hideaway Jill, pointer female that always seems to be in the money. She was handled by this year's winner of the National Open Shooting Dog Championship, Mike Martino, for owner Bill Clem.
[As a side note, during the trial a wild hog came out the bushes and ran into the back legs of the judges' horses and then the handler's horse. I'm happy to say they both were able to ride out that rodeo and handled it well.]
Hatchechubbee, Ala., February 14 -- One Course
Judges: Steve Hutto and Harold Johnson
LEON SHIVER OPEN SHOOTING DOG [One-Hour Heats] -- 35 Entries
1st--CLASS ACT EXPRESS, 1673556, pointer male, by Bud of Piney Woods--Class Act Game On. Tony & Becky Gibson, owners; Anthony Martino, handler.
2d--MILLER'S UPGRADED THE ANTE, 1690200, pointer female, by Miller's Upgraded Version--Erin's Little Rose. Allen Linder, owner; George Tracy, handler.
3d--TOWN CREEK HARDAWAY JILL, 1681246, pointer female, by Touch's Game Point--Jamback's Amazing Grace. Bill Clem, owner; Michael Martino, handler.
OPEN DERBY --
The Leon Shriver Open Derby saw many a talent come to the line!
First was Sargent of Arms with the best race of the stake and a beautiful find, stood like he was the Sargent of Arms. Handled by Justin Hunt, he did a fine job. Owner and handler a real gentleman.
Second Range Rover with a comparable race and a Find (Judge commented he's standing like a bull), handled by Mike Tracy for owner Elias Richardson III.
Piney Creek Mae, pointer female, pushed the first two dogs hard and was overriden, called the likeable Robert Moorer back to flush. Everything in order; a good job for the owners Emily and Woody Woodruff.
OPEN DERBY --
1ts--HUNT'S SARGENT OF ARMS, 1692924, pointer male, by Miller Unfinished Businses--Hunt Up Gizmo. Justin Hunt, owner and handler.
2d--RANGE ROVER, 1690083, pointer male, by Mohawk Mill Image--Bevy's Cadillac Jukebox. Elias Richardson III, owner; Mike Tracy, handler.
3d--PINEY CREEK MAE, 1692268, pointer female, by Panther Creek Merlin--Pineywood's Belle Belle Aire. Robert Moorer, owner and handler.