Result: Prairie Field Trial Club
Location: Mayflower, Arkansas
Post Date: Mar 21, 2023
Submitted By: Rhonda Lee

Open All-Age Winners (standing from left): Bridget Ledington with Miller's Speed Dial, Jeremy Gulick, Randy Anderson, Ronnie Miller (judge), Mike Lemons (judge), Ronnie Spears, Matt Cochran, Allen Vincent with Barshoe Forget Me Not, Dr. Fred Corder, Mike Hester, and Alex Mauck with Quickmarksman's Dan.
As the calendar turns the page to a new year, the annual excitement of the upcoming trials and their pending potential next few months rises. The new year brings the first trial with competition at Camp Robinson Wildlife Management Area in Conway, Ark.; for this reporter, it is always a trip "home." As we see the emerging skyline of Little Rock while making our way to Camp, the excitement and emotions begin to emerge with the anticipation of the awaiting birds, grounds, lifelong friends, and comradery just ahead. That excitement was quickly extinguished as we began to traverse the grounds. The current management has promoted very little in preserving and developing a healthy, thriving bird crop, which has historically been the case. The decision to hold extensive fall burning, not mowing where needed, and destroying the habitat and food supply by burying the bi-color left an empty and disappointing feeling for all involved. The weeklong event proved these findings with minimal bird contacts and a landscape that solidified the realization that current management procedures are establishing a decline in the area--a sad end to our week.
The Winners
Former National Champion Miller's Speed Dial, owned by Mike Marietta and handled by Randy Anderson, was released in the third brace Wednesday morning headed toward the minnow pond. Speed Dial was found at 7 on the left in sage grass with Firefly's Invictus backing. Birds were flushed, and all was in order. It was a beautiful, reminiscent sight of which, at that point, you knew he had something to prove on that particular morning. Both dogs headed to the lake edge traversing the thick cover with energetic enthusiasm. Anderson had his hat in the air at 40 as we crossed the gravel road headed toward Rock Hill, where scout Bridget Ledington found him pointed. He was about to put his stamp on this stake as he had done in the National Championship, once again with a majestic find, all manners in order, and birds put to flight. He was pointed out going around the fire station far to the front, which concluded what proved to be what everyone knew. The standard had been set.
Barshoe Forget Me Not, owned by Robert Gum and handled by Allen Vincent, was released in the tenth brace with Nosam's Sweet Water, handled by Larry Huffman and owned by Jeff Busby. The dogs traversed the August burning program on the first hour south of the mountain in good fashion. As we crossed the mountain towards the lake, both dogs turned to the right. Soon after, scout Matt Cochran called point for Forget Me Not at 45 on the right edge. This proved to be a big covey of birds that had yet to be seen before this morning brace.
Shortly thereafter, Nosam's Sweet Water was found pointed on the lake edge on the left with a nice covey put to flight. Forget Me Not went on from there to finish way to the front. Sweetwater was found at pick up on the lake edge where birds could not be put to flight initially. He was relocated and re-established point 15 yards closer to the lake with birds put to flight; however, a slight breech of manners was noted as the hour concluded. It was disappointing for Nosam's handler as this would have most likely pushed the eventual winner for the top spot.
Quickmarksman's Dan, owned by Larry Earl and Sam Starnes and handled by Mike Hester, was released Tuesday morning following a rain storm we had Monday night, which caused a rain delay for Monday afternoon's running. Dan crossed Rock Hill on Rabbit Ridge in good fashion showing nicely with good rapport with his handler as he managed the thick undergrowth of Camp Robinson. As we turned to the fire station, Hester's hat was in the air as the dog pointed on the far-left edge. A nice covey was flushed with a few birds leaving before the handler and judge arrived. Dan finished well to the front, and this morning course concluded a nice steady forward performance.
Mayflower, Ark., January 2
Judges: Mike Lemons and Ronnie Miller
OPEN ALL-AGE [One-Hour Heats] - 27 Pointers and 5 Setters
1st--MILLER'S SPEED DIAL, 1666636, pointer male, by Miller's Dialing In-Old Road Lou. Michael Marietta, owner; Randy Anderson, handler.
2d-BARSHOE FORGET MET NOT, 1692349, pointer female, by Whippoorwill Justified-Greypointe Invierna. Robert Gum, owner; Allen Vincent, handler.
3d-QUICKMARKSMAN'S DAN, 1664443 pointer male, by Quickmarksman's Tony-Witt's Snow Angel. Larry Earls & Sam Starnes, owners; Mike Hester, handler.
The Derby Stake
The first and second-place derby winners were braced together. The first-place winner was World Class Equalizer, owned by Mike Marietta and handled by Jeremy Gulick, with No Strings Attached, owned by Dennis Beauford and handled by Randy Anderson, coming through with the eventual second-place finish. Both dogs showed plenty of range throughout the brace, having a divided find at the midway point and good manners on Nursery Pond Road. They both went on to finish, with the Equalizer having his second find along Rock to conclude the 30-minute performance. Third place was awarded to Sandridge Big Iron, owned by Dr. Jim Mills, Steve Lightle, and Natalie Cooper and handled by Allen Vincent. Big Iron was chosen off-race as he had a good steady performance around Rabbit Pen Road. Also notable was another performance worth mentioning by Haney's Hurricane Seeker, handled by David Russell. In this reporter's opinion, this pointer male had a nice forward race with a find in the wood's edge headed towards the minnow pond with enough range and manners; however, the judges left him out.
Judges: Ronnie Miller and Rita Ornsby
OPEN DERBY - 17 Pointers and 3 Setters
1st--WORLD CLASS EQUALIZER, 1702344, pointer male, by Dunn's Tried'n True-Yale's Sunny Hill Dot. Michael Marietta, owner; Jeremy Gulick, handler.
2d-NO STRINGS ATTACHED, 1696661, pointer male, by Valiant-Yee Haw Blackhawk Dee. Dennis Beauford, owner; Randy Anderson, handler.
3d-SANDRIDGE BIG IRON, 1700919, pointer male, by Westfall's True Grit-Gin Smoke and Lies. Dr. Jim Mills, Steve Lytle & Natalie Cooper, owners; Allen Vincent, handler.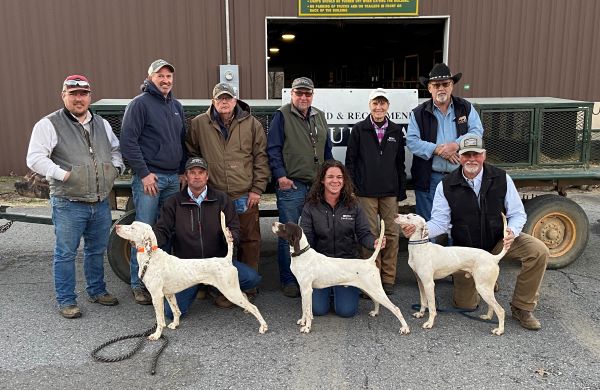 Open Derby Winners (standing from left): Jeremy Gulick, Dr. Fred Corder, Ronnie Miller (judge), Randy Anderson, Rita Ornsby (judge), and Dr. Jim Mills. (Kneeling, left to right): Matt Cochran with World Class Equalizer, Bridget Ledington with No Strings Attached, and Allen Vincent with Sandridge Big Iron.