Event: Game Heir Wins 70th Renewal
Result: Hobart Ames Memorial Field Trial Club
Location: Grand Junction, Tennessee
Post Date: Mar 24, 2023
Submitted By: Jim Atchison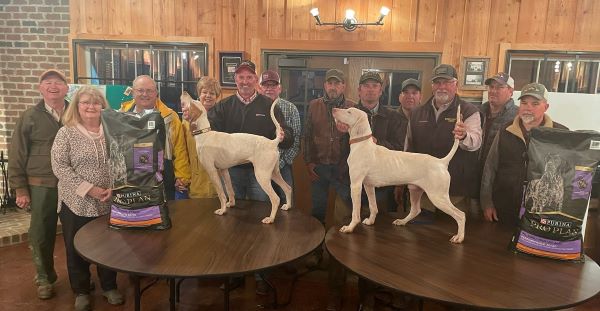 Open All-Age Winners (front, from left): Dr. Fred Corder with Game Heir, Matt Cochran, and Allen Vincent with Texas Wild Rex. (Back, from left): Dr. Rick Carlisle, Kay Carlisle, Charlie Frank Bryan, Pat Bryan, Vick Ethridge, Judges Scott Johnson and Richard Beaver, Chris Weatherly, and Ryan Braddock.
The 70th renewal of the Hobart Ames Memorial Classic was sponsored by the Ames Amateur Field Trial Association and ran on the National Championship courses of Ames Plantation January 9-14. The Classic drew 46 all-age entries contested by 15 handlers and 20 derbies with seven handlers.
Scott Johnson and Richard Beaver judged both stakes. Johnson is a well-known professional handler and trainer of National Champion Brittanys from Winfield, Kan. He was accompanied by his wife, Harlene, as he made his second appearance as a judge of these stakes, having previously judged in 2020. Beaver is retired military, from Wichita Falls, Tex., and a successful field trialer of Brittanys. He was accompanied by his wife, Amanda. The judges and their spouses were great company, and their services were much appreciated.
Dr. Carlisle hosted the drawing and created the running order in his office on Saturday night, January 7. He was assisted by Matt Backus, the new Assistant Center Director of Ames Plantation, and Ryan Braddock, who heads up the crop farming on the plantation and takes care of mowing the six National Championship courses. Mrs. Kay Carlisle, Charlie Frank and Pat Bryan, Chris Weatherly, and the reporter also attended the drawing. The drawing date coincided with Kay Carlisle's birthday and created the perfect opportunity for added celebration.
The evening of the drawing was the first of several occasions when Dr. Carlisle spoke appreciation for the continued support of the Trustees of the Hobart Ames Foundation, who permit the use of the grounds and facilities of the plantation to be used each year. On each of those occasions, Dr. Carlisle also voiced appreciation for the continuing generous corporate sponsorship of Purina, supporting the club financially and by providing dog food which is awarded to the winners. Also, the generous contribution of sausage biscuit sandwiches provided by the First Baptist Church of Somerville and enjoyed by everyone in the gallery at the end of the first morning brace each day was acknowledged. Those breakfast treats were distributed each day by Aubrey Green, a long-time employee of the plantation and a member of Somerville First Baptist for almost 70 years.
The club provided lunches each day in the Rhea Reception Center. The late Dr. Frank McKnight's family joined the Bank of Fayette County directors to sponsor the Wayne Tate Memorial Dinner. Steaks, grilled chicken, and accompanying sides were served to all owners,
handlers, and guests on Tuesday evening at Bryan Hall. William and Tommi Smith provided dinners for the judges, reporter, and their spouses on three nights, and Dr. and Mrs. Carlisle hosted a wonderful dinner in their home on Wednesday night.
Others who worked throughout the week were marshals Dr. Carlisle, Ryan Braddock, and Chris Weatherly. Also, Ryan Braddock and Chris Weatherly, with assistance from Jamie Evans and other plantation employees, took care of and transported horses for those holding various responsibilities each day. Joe Thompson manned the dog wagon throughout both stakes, and Aubrey Green was on hand to help with road-crossing security.
The grounds at Ames were in excellent condition, and birds were abundant despite recent heavy rains and near-zero weather, with wind chills in the negative teens only about ten days before the beginning of this Classic. Weather was generally agreeable throughout the week, but with a lot of temperature variation. The lowest morning temperatures varied from the upper 20s to the high 50s, while the daily high temperatures ranged from the 30s to about 70; crazy winter weather. The only delay was for about one and a half hours of hard rain and light hail on Thursday at mid-day, which still permitted finishing the last two all-age braces after the delay.
All-Age Winners
Game Heir won first place with his strong performance as the bottom dog in brace No. 17. He had the second-hour afternoon course and ran a solid forward race, exhibiting beautiful style throughout the hour. Game Heir had nice finds at 25 and 52 for Dr. Corder and handled the flush and shot on each perfectly. Additionally, this winner demonstrated significant self-control when his bracemate almost did not back at 52, creating some distraction. Also, remembering that this dog competed in the 17th brace, both of his finds were at entirely different locations from where birds were found by the dogs that had run on the same course before him.
Texas Wild Rex found birds three times for Allen Vincent and showed himself beautifully in the second brace on Monday morning. His first find was at 6 in a milo field while headed south after crossing Turner Road. Next, he had a distant limb find at 36 and finally stood.
In a divided find at 48, he was holding a superior position with a bracemate that never tightened up or backed very well. Rex was solid and aggressive, enjoyable to watch, and, early in the contest, set a high mark for each of his succeeding challengers to beat.
Como Rain, under the whistle of Steve Hurdle and with some owners in the gallery, found birds twice in brace No. 5 on Monday. The first birds were moved at 35 under the canopy created by giant pine trees, and the second covey flew at 59 as the 4-year-old coursed his way back toward Ames Road to finish in a nearby wheat field. His performance was pleasing and appreciated by the judges.
The Other All-Age Contenders
Painted Owyhee Toad, owned by father and daughter Jim and Bridget Ledington and handled by Bridget, was braced with Southern Nation, owned by John and Susan Ivester, and handled by Lefty Henry, in brace No. 1. The Ledington entry finished the hour but found no birds. Southern Nation found birds at 13 but was picked up soon after that.
Beeler's Texas Jig, owned by Scott and Charles Beeler and handled by Scott, ran in brace No. 2 with the second-place winner. He found birds at 8, pointed again at 42 in an unproductive stand, and was picked at 48 when he did not back as well as his handler expected.
In the next brace, Randy Anderson released Touch's Fire Away, owned by Dr. Greg and Carmen Adams, while Mat Cochran loosed Big N Wild, owned by Phil Witter. Both handlers got their trackers before the end of the hour.
Rock Acre Yellow Hawk, owned by Ric Peterson and handled by Brody Byrd, went next paired with Game Wardon, handled by his owner, Dr. Fred Corder. Hawk had a find at 1 beside Ames Road immediately after breaking away in brace No. 4. However, he was picked up at about 22 before crossing that road. Game Wardon was strong and stylish as he found birds at 8 and 32, followed by a stop to flush at 52.
Cold Creek Buck, owned by Phil Witter and handled by Matt Cochran, was braced with the third-place winner in brace No. 5. He had birds for Cochran at 27 and finished the hour with that one find.
Slick Water Frac and Nosam's Sweet Water went together in brace No. 6. Randy Anderson handled slick for Raymond Morrow, while Larry Huffman handled Nosam's Sweet Water for Jeff Busby. Slick had birds once when birds flew in a stop-to-flush situation, which he handled excellently. Larry Huffman's contender ran an excellent race and found birds one time, at 17, in tall native vegetation along the Chute.
On Tuesday morning, which was sunny and the temperature at 38, Randy Anderson loosed I'm Gallant, owned by Jay McKenzie, while Steve Hurdle loosed Stride, owned by Larry Esterline. Stride pointed at 1, and I'm Gallant backed. Stride then had additional finds at 28 and 51. At 55, I'm Gallant pointed, and birds were flushed with Stride backing but flagging while doing so.
Justifier, owned by Dr. Bob Rankin and handled by Allen Vincent, went next in brace No. 8, with Whippoorwill Vette, owned by Dale Bush and handled by Larry Huffman. Both dogs ran good forward races but stood only once when they had a divided find near the Buford Ellington Road at 18 on the second-morning course.
Barshoe Forget Me Not, handled by Allen Vincent for Bob Gum, and Raw Law Sugar Trouble, handled by Mike Hester for Russell Williams, were off the line in brace No. 9. After a long absence, Barshoe was picked up. Hester shot once when his dog pointed at 37, and he flushed birds with ease.
Haney's Storm Warning was handled by his owner Chris Cagle, with Chris Cagle, Jr. scouting. Storm Warning had birds within the first 30 seconds in brace No. 10 by Ames Road. However, he had two unproductives, at 26 and 50, so he was put in a harness.
In brace No. 11, Bozeann's Rex, handled by Mike Hester for owners Ben Dillard and John Dymond, was braced with Como Thunder, owned by Doug Arthur, Billy Blackwell, and David and Rachel Russell and handled by Steve Hurdle. Bozeann's Rex only stood once, with the effort being unproductive. Como Thunder was lost and did not finish under judgment.
The final pair that competed on Tuesday were Miller's Speed Dial, owned by Mick Marietta and handled by Randy Anderson, and Coldwater Thunder, handled by Steve Hurdle for Doug Arthur, Billy Blackwell, and David and Rachel Russell. Both dogs finished the hour but had no birds.
Wednesday was the warmest day, with the temperature at 58 degrees when the dogs for brace No. 13 were released at 8 a.m. Those dogs were Lester's Storm Chaser, owned by John Ivester and handled by Lefty Henry, and Superstition's Jake, owned by Ric Peterson and handled by Brody Byrd. Both dogs finished the hour but only stood once, at 55, when Jake had an unproductive stand while being backed by Storm Chaser.
Next to go were Phillips Linebacker, owned by Nathan Phillips and Orin Ingram, and Wild Credence, handled by Matt Cochran for owners Kevin Guest and Dray Williams. Phillips got his tracker at about 22, and Wild Credence was picked up after having unproductives at 15 and 41.
Quickmarksman's Dan, handled by Mike Hester and owned by L. S. Earls and Sam Stone, went next braced with Coldwater Odyssey, handled by Weldon Bennett and owned by Andrew and Debra Agnew. Odyssey started strong with beautiful finds at 4 and 11 but committed an error on the third covey at 19 and was put into a road harness. Dan finished the hour and pointed a big covey at 25, which Hester easily flushed.
In brace No. 16, Heisman, owned by Trevon Hester and handled by his grandfather, Mike, was loosed with Sadie Firefly, handled by Allen Vincent for Dr. Jim Mills, Steve Lightle, and Dr. Natalie Cooper. Heisman was gone early, while Sadie had birds at 32 and 40 but flagged while pointed and was picked up after the second find.
Lester's Stem Winder, owned by Dan Hensley and handled by Randy Anderson, competed in the brace No. 17, paired with the first-place winner, Game Heir. Stem Winder had an unproductive at 42 and was then gone for a few minutes but came back at 52 and was slow to back his bracemate. Anderson elected to pick him up at that time.
Miss Stylin Sue went next, braced with Mauck's Wyeast Owyhee Dallee. Sue, owned by Dr. Jim Mills and Steve Lightle, was gone before the half-hour, and Allen Vincent got his tracker. Alex Mauck was handling his setter that pointed at 4, with a covey of birds flushed. However, that stand was followed by unproductives at 22 and 32, causing the brace and Wednesday's running to end early on the north side of the Jack Harris field.
On Thursday morning, the first of the last five all-age braces saw Quickmarksman's Excalibur, handled by Mike Hester for L. S. Earls, loosed with Mauck's Wyeast Owyhee Jack, handled by Alex Mauck for owner S. B. Croy. Excalibur had birds for Hester once, at 16, and both dogs continued to hunt until reaching National Championship Road at 55 when the judges gave both handlers their trackers.
Misty Morn Masked Man, owned and handled by Joey McAlexander, and Reed's Yellowstone, handled by Matt Cochran for owner Phil Witter, went together in brace No. 20. Masked Man pointed birds once, at 41 near the Keegan gate, and McAlexander flushed but did not fire his long gun. He finished the hour while Yellowstone became lost and did not finish the hour.
Next, Randy Anderson had Bonner's Bulletproof for Dr. Chris Cornman, and Mike Hester had Papa Joe for Tremel Hester. Bulletproof had birds twice for Anderson, at 14 and 19. Papa Joe had birds once for Hester but did not finish the hour.
As mentioned earlier, thunder and lightning were expected around 1 p.m. on Thursday. They came as expected, accompanied by hard rain and a brief period of hail. After they passed, the running resumed at about 2:30, and the final two all-age braces were run. Touch's Cocaine Blues, handled by Randy Anderson for owner Matt Griffith, and Firefly's Invictus, handled by Allen Vincent for owners Dennis and Bonnie Hidalgo, hunted the first afternoon course. Vincent flushed birds and shot near Ames Road at 12, Invictus' one find. Cocaine Blues had no birds during the hour.
Steve Hurdle and Allen Vincent had the final two dogs in brace No. 23. Hurdle loosed C S Code Blue for Tony and Becky Gibson, while Vincent had Wynona's Nickleback Sugar for Bruce Sooter and Brad Tolson. Code Blue scored one find at 28. The setter, Sugar, had no birds and was picked up by Vincent before the end of the hour.
Grand Junction, Tenn., January 9
Judges: Richard Beaver and Scott Johnson
OPEN ALL-AGE [One-Hour Heats] - 41 Pointers and 5 Setters
1st--GAME HEIR, 1691409, pointer male, by Dominator's Rebel Heir-Game Snow. Fred Corder, owner and handler.
2d--TEXAS WILD REX, 1685409, pointer male, by Whippoorwill Forever Wild-Washita River Wild. Aaron Bolli, owner; Allen Vincent, handler.
3d--COMO RAIN, 1687713, pointer male, by Skyfall-Catch Me Dot. Doug Arthur, B. K. & Rachel Blackwell, and David & D. Russell, owners; Steve Hurdle, handler.
Derby Winners
Touch's Patch Adams won first place in the Derby competition, besting the other 19 contenders. Patch was handled by Ike Todd for Gordy Jones and favorably impressed the judges with a strong forward race and excellent style. This winning derby had one nice find, at 49, at the edge of woods near Morgan field's south end.
Tom and Melanie Shenker traveled from Alabama, bringing Southern Thunder, owned by Chris Campbell. Thunder was the bottom dog drawn for the final brace. He hunted aggressively for Shenker and had one nice find, at 43, on the first afternoon course. His whereabouts were not known at the end of the hour, but he was soon found and brought back to the front by his handler.
World Class Instigator, owned by Mick Marietta and handled by Randy Anderson, won third. He had birds once, at 57, near National Championship Road. Instigator, like the other winners and most other competing derbies, demonstrated lots of ability, leaving no doubt that they had promising futures as all-age competitors.
OPEN DERBY CLASSIC [One-Hour Heats]
- 19 Pointers and 1 Setter
1st--TOUCH'S PATCH ADAMS, 1702653, pointer male, by Touch's Grey Street-Touch's Speed Queen. Gordon Jones, owner; Ike Todd, handler.
2d--SOUTHERN THUNDER, 1695471, pointer male, by Lester's Storm Surge-Bryson's Dialing On Line. Chris Campbell, owner; Tom Shenker, handler.
3d--WORLD CLASS INSTIGATOR, 1702345, pointer male, by Miller's Speed Dial-Grand River Mayday. Mick Marietta, owner; Randy Anderson, handler.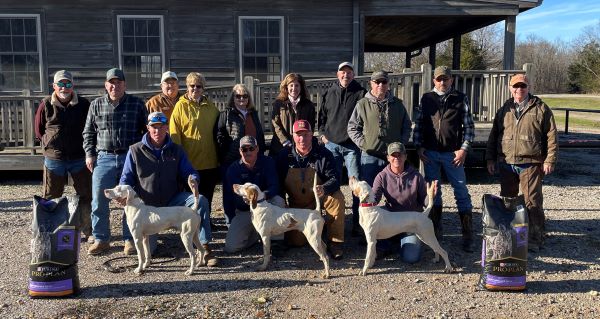 Open Derby Winners (front, from left): Ike Todd with Touch's Patch Adams, Chris Weatherly and Tom Shenker with Southern Thunder, and Bridget Ledington with World Class Instigator.
(Back, from left): Ryan Braddock, Judge Richard Beaver, Charlie Frank and Pat Bryan, Kay Carlisle, Melanie Shenker, Dr. Fred Corder, Randy Anderson, Judge Scott Johnson, and Dr. Rick
Carlisle.