Event: Amateur Trial Held At Slate River Mill Farm
Result: Powhatan Field Trial Club
Location: Buckingham, Virginia
Post Date: Mar 27, 2023
Submitted By: Steve Moore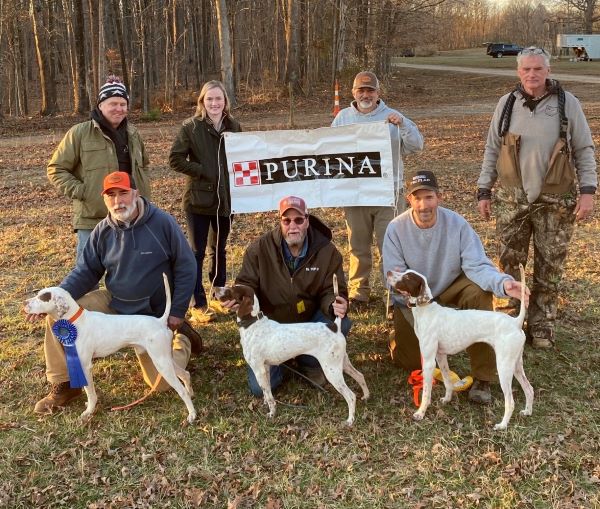 Amateur Shooting Dog Winners (from left): Judge Jim Winnen, Dennis Kivikko with Warrior's Mean Louie, Isabelle Recort, Cliff Monroe with Twiggy, Steve Moore, Lee Flanders with Chippokes Fancy Lady, and Judge Mark Calder.
The Powhatan Field Trial Club held a full day of derby and shooting dog competition on the beautiful rolling hills of Slate River Mill Farm in Buckingham, Va., on January 7, 2023. Kathy Shannon was again a gracious host in offering her beautiful grounds for this event. In addition to the welcoming venue and all it provides to the competitors, the trial was highlighted by longtime field trialer Bob Gillis. Bob is retired from a long career starting with the "old fun trial days" through U.S. Complete and horseback shooting dog competition. Bob presented a check with a generous donation to the U. S. Complete scholarship fund. Thank you, Bob!
We want to thank the following for their participation in making this a successful event: Purina, for supplying valuable coupons for their quality dog feed to all the winners; Kathy Shannon's Slate River Mill Farm in Buckingham, Va.; and Judges Jim Winnen of Wattsburg, Pa., and Mark Caulder of Rushville, Ohio. Both judges are veteran field trialers with a wealth of knowledge. Additionally, the success of this day could not have been possible without the help of many other people. Dennis Kivikko supported the event as the field trial chairman. The trial bird planters included Steve Moore, Steve Graham, and Isabelle Rector. Kirk Regensburg supported the gallery wagon, and Joanna Yeomans operated the dog wagon service for the event.
The lunch meal was presented and served by Donna and Marge Kivikko. Karen Graham prepared a delicious meatball casserole as the main course. Chili, cornbread, and pasta salad supplemented the meal as comfort food was welcomed on a cold January day. Jennifer Rector provided sweets and pastries for all to enjoy throughout the day. Many participants and guests chipped in with helping whenever needed.
The field trial event did not include a Puppy stake due to the number of Derby (10) and Shooting Dog (18) participants, with some from as far as Michigan and a representation of participation from four different states.
The Amateur Derby got underway with a solid frost on the ground and temperatures in the upper 20s to low 30s. The morning quickly warmed up when the judges called the dogs to the starting line. Judge Mark Calder provided the cue, "Whenever you're ready," and the young dogs began their brace. Nice starts were observed from the first two braces, but the third brace provided a highlight for the derby dog event.
Freedom (PM/DeLong) and Blaze (BM/Gwynn) made an impressive separation from the start, becoming the derby brace to watch. Freedom worked a nice 10-2 pattern with little handling needed and moved up front twice to show off stylish points. He made big moves and ran a mature race. Blaze also showed quality work with bird finds and was also a mature derby dog. Freedom and Blaze represented the final places of first and second, respectively, for the Amateur Derby category.
The third-place dog came in brace No. 4, including Bo (PM/Kivikko). Bo ran an excellent race and showed some quality groundwork. He had bird finds and showed progress in transitioning to a future shooting dog participant. The three placed dogs were a pleasure to watch and offered the audience a desire to see more as they transition to the next level of competition.
The Amateur Shooting Dog competition got underway with much anticipation to provide a day of competition that would be hard to judge. It did not disappoint. Judges Dan Winnen and Mark Calder described the event as possibly having nine dogs that could have placed in the Shooting Dog stake, but only three would walk away with ribbons.
The highlights began in the second brace, with Jack (ESM/Flanders) as the "Shooting Dog of the Morning." He had an exaggerated style and impressed the judges holding the first-place rank for the first three braces.
Brace No. 4 included Chess (PM/Monroe). He caught the judges' attention with solid bird and groundwork.
Brace No. 5 introduced Molly (PF/Flanders), and she quickly moved to first place with a strong forward showing with complimentary handling and excellent bird work. Then came the "Brace of the Day," brace No. 6, including Louie (PM/Kivikko) and Justice (PM/DeLong). The judges described this match as the one to watch for the day for both the judges and spectators. These dogs complimented each other with their points and backs. The match catapulted Louie into first place with his stylish points, accurate backing, and excellent handling. This shifted Molly to second place and Justice to third by the end of the brace.
Twiggy (PF/Monroe) performed commendably in brace No. 7. She separated from her bracemate early and took the lead in demonstrating finds, solid points, and impressive handling. Her solid groundwork bumped Justice out of third and shifted Molly from second to third, leaving Twiggy placing second overall.
As mentioned earlier, the judges were very complimentary of the competitiveness of the trial and the opportunity to witness many dogs that could have won a ribbon at this event.
Buckingham, Va., January 7 - One Course
Judges: Mark Calder and Jim Winnen
AMATEUR DERBY - 3 Pointers, 4 Setters and 3 Brittanys
1st--MAY'S LEGACY OF JUSTICE, 1695469, pointer male, by Faith's Maximum Justice-Chasehill Mighty May. Kenric J. DeLong, owner and handler.
2d--RED GRANITES BLAZE OF SUNSHINE, 1694753, Brittany male, by Horizon's Beyond The Sunset-Red Granite's Abbey Road. Susan & William Gwynn, owners; Susan Gwynn, handler.
3d--MOHAWK MILL BIG ENOUGH, 1698763, pointer male, by Mohawk Mill Trail Warrior-Hirollins Fantasy Girl. Gary S. Winall, owner; Dennis Kivikko, handler.
AMATEUR SHOOTING DOG - 2 Brittanys, 10 Pointers and 6 Setters
1st--WARRIOR'S MEAN LOUIE, 1691549, pointer male, by Mohawk Mill Trail Warrior-Pirate's Mean Louise. Dennis Kivikko, owner and handler.
2d--TWIGGY, 1690766, pointer female, by Mohawk Mill Trail Warrior-Sinbad's Little Lady. Cliff Monroe, owner and handler.
3d--CHIPPOKES FANCY LADY, 1689564, pointer female, by Stoney Run's Buddy-Hirollins Fancy Lady. Lee Flanders, owner and handler.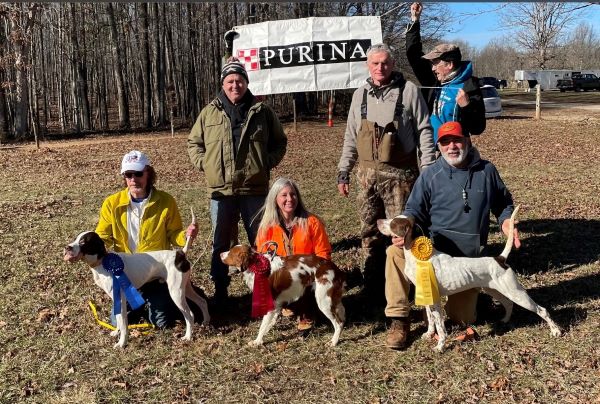 Amateur Derby Winners (from left): Ken DeLong with May's Legacy of Justice, Judge Jim Winnen, Sue Gynn with Red Granite's Blaze of Sunshine, Judge Mark Calder, Dennis Kivikko with Mohawk Mill Big Enough, and Raymond Forney.