Result: Chickahominy Field Trial Association
Location: Caret, Virginia
Post Date: Mar 13, 2021
Submitted By: Mert Jones
Thanks to the hospitality of Dave Pomfret and the Wheat family, the Chickahominy Field Trial Association was fortunate to once again run our trial on the grounds at Blanfield Plantation in early March of this year.
Historic Blanfield encompasses 4,000 plus acres on the banks Rappahannock River in Essex County, near Tappahannock, Va., and includes an area where many walking and horseback trials are run each year. This area provides a field trial venue that is as good as you want. And Dave is as fine a host as you can find, providing all the things that a field trial chairperson could need to put on a first class trial! Thanks, Dave!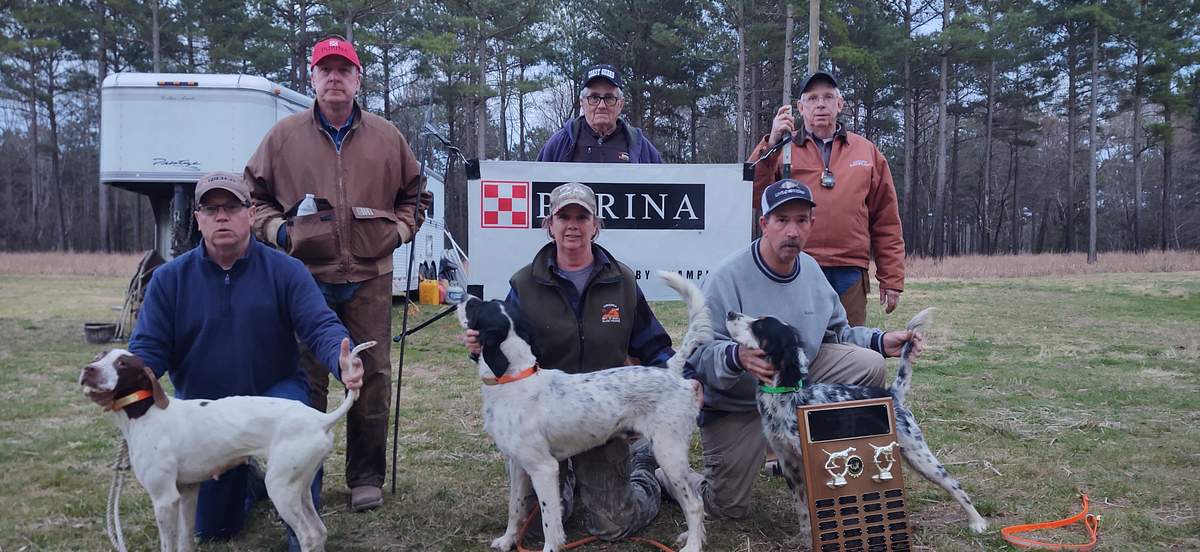 This year's panel of judges for the day was: Jim Crews, Jim Jones, Grace Ann Lawson and Phil Rutter. All are accomplished amateur trailers with a vast amount of expertise in training, handling and judging dogs. Their decisions were well received and we thank them for bringing their horses and taking their time to evaluate our dogs!
Our trial is chaired by Sharon Townley who sees to it that every detail is attended to by those that she calls on. Sharon recruits a team of folks who take their tasks seriously and attend to them in a fashion that is complete. This team saw to it that the details were taken care of and our hats are off to all of them. Our bird planter, Rick Edwards' efforts were appreciated by all and were such that the judges awarded him an honorable mention at the end of the trial.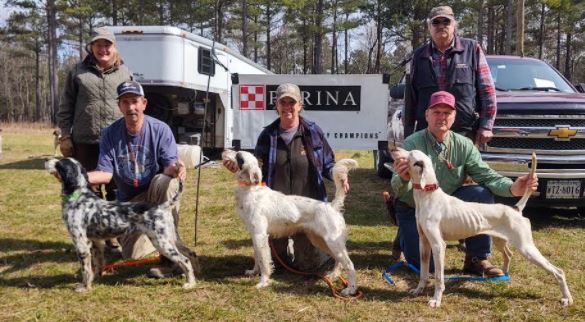 The weather for the trial was mild and it was an enjoyable day for both man and beast. It was made even more enjoyable for man and woman by Judy Jones with a lunch of her well liked chicken casserole and all the trimmings.
THE WINNERS
Four youngsters were entered in the Puppy Stake. All these puppies ran big races over the puppy course that was laid out over a portion of the main walking course at Blanfield. Lee Flanders pointer pup, Gypsy Girl, took the course with a race that the judges liked enough to give her the first place blue plaque. Jimmy Crandall and Mitch Forrester's 8 -month-old pointer pup Jake The Joker was placed second. Sharon Townley's setter Rip rounded out the placements.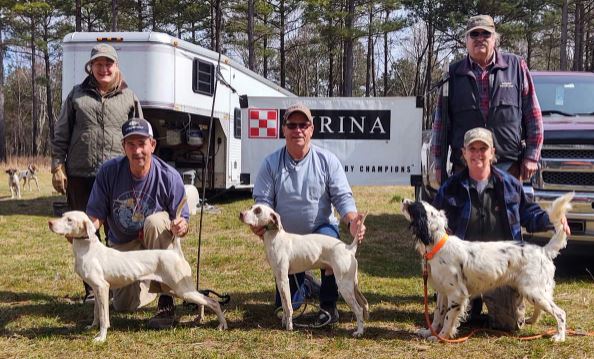 The Derby saw four youngsters vie for the placements. There were only two handlers in the stake so Sharon Townley and Lee Flanders were braced together in the two braces. There was plenty of bird work for all four of these dogs and all hunted the course. In the first brace Lee's setter Cracker Jack and Sharon's setter Beechwoods Boy's Round Here (Blake) were braced together with Jack placing first and Blake placing second. Lee's Pointer, Bo was third.
The Shooting Dog Stake judges have supplied me the following description of the dogs' performances as penned by Jim Jones:
The Amateur Shooting Dog was a strong stake from beginning to end. The first brace started off strong with both dogs scoring finds and backs and exhibiting good manners. Throughout the stake there were many good individual performances. The winners came later in the day. Sorrows of Satan (Mazie), Jimmy Crandall's pointer female had four find and a good forward race. Mazie hunted to the front, withstood pressure and had good manners on all her finds. Beechwood's Samuel Colt a setter male, garnered second for Sharon Townley with multiple finds and backs, and Cracker Jack took third for Lee Flanders. The second and third placed dogs were braced together. They hunted to the front and exhibited good manners on all opportunities around game. All placed dogs finished strong, hunting to the front.
Your reporter appreciates the judges providing the foregoing description of the dog's performances.
The Chickahominy Field Trial awards our revolving Dog of The Day plaque which is for the dog that is named by the judges to be the outstanding dog of the trial. This trial's year's winner was Chippoke's Cracker Jack which won the first place in the Derby and third in the Shooting Dog. The judges also awarded honorable mentions to Rick Edwards, Verlene Stephenson and Dennis Kivikko.
Thanks to all who helped make this trial another success! Please join us in in the fall and stay safe!
Essex County, Va., March 13 -- One Course
Judges: Grace Anne Lawson and Phil Rutter
AMATEUR PUPPY -- 2 Pointers, 2 Setters and 1 Brittany
1st--CHIPPOKES GYPSY GIRL, 1693073, pointer female, by Broken Halo--Brier Creek Daisy. Lee S. Flanders, owner and handler.
2d--JAKE THE JOKER, 1693052, pointer male, by Mohawk Mill Legacy's Pride--Mohawk Mill Dolly. Mitch Forrester & Jim Crandall, owners; Jim Crandall, handler.
AMATEUR DERBY -- 1 Pointer and 3 Setters
1st--CHIPPOKES CRACKER JACK, 1691321, setter male, by Skyview New Edition--grid Iron's Sorrell's Penny. Lee S. Flanders, owner and handler.
2d--BEECHWOODS BOY'S ROUND HERE, 1686430, setter male, by Grousewoods Ridge Gambler--Beechwoods Madison. Sharon & Phil Townley, owners; Sharon Townley, handler.
Judges: Jim Crews and Jim Jones
AMATEUR SHOOTING DOG -- 11 Pointers, 6 Setters
and 2 Brittanys
1st--SORROWS OF SATAN, 1681535, pointer male, by Mohawk Mill Pirate--Mohawk Mill Honey. James Crandall, owner and handler.
2d--BEECHWOOD'S SAMUEL COLT, 1675018, setter male, by Rutter's Dusty Socks--Pinekone Whistling Dixie. Phil & Sharon Townley, owners; Sharon Townley, handler.
3d--CHIPPOKES CRACKER JACK, 1691321, setter male, by Skyview New Edition--Grid Iron's Sorrell's Penny. Lee S. Flanders, owner and handler.