Result: NBHA Southern Regional Championship
Location: Glenwood, Georgia
Post Date: May 17, 2023
Submitted By: Ray Brown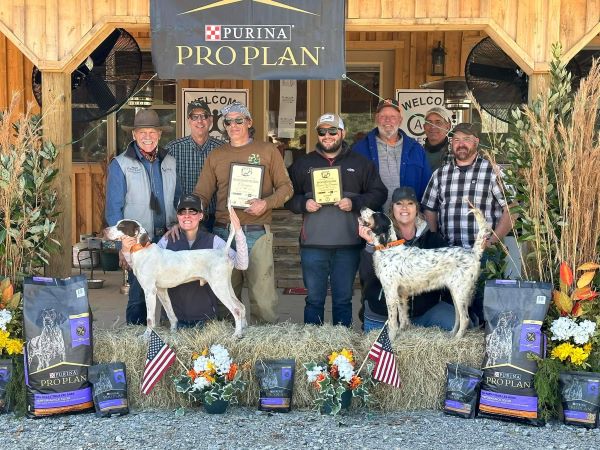 NBHA Southern Regional Open Shooting Dog Championship Winners (front, l-r): Indian Creek Bocephus with Jillian Stuhr and Meadowwood's Irish Rose with Payton Gunby. (Behind): George Hickox (judge), Ray Brown, Garry Malzone, Alex Silva, Darrell Gunby, Karl Forsberg, and Mitch Osborne (judge).
The National Bird Hunters Association Southern Regional Championship began on January 27, 2023, and was hosted by the AG Preserve Field Trial Club in Glenwood, Ga. Judicial duties for this year's event were handled by George Hickox of Pittsburg, Pa., and Mitch Osborne of Gordon, Ga. Both gave undivided attention to their officiating duties, and the decisions were well received. This year's running attracted another large group of entries, with handlers traveling from Illinois, Ohio, North Carolina, South Carolina, New Jersey, Florida, and Georgia. Thank you to each handler who supported this event!
Landowners and hosts Darrell and Sharon Gunby warmly welcomed trialers with superb accommodation and Southern hospitality. Their new clubhouse is completely finished and contains full kitchen facilities, showers, comfortable furnishings, and a large fireplace. Outdoors there is a covered front porch and a large rear deck that is handicapped accessible. Although the weather was relatively mild this year, the indoor fireplace and the outdoor fire pit were gathering points each evening. The extended Gunby family prepared excellent meals on the grounds, with jambalaya on Friday and slow-cooked pulled pork on Saturday.
Sharon handles all the organizing and administrative duties for the event, while Darrell does whatever is needed to ensure the event stays on schedule. He continues developing and improving his AG Preserve grounds through clearing, prescribed burning, and selective planting. The area consists mainly of pine timberland that has been thinned to produce a piney woods habitat optimal for quail. Much of the area contains sedge grass and other native cover with feed strips in more open areas. Weather for this year's event was mild, with sunny skies and lows just below freezing with highs in the mid-50s.
Finally, we are especially grateful to partner with the following sponsors contributing to the framework that makes each NBHA event stand out. They include Purina Pro Plan, Gun Dog Supply, Garmin, Mule Brand Gear and Apparel, Gundog Central, and OnX Hunt.
The Championship Stake
This year's champion, Indian Creek Bocephus (Bo), ran in brace No. 4. The liver and white pointer male is owned by Ed Marron, handled by Garry Malzone, and scouted by Jillian Stuhr. Bo is a repeat winner on these grounds, also capturing the championship spot in 2021. Running in the last morning brace, Bo scored his first find well to the front in the cleared woods to the right of course, all in order. He continued to put down a powerful forward-reaching race throughout the remainder of the hour with one additional find in a feed strip and one unproductive.
The runner-up, Meadowwood's Irish Rose, came from brace No. 5. The setter female is owned by Darrell Gunby, was handled by Alex Silva, and scouted by Payton Gunby. Breaking away just after lunch, Rose scored her first find in sedge grass on the right of course. She continued the hour with a moderate shooting dog race, carding three additional finds and one unproductive.
A number of other dogs finished the hour, but this weekend their efforts did not exceed those of the winners.
The Open Derby
This year's derby group was exciting to watch. Travis Patterson traveled from Illinois to take first place with Huber's Artemis Sunshine. Chippewa's Dream Chaser (Z. Erne) captured second, and Indian Creek Pineapple (Malzone) placed third.
Thanks again to the participants, landowners, and sponsors for making this event possible.
Glenwood, Ga., January 27
Judges: George Hickox and Mitch Osborn
NBHA SOUTHERN REGIONAL OPEN SHOOTING DOG CHAMPIONSHIP [One-Hour Heats] - 26 Entries
Winner--INDIAN CREEK BOCEPHUS, 1656742, pointer male, by Brown's Tom Tom-Indian Creek Riptide. Edward Marron, owner; Garry Malzone, handler.
Runner-Up--MEADOWWOOD'S IRISH ROSE, 1658177, setter female, by Caladen's Davinci-Merritt's Hope. Darrell Gunby, owner; Alex Silva, handler.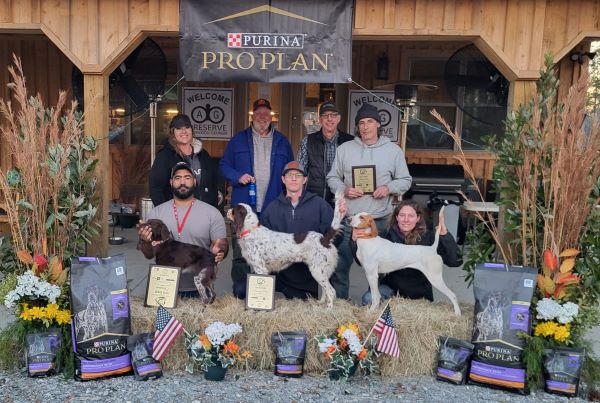 Open Derby Winners (front, l-r): Huber's Artemis Sunshine with Travis Patterson, Chippewa's Dream Chaser with Zach Erne, and Indian Creek Pineapple with Jillian Stuhr. (Behind): Payton Gunby (judge), Darrell Gunby, Ray Brown (judge), and Garry Malzone.
Judges: Ray Brown and Payton Gunby
NBHA OPEN DERBY - 5 Entries
1st--HUBER'S ARTEMIS SUNSHINE, 1702261, Brittany female, by Biebel's Walt Longmire O'Call-O'Callahan's Run Around Sue. Aaron T. Patterson, Jr., owner and handler.
2d--CHIPPEWA'S DREAM CHASER, 1698352, setter female, by Dashing Iron Kentucky Coal-Otho's Field of Dreams. Andrew & Zachary Erne, owners; Zach Erne, handler.
NBHA OPEN PUPPY - 3 Entries
1st--HUBER'S ARTEMIS SUNSHINE, 1702261, Brittany female, by Biebel's Walt Longmire O'Call-O'Callahan's Run Around Sue. Aaron T. Patterson, Jr., owner and handler.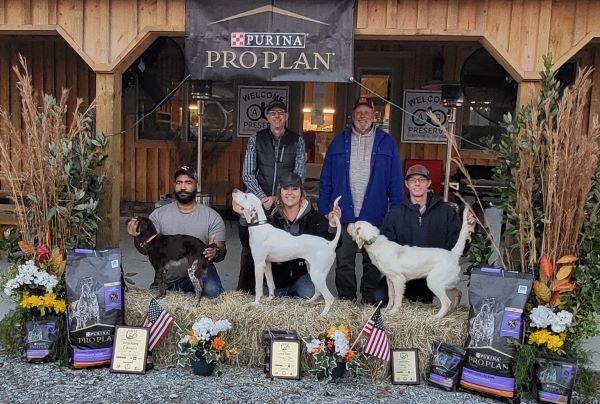 Open Puppy Winners (front, l-r): Huber's Artemis Sunshine with Travis Patterson, Sonic Boom Von Uber Haus with Payton Gunby, and Levi with Zach Erne. (Behind): Ray Brown (judge) and Darrell Gunby.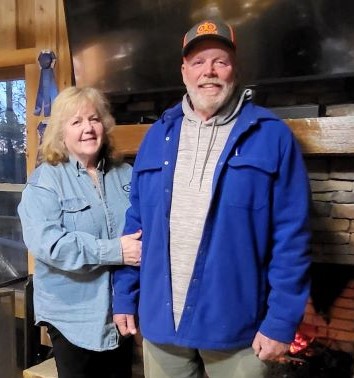 Hosts Darrell and Sharon Gunby