Result: Gyp Hills Field Trial Club
Location: Medicine Lodge, Kansas
Post Date: May 18, 2023
Submitted By: Douglas Meyer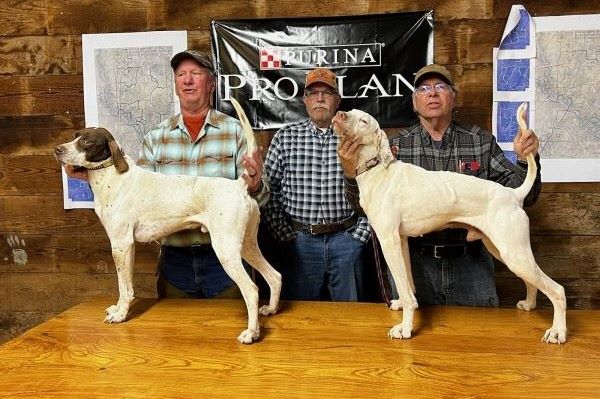 Amateur All-Age. Lynn Oxendine with Double Rebel Cowboy, Lou Qualtiere Judge and Doug Meyer with Greypointe Oso.
The Gyp Hills Field Trial Club rescheduled our amateur stakes from November to February 24-26, 2023 to accommodate unforeseen date conflicts in the fall. Despite the change, we had an excellent renewal over the 43,000-acre Z Bar Ranch southwest of Medicine Lodge, Kan., with quite a few wild bird contacts and more seen along the three one-hour courses and the separate Derby venue. Despite the drought that has gripped the western reaches of Kansas, the cover on the Z Bar and the rotational grazing of bison had the venue in very good shape.
The courses on the Z Bar are routed along and between the drainages of the Salt Fork of the Arkansas River, Cottage Creek and West and East Dry Creeks which serve to sustain the native bobwhites, pheasants and increasing population of lesser prairie chickens. These wild birds can be found anywhere, and dogs must search diligently and intelligently along the various plum thickets and hillsides to point these birds. While the birds utilize the riparian areas adjacent to the water features, they more often are found eating western ragweed seed and other weed seeds where overhead cover from sumac and sandhill plums provide protection. Dogs who work this country know where to look much as the chukar dogs of Idaho know to seek out the rock outcroppings on the hilltops. Our judges were a group that enjoy this type of country and came to watch good dogs hunt it to the limits in the AA and Derby and to apply their skills properly in the shooting dog stake.
Judges Lou Qualtiere and Sean Anderson were in the saddle for the hour all age which started in cold temperatures. Lou splits his time between Saskatchewan and Southern Missouri and is a stalwart of the trials at Mortlach, Sask., as well as former trustee of Region 14. Sean competes their Vizslas and runs them in wild bird trials when available including the stakes held on sharp tails at the Namekagon Barrens. Brisk morning temperatures led us to wait an hour before turning our first brace loose a little after 9AM. Double Rebel Cowboy (Slash) for Lynn Oxendine always runs an AA race and this time was shot over on a covey of bobs along the Salt Fork to take the blue ribbon. It was great to have Alex Mauck in camp on their way back west to take second with Mauck's Wyeast Owhyhee Dallee. Braced with Dallee, Greypointe Oso (Bear) for Doug Meyer was named third with a nice handling race and a rooster pheasant contact just as his hour expired.
In the Amateur Derby which was a 30-minute qualifier for the US Amateur Derby Invitational, Sean Anderson was joined by Doug Meyer to look at the thirteen entries. Several coveys were seen during the stake and Joe Worsham's nice pointer male, Worsham's Spitfire had a beautiful broke covey find on a hillside to take first place. Ten Oaks Maggie ran a very busy forward race for Lou Qualtiere to claim second. Chic for Tom Curtsinger rounded out the placements with a solid Derby effort.
In the featured hour Amateur Shooting Dog stake, sixteen were entered under the review of Lynn Oxendine and Doug Meyer. Lynn has judged far and wide and likes an all-age dog but also knows the difference. Weather was pleasant for dogs and riding. Our first brace created some excitement right away as Ten Oaks Annie for Jeanette Heise and Roulette Rocket (Penny) for Paul Roederer were loosed. Within ten minutes both dogs were working game and pointed on the hillside in sage brush and native grass. Initial flushing failed to produce and Annie nailed a single bobwhite on relocation from what appeared to be a covey feeding through the landscape. It was a nice piece of work with Penny honoring when notified. Shortly after at the front, both dogs were again smelling something and pointed downhill left of course. Annie was standing but out of view of Penny who was below and ahead also stopped. Before Roederer could get off his horse, Penny tried to relocate which resulted with a nervous and likely running pheasant exiting the area. Both dogs would have been given credit but Penny followed and was picked up. Annie ended up with a very nice searching race from here to claim the first place prize. Bell for Tom Curtsinger ran a very nice, forward, stylish and responsive shooting dog race to be named second. Cruise Rocket who won this shooting dog stake last year with two great covey finds, had an excellent race with a strong finish to be named third. We had a number of nice ground performances to consider including Mauck's Wyeast Owyhee Ajay (Mauck), Ten Oaks Sophie's Jack (Qualtiere), Mauck's Wyeast Owhyee Dallee (Mauck), Sia (Anderson) and another dog or two picked up after bird issues.
We wish to thank Purina and Greg Blair for their continued support of the club with this renewal as well as the National Qualifier and Purina Points All-Age stakes we run in the fall. Our thanks to Carolyn Roederer and others who pitched in with dog wagon duties which isn't easy on a venue that stretches a dozen miles winding through the ranch. Major thanks to the Z Bar ownership, management and the hands for our access and assisting with preparation, mowing, turning off fences, etc. It is truly great to be running on native and wild game in the beautiful Gypsum or Red Hills of South-Central Kansas. If you get a chance, it's worth the drive to witness this beautiful country and ride where the buffalo and wildlife roam.
Medicine Lodge, Kan., February 24
Judges: Sean Anderson and Lou Qualtiere
AMATEUR ALL-AGE [One-Hour Heats] - 7 Pointers and 2 Setters
1st-DOUBLE REBEL COWBOY, 1673791, pointer male, by Frontline Butch-Double Rebel Mayhem. Lynn Oxendine, owner and handler.
2d-MAUCK'S WYEAST OWYHEE DALLEE, 1687695, setter female, by T's Gunslinger-Hidden Jasmine. Alex Mauck, owner and handler.
3d-GREYPOINTE OSO, 1678566, pointer male, by Whippoorwill Justified-Greypointe Invierna. Doug Meyer, owner and handler.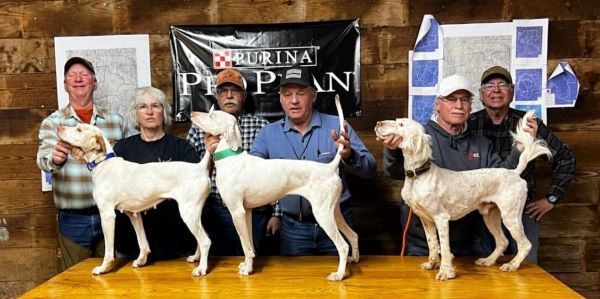 Amateur Shooting Dog. Judge Lynn Oxendine, Jeanette Heise with Ten Oaks Annie A, Lou Qualtiere, Stylish Miss Bell with Tom Curtsinger, Paul Roederer with Cruise Rocket, Doug Meyer, Judge.
Judges: Doug Meyer and Lynn Oxendine
AMATEUR SHOOTING DOG [One-Hour Heats] - 6 Pointers, 7 Setters and 2 Vizslas
1st-TEN OAKS ANNIE A, 1658799, pointer female, by Erin's Brave Heart-Nannah's Sis. Jeanette Heise & Lou Qualtiere, owners; Jeanette Heise, handler.
2d-STYLISH MISS BELL, 1691586, pointer female, by Valiant-Haney's North Star. Tom Curtsinger, owner and handler.
3d-CRUISE ROCKET, 1686934, setter male, by Rhythm Rocket-Rocketing Hope. Paul Roederer & John Settle, owners; Paul Roederer, handler.
Judges: Sean Anderson and Doug Meyer
AMATEUR DERBY - 6 Pointers 4 Setters
1st-WORSHAM'S SPITFIRE, 1701266, pointer male, by Touch's Grey Street-Erin's Miss Daisy. Joe Worsham, owner and handler.
2d-TEN OAKS MAGGIE MAE, 1697901, pointer female, by Touch's Diamante-Ten Oaks Annie A. Jeanette Heise & Lou Qualtiere, owners; Lou Qualtiere, handler.
3d-STYLISH HOT CHIC, 1698303, pointer female, by Ransom-Haney's North Star. Tom Curtsinger, owner and handler.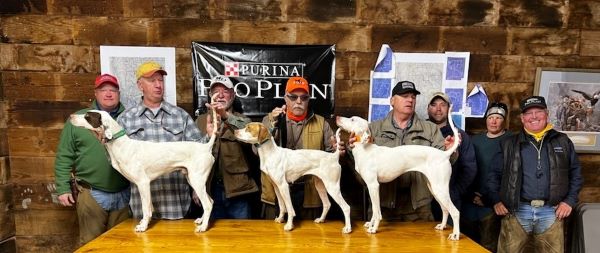 Amateur Derby. From left: Brian Williams, Lynn Oxendine holding Worsham's Spitfire, Joe Worsham, Lou Qualtiere with Ten Oaks Maggie May, Tom Curtsinger with Stylish Hot Chic, Judge Sean Anderson, Kristina Wall and Alex Mauck.