Result: North Carolina Open Quail Championship
Location: Hoffman, North Carolina
Post Date: May 18, 2023
Submitted By: Derek Bonner
The North Carolina Open Quail Championship ran its annual renewal March 19-21, 2023, on the all-age grounds of Hoffman, N. C. The weather was ideal for horse and rider, but not conducive for bird finding. There were enough finds for a competitive championship, but not as good as last year.
The conditions nor the lack of birds hampered our champion's efforts, as Erin's Wild Atlantic Way, handled by Luke Eisenhart, for owner Sean Derrig, breezed his way to three well-spaced finds and a true all-age race!
Running the same course the day before, Aucilla Jim, handled by Mark McLean for owners Gene Brown and Reed Brown, ran an impressive race with one find to his credit to garner the runner-up title.
The judges for this year's renewal were Steve Mills of Mayodan, N. C., and Larry Cox, from Randleman, N. C. Both men know all-age dogs and expected a dog to be just that for this Championship. They were certainly pleased with the efforts of our champion and runner-up champion. We certainly appreciate these two men filling our judicial saddles. Special thanks go to Larry Cox for filling in on short notice as advertised judge Ray Joye wasn't feeling up to the task.
As always, a trial of this significance doesn't just happen; there are so many that help make it possible. Thanks go to Randy Bradshaw for all his hard work and driving our dog wagon. Thanks to Alex Rickert, the owner of last year's winner Touch's Malcolm Story, for sponsoring our supper. As always, to Greg Blair and Purina for their continued support of this trial and all they do for our sport! To Debbie Bonner for her famous mandarin orange cake! Again, to our judges, thank you!
Finally, I close with a special thanks to my friend and running buddy, Scott Griffin, for his generous donation of our new trophy. It is made of hand-carved quail, each in great detail as they are on the rise. They are attached to a base done by a 90-year-old craftsman who said this was his last public piece. We are certainly grateful to Scott for his continued generosity!
Hoffman, N. C., March 19
Judges: Larry Cox and Steve Mills
NORTH CAROLINA OPEN QUAIL CHAMPIONSHIP [One-Hour Heats] - 31 Pointers and 7 Setters
Winner--ERIN'S WILD ATLANTIC WAY, 1684809, setter male, by Erin's Hidden Shamrock-T T's Southern Miss. Sean Derrig, owner; Luke Eisenhart, handler.
Runner-Up--AUCILLA JIM, 1696459, pointer male, by Rebel's Last Straw-Just Irresistible Pearl. Gene & Reed Brown, owners; Mark McLean, handler.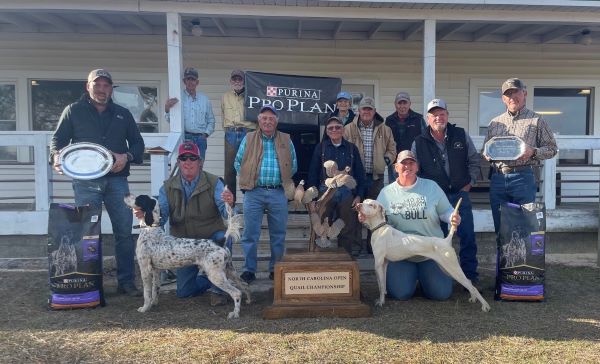 North Carolina Open Quail Championship Winners (kneeling, from left): Mark Haynes with Erin's Wild Atlantic Way and Hailey Moreland with Aucilla Jim. (Standing): Luke Eisenhart (handler), Larry Cox (judge), Steve Mills (judge), Mark McLean (handler), and Derek Bonner. (Standing, rear): John Milton, Ray Joye, Mrs. Jim Emerson, Johnny Atkinson, and Jim Emerson.