Event: Haney's All In Wins 2023 Running
Result: American Derby Invitational Championship
Location: Grovespring, Missouri
Post Date: May 19, 2023
Submitted By: Bonnie Hidalgo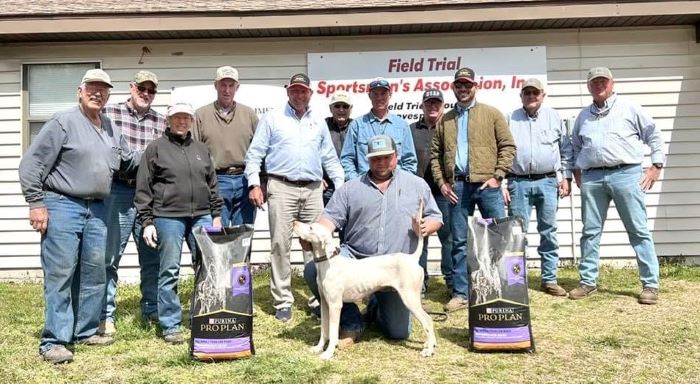 American Derby Invitational Championship Winner (front): Korry Rinehart with Haney's All In. (Back): Dennis Hidalgo, Hank Jansen, Bonnie Hidalgo, Kipp Linard, Chris Cagle, Sr., George Hill, Ike Todd, Kendell Schmidt, Chris Cagle, Jr., Ronnie Beane (judge), and Kevin Beane (judge).
Haney's All In put it all on the line for two days to claim the title of American Derby Invitational Champion for owner Chris Cagle of Woodlawn, Tenn. The attractive white and orange pointer was expertly trained and handled by Ike Todd. No runner-up was named.
Haney's All In scored eight high-class finds in his two-and-a-half hours of competition, putting down a top-quality performance in the first series, which paled in comparison to his second series effort. He showed incredible power, speed, and stamina. His future is bright; he has proven to be a consistent performer. This was his second win on these grounds in a week, having waltzed away with the "W" in the Don Fox Memorial Open Derby.
The American Derby Invitational is conducted over the premier grounds of the Field Trial Sportsmen's Association at Grovespring, Mo. It ran on March 29 and 30. It has been held here since 2018. Kendell Schmidt has served as the chairman of the trial since that time. Beginning with the 2024 renewal, Ken is turning the reins of this Championship over to Kipp Linard. Kipp has helped Ken put it on every year, making the transition seamless.
This marks the second year a Cagle color bearer has annexed this title; it was won by Haney's Storm Warning in 2022, also handled by Ike Todd. Ike has the distinction of winning this stake every year it has run at the Field Trial Sportsmen's grounds, except for 2021, when Randy Anderson won with Miller's L'Eletto, and Ike took runner-up with Game Heir.
Each season, the competing derby dogs are ranked by points received for placements in All-Age Derby stakes. The top 12 ranked derbies are invited to compete in this Invitational Championship. The points are based on the placement and the number of dogs that competed. Four Derby Championships are automatic qualifiers for the American Derby Invitational Championship: The Continental, The National, Georgia, and All-American Derby Championships. The dogs that win these go to the top of the rankings and are the first to be invited. All four Derby Champions accepted the invitation, some already in the top 12.
The drawing was conducted Tuesday, March 28, in the clubhouse following the announcement of the Missouri Open Championship winners. Kendell Schmidt, George Hill, and Kipp Linard conducted the draw. Sharleen Daugherty served appetizers.
The judges for this year's American Derby Invitational Championship were the father-son team of Ronnie and Kevin Beane of Albany, Ga. Ronnie has been in the bird dog business for years, training dogs and managing plantations. Kevin followed in his father's footsteps and currently manages Wildfair Plantation in Albany, Ga. Both men brought a wealth of bird-dog knowledge to the judicial roles. They watched all entrants with careful eyes, rode hard when they needed to, and were on the same page as to what they were looking for. They called back four dogs for the final series, which had many similarities. Kevin and Ronnie Beane were personable and courteous. The Southwest Missouri Sportsmen's Club is grateful for their time and attention to the contestants in this Championship.
The Southwest Missouri Sportsmen's Club hosted a pork chop dinner on Wednesday evening. Ken Schmidt did the cooking, and it was a fantastic meal! The announcement of callback dogs was made during the evening festivities.
Ken Schmidt, Kipp Linard, Hank Jansen, Dave Capstick, George Hill, and Dennis Hidalgo covered all aspects of the trial, from paperwork to bird planting, marshaling, and dog wagon detail. These gentlemen get along well and do a great job conducting a class field trial. Bill Westfall kindly provided his side-by-side to move the dogs from the dog wagon to the starting points. The ground was too saturated to have a truck and wagon in the fields. Hank Jansen handled the conveyance of the dogs to the line, a task he truly enjoyed.
Purina supplied dog food and financial support so that this Invitational Derby Championship can prosper and continue to be a quality event. Purina Pro Plan Sport 30/20 is a fantastic dog food fed by many top kennels nationwide. Thank you to Greg Blair and all the people at Purina for your dedication to the sport of field trials.
Jay McKenzie and Mick Marietta added $5000 to the winner's purse. This generous donation is greatly appreciated by the Southwest Missouri Sportsmen's Club, which sponsors this event. While it doesn't appear to aid the club at first glance, the added purse will make this Championship more important in the eyes of next year's top derby owners and handlers. Thank you, Jay and Mick! Gary Lester made a cash donation to help with the expenses of running this Invitational. His contribution is greatly appreciated.
The Contestants
Nighthawk's Rebel qualified automatically for this Invitational Championship by winning the Continental Derby Championship in January. He is owned by Rick Leverich and Sheree Lucero and was handled in this Invitational by Tracy Swearingen. Rebel is sired by Touch's Red Rider out of Tee's Funseekin Belle. In addition to the Continental Derby, Rebel won the Dr. Guthrie Memorial Derby and was second in the Preston Trimble Memorial Derby. He continued his winning by taking runner-up in the All-America Derby Championship, winning the Blackbelt Open Derby, and placing second in the NCFTA Open Derby and the Central Carolina Open Derby. Rebel qualified automatically, but he also had the points to make him the top qualifier.
Haney's Silver Dollar qualified for the Invitational Championship by being named the National Derby Champion. Silver Dollar is owned by Chris Cagle, Woodlawn, Tenn., and was handled by Ike Todd. In addition to his Championship win, he placed second in the West Tennessee Open Derby. He is the product of the mating of Ransom to Haney's North Star. He and two of his littermates competed in this Derby Invitational.
Rester's Cajun Spirit won the Georgia Derby Championship to get an automatic qualification to this event. He also placed second in the Dixie Open Derby. Cajun is owned by Allen Linder, Livingston, Tenn., and is handled by Judd Carlton. He was sired by Miller's Blindsider and out of Rester's Amazing Grace.
Game Surge was an automatic qualifier for the Invitational by winning the All-America Derby Championship. He is owned by Dr. Fred Corder of Corinth, Miss. Ike Todd is Surge's handler. In addition to winning the All-America Derby, he placed third in the Ricky Chism Open Derby. He was sired by Lester's Storm Surge and out of Game Maggie, who is by Cole Train.
Beeler's White Knight, owned and handled by Scott Beeler, amassed 443 points. He had six first-place wins: the Sunflower, Ricky Chism, American Quail Classic, Kentucky Quail Classic, Alabama, and Heartland Open Derby stakes. The Alabama, Heartland, and Ricky Chism Derby stakes were one-hour stakes. His seventh placement this season was third place in the Buck-Tuck Open Derby. Touch's Smooth Rider sired Knight; his dam is Touch's Wildwood Flower.
Tom Shenker handled Southern Thunder for owner Chris Campbell, Shreveport, La. Lester's Storm Surge sired Thunder, and his dam is Bryson's Dialing On Line. Thunder was named runner-up champion in the one-and-one-half-hour National Derby Championship. Additionally, Thunder was first in the Dixie Classic Open Derby, third in the Blackbelt Open Derby, and second in the Hobart Ames Memorial Derby, a one-hour stake. He accumulated 236 Invitational qualifying points.
Haney's Hurricane Seeker was sired by Ransom out of Haney's North Star, the second of three littermates to qualify for this Invitational Championship. After he ran in the Don Fox Derby at Grovespring, he went to run in the Amateur Derby Invitational at Dancyville, Tenn., where he emerged as the winner. Owned by David and Rachel Russell, Como, Miss., he was handled by David. "Bud" earned his invitation with third place in the Kentucky Quail Classic Open Derby and won in both the Buck Tuck Open Derby and the West Tennessee Open Derby for 227 qualifying points.
Miller's King Poast is owned by Jannie Chapman and trained and handled by Gary Lester. King was sired by Lester's Storm Surge and out of R W Susie Q. His wins include derby placements that gave him 219 points. He is also the winner of the Rend Lake Open All-Age and took second in the West Tennessee Open All-Age; both are major accomplishments for a derby. He is a littermate to Mayfield Storm Charger and shares his sire with Southern Thunder, and Game Surge, all of which competed in this Invitational.
Haney's All In is owned by Chris Cagle, Woodlawn, Tenn., and was trained and handled by Ike Todd. Sired by Ransom out of Haney's North Star, he is the third of three littermates to qualify for this Invitational Championship. "Ray" won runner-up in the Continental Derby Championship out of 27 entries and the Georgia Derby Championship with 23 entries. He also won the Don Fox Memorial Derby with 23 entries. The 184 points on which his invitation was based do not reflect the additional Don Fox Derby points.
Sandridge Big Iron was sired by Westfall's True Grit and is out of Gin Smoke and Lies. He is owned by Dr. Jim Mills, Steven Lightle, and Natalie Cooper of Searcy, Ark. "Pete" placed third in the Dr. Douglas Guthrie Memorial Derby, second in the Kansas Prairie Classic Open Derby, third in the Stillwater Open Derby and third in the Prairie Field Trial Club Open Derby. He accumulated 145 points for his invitation.
Wynona's Nickleback Hank is owned by Bruce Sooter of Welch, Okla., and handled by Allen Vincent. The only setter in the stake, he is by T's Nickleback out of Carpenter's Don't Ya. Hank placed first in the Kansas Prairie Open Derby and the Inola Open Derby for 130 points.
Mayfield Storm Charger is owned by Scott Mason, Mayfield, Ky., and Jake Davis, who hails from Texas. Gary Lester handles Storm. He is a son of Lester's Storm Surge out of R W Susie Q, making him a littermate to Miller's King Poast. His derby wins accumulated 111 points for an invite to this Championship.
The First Series
Game Surge (Todd) and Nighthawk's Rebel (Swearingen) turned loose on course one on Wednesday morning, March 29. They showed forward on the way to the first creek crossing. Surge pointed briefly on the left line at 7 but corrected on. Surge pointed on the south line in the double gates field, with Rebel backing at 14. All was in excellent order for both dogs. Surge carded a second find at 40, just before Horse Killer Hill. Rebel was strong and forward through Davis Bottom and was absent in the Island field. He showed forward at Horse Killer Hill. On Apple Tree Hill at 52, Surge notched his third find, showing good intensity. Rebel backed naturally. In the Little Vine Bottom, both dogs were nicely forward. They appeared to be backing each other at the end, and both were taken on to a strong forward finish. They were both attractive on the ground. Unfortunately, Rebel did not have any finds.
Beeler's White Knight (Beeler) and Haney's Silver Dollar (Todd) got into a foot race off the breakaway and were not recovered under judgment.
Sandridge Big Iron (Vincent) and Rester's Cajun Spirit (Carlton). Jim Mills was present for Pete. Pete ran a strong, predominantly forward race but went without bird contact. Spirit ran a good forward race. He scored a beautiful find in the woods on the north end of Clubhouse Loop at 33. His manners were perfect. Both dogs finished forward along the creek.
Southern Thunder (Shenker) and Miller's King Poast (Lester) were first up on Wednesday afternoon. They both showed excellent ground speed from the start. They looked good in the double gates field and on the hill before the road crossing. In Davis Bottoms, they ran the edges and then shared a feather find at 25 at the far end. Lester took King Poast through the shortcut to the crossing; Shenker took Thunder around the pond, where, at 28, he pointed stylishly; quail were put up with all in order. King Poast pointed along the fence line on Apple Tree Hill at 45, and Thunder honored beautifully. Both dogs were high and tight for the flush. King Poast scored again in the bottoms of Little Vine at 52, pinning his quail accurately and exhibiting perfect decorum. Both dogs finished strong on Little Vine Hill.
Wynona's Nickleback Hank (Vincent) and Haney's All In (Todd) turned loose at the end of Little Vine Loop. Hank made some good moves but had no contact with game. Hank pointed at 35, but it was unproductive, and he was picked up. Haney's All In put in a forward, bird-finding performance. He had a lofty find at 10, at the top of Sycamore Bottom. Ray's second find came at 24, near the twin barns, all in order. Ray was nicely forward from the barns into the bull pasture. He made a big reaching move to the northwest corner, scoring another beautiful find at 36. Into Clubhouse Loop, Ray reached the corner where he pointed quail under a cedar tree at 51. He finished his hour well to the front on the west side of the loop.
Mayfield Storm Charger (Lester) and Haney's Hurricane Seeker (Russell) turned loose heading out of Clubhouse Loop. Storm Charger had a large following; his owners, Scott Mason and Jake Davis, were joined by Kyle Davis, Jeremy Gulick, and Tiffany Genre to cheer him on. The dogs showed well, using the edges on the way up to the barns. Just beyond the barns, Hurricane was found on point at 8. His style and manners were laudable. Into Double Gates Field, Charger pointed on the south line. He had a very attractive find at 19, with all in order. Charger made a strong cast on the right and showed well to the front, approaching the cemetery. Hurricane had already passed the cemetery, missing the creek crossing. Lester rode hard to get in front of Charger to get him to turn in at the crossing and succeeded. Hurricane came across the creek bed at the behest of his handler, struggling up the steep bank to reach him. He then hit the right edge to catch up to Charger. They both went wide left at the ridge loop and took the lower hillside forward. Charger came through the draw; Hurricane showed at the end of the ridge and needed help getting across the boundary fence from Russell. Down into the bottom, they both flew, using the edges appropriately. At 47, point was called for Hurricane, and Charger was backing. After a brief search for game, Russell decided that the dogs were backing each other, and the dogs were taken on. With 13 minutes remaining, they made it into Davis Bottoms. Charger hunted the left hillside; Hurricane made a huge move to finish far into Davis.
The Second Series Contestants
Judges Ronnie and Kevin Beane called back four dogs and put another pair on standby. The top four dogs were Haney's All In (Todd), Southern Thunder (Shenker), Miller's King Poast (Lester), and Game Surge (Todd). Rester's Cajun Spirit (Carlton) and Mayfield Storm Charger (Lester) were the standby dogs. These two dogs were not called upon to run in the second series.
The Second Series
Haney's All In (Todd) and Southern Thunder (Shenker) were into the Double Gates Field by 9. Point was called for Ray at 10, and a lengthy ride ensued. Ray was standing tall on the south line. Birds were flushed for him at 12 with all in order. At the same time, Thunder was on point across the road into Sycamore Bottom, and birds were flushed for him at 13. He was picturesque. They were fast and forward through Davis Bottom, with Thunder showing far forward on the left and Ray taking the right line. Into the Island field, Ray took the far-left edge to the cut. Thunder worked the right edge. A second find for Haney's All In came in the field before Horse Killer Hill at 37, his birds were well located, and he was stylish and staunch. On top of Apple Tree Hill, a bird popped, and Thunder gave chase to end his bid at 44. He had been doing an impressive job on the ground. Ray continued into Little Vine Loop, where he notched another beautiful find at 57. He was well forward through Sycamore, showed from the alley on the left, rejoined his handler to climb the ridge, and powered forward across the Daugherty ridge. He was found on point at 1:22, just south of the twin barns. He was true to form, high on both ends and perfectly composed. Ray finished the hour and a half well to the front in the bull pasture with no sign of letting up. It was a thrilling performance by this young pointer.
Miller's King Poast (Lester) and Game Surge (Todd) turned loose just inside the gate of the bull pasture. They each showed much promise on the ground as they raced across the hills of the bull pasture. Into Climer's, King Poast showed well on the left; Surge took the right. Point was called for Surge at 11. He stood on the west edge of the woods, displaying excellent style and intensity. King Poast came in for a back, which he did from a good distance and with high style. Birds were put up, Surge remained mannerly through flush and shot, but King Poast took a hop
and was picked up. At 21, Surge pointed in the Clubhouse Loop, but it was only feathers. Beside the back pond, he styled up at 28; Todd produced quail in front of him with all in order. Scout Scott Beeler called point for him at 57, and he stood loftily on the north edge of the Double Gates field. All was in order, with birds properly located. He crossed the creek at the cemetery and ran hard forward along the right edge, turning to the right at the end of the woods. He pointed feathers in the middle of the draw at 1:06 before being redirected up the ridge loop. Surge scored a beautiful find on the ridge at 1:10; his manners and form were beyond reproach. He continued forward off the ridge and back onto the number one course. He took the right edge forward and was going away when the judges decided he wasn't in contention and ordered him up at 1:19.
Grovespring, Mo., March 29
Judges: Ronnie Beane and Kevin Beane
AMERICAN DERBY INVITATIONAL CHAMPIONSHIP [One-Hour Qualifying Heats; Ninety-Minute Finals] - 11 Pointers and 1 Setter
Winner--HANEY'S ALL IN, 1698756, pointer male, by Ransom-Haney's North Star. Chris Cagle, owner; Ike Todd, handler.