Event: Haney's Hurricane Seeker Named Champion; Rebel Gold, Runner-Up
Result: United States Amateur Derby Invitational Championship
Location: Dancyville, Tennessee
Post Date: May 19, 2023
Submitted By: Jim Atchison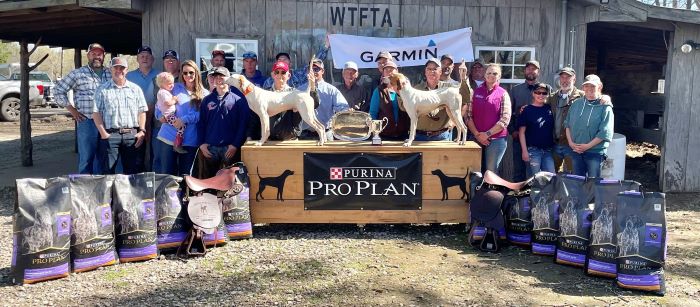 The Winners (from left): Billy Blackwell with Haney's Hurricane Seeker and David Williams with Rebel Gold. (Back): Lance Servais, Gordy Jones, Keith St. John, Brian Peterson, Anniston and Rachel Russell, Dr. Corder, Rita Corder, Parker Russell, Ike Todd, Jay Lewis, David Russell, Joe Don House (judge), Steve Hurdle (judge), Michelle Clark, Quintin Wiseman, Dale Pool, Tasha Wiseman, Chris Mullin, Julia Currie, Bill Currie, and Ann Forrester.
The United States Amateur Derby Invitational Club sponsored the fourth renewal of their outstanding stake March 24-26 on the grounds of the West Tennessee Field Trial Club at Dancyville, Tenn. Twelve dogs competed, with invitations initially extended to the four high point derbies from each of the Eastern, Central, and Western regions of the nation. As only three dogs were able to come from the west, the roster was filled with a twelfth "wildcard" dog from the Eastern region. The year-round efforts of the sponsoring club: Quintin and Tasha Wiseman, Jay Lewis, Todd Babbel, Rich Heaton, and Whitley Stephenson, were apparent when the Wisemans and Jay Lewis arrived at Dancyville and were welcomed by the hosting West Tennesseans who had their clubhouse, grounds, and birds ready for all who came.
Steve Hurdle from Hickory Flat, Miss., and Joe Don House from Clinton, Ky., judged. Steve Hurdle, a well-respected professional with an outstanding record of winning, and Joe Don House, who holds many years of successful breeding bird dogs and competing as an amateur, were well qualified and did an excellent job of watching the competing derbies and handing down their judicial decision. Hurdle's service as a judge was his second, as he judged this Invitational on the first year of its running. House, who has been out of the sport for over a decade, returned, bringing his vast knowledge and experience. This pair of judges continued the tradition of this Invitational, which is to invite some of the most highly respected individuals in the sport to judge each year.
Numerous corporate and individual sponsors again contributed generously, thus enabling this Invitational and the Super Qualifiers, which led to its finale, to present an impressive list of awards and trophies to the winners. Purina was again recognized as the primary sponsor, and their generosity, and that of Garmin and many others will be acknowledged later in this report.
The Winners
Haney's Hurricane Seeker, owned and handled by David Russell from Como, Miss., was the winner. The Runner-Up was Rebel Gold, owned and handled by David Williams from Beech Bluff, Tenn.
Competing in brace No. 5 on the first afternoon, Haney's Hurricane Seeker had a significant absence after the breakaway but returned to stylishly back his bracemate while birds were flushed on the Boumeester tract at 20. He then continued with a strong forward race until he stood again at 35, where he perfectly handled the flush and shot of a covey of the land owned by Ike and Marty Todd on the east side of Coffee Gap Road. While competing in brace No. 2 on day two, he hunted aggressively until 43 when he stood statuesquely on birds along the west side of the large bottom. Time was out immediately after the birds were flushed, and the winner had earned the privilege of being called back to compete the following morning. During the first brace of the Sunday morning callback, Hurricane Seeker stood twice. He first had birds just west of the buildings on the Boumeester tract and then continued until 31 when he backed his bracemate on the Humber land. The combination of power, speed, and style demonstrated during each of the 45-minute braces of this Invitational readily earned Haney's Hurricane Seeker the honor of being the "Best of the Best" in this competition.
Rebel Gold competed in brace No. 6 on the first afternoon, in brace No. 2 on the second morning, and in the second of the callback braces on Sunday. He became more forward and stronger each time he competed. On Friday, he had birds at 20 and again at 35. On Saturday, he circled Humber's north field and pointed birds as he returned almost to the awaiting gallery, enabling Williams to easily flush. During the callback, he came through the woods at 11 and backed his bracemate, who had birds on an edge on the Rickert and Turley property. He then had birds again at 16 when making a 90-degree turn to head west toward Russell Grove Church and then pointed again, and Williams flushed at 22 in a honeysuckle thicket near the cemetery behind the former Russel Grove Church. This RunnerUp continued until the end with a strong finish after coming down off the McClanahan tract and along Currie's north bottom. Style, speed, and intelligent navigation of the courses were apparent during each of his 45-minute periods of competition.
Also Called Back
Small's Five Star, owned and handled by Mike Small, was one of the four dogs called back to compete a third time during the Invitational. He had two finds on the first morning when he pointed at 26 and again at 34, with birds being easily flushed each time. On the second afternoon, he pointed, and Small flushed birds behind the Russel Grove Church. As one of the dogs in the first brace called back on Sunday, the derby backed his bracemate at 25 in the area on the west edge of the Boumeester tract and soon crossed Fayette Corners Road onto Humber and found birds again at 31. He then continued to finish the allotted time as he neared Coffee Gap Road.
Rester's Johnny Ringo, owned and handled by Cecil Rester from Louisiana, was another of the four dogs called back. He had one find while competing in the first brace on Friday morning. That find was at 10, under cedar trees immediately before going into the clearing leading to an area known as the Well, along the edge of Blalock Road. During the brace No. 5 on Saturday, he had birds one time, at 41, along the west edge of Todd's bottom at a place where they were also found during earlier braces. Then he again had one find during the callback. That action was at 11 between two long fields on the Rickert and Turley land as Rester's determination successfully found birds where others had tried but taken unproductives.
The Remaining Eight
Chris Perkins and his wife traveled from Idaho with Perkins Diamond Cutter, the highest point dog attending from the Western Region. On the first course Friday morning, he backed his bracemate while birds were flushed from cedars near Blalock Road. They then had an independent find at 40 when he pointed near a terrace on the Taylor/McCloud land that is principally hunted as a large horseshoe that makes up a significant part of the first-hour course. Then in the last brace on the second day, Diamond Cutter found no birds, but he ran a much bigger and more aggressive race than the first day and finished the hour in an excellent place to show the judges a very strong finish.
Worsham's Spitfire, owned and handled by Joe Worsham from St. Joe, Mo., backed his bracemate twice during the morning's effort in the second brace. In brace No. 4, on the second day, he had birds near the Well at 11 and continued until 16 when Spitfire and his bracemate stopped and started, then stopped and started again, and maybe again, before deciding to continue. Spitfire then finished the 45 minutes but had no more birds.
Carbonado's Wilberg came from Montana with his owner/handler Ben DeJonge who brought three cases of beautiful potatoes from the area where he is involved with raising certified seed potatoes and barley. The Montana derby backed his bracemate at 16 and continued to hunt on the Spiotta land, where he had a find which was handled well at 27. Time was then called at 45 while he was to the front on McClanahan's high knoll. On the second afternoon, in brace No. 5, he had unproductives at 3 and again at 19 and was put into his harness.
Nemaha Touch A Grey traveled from Nebraska with his owner/handler, Dr. Pat McInteer. On the first day, Touch A Grey finished the hour and stood once, at 16, where the effort produced no birds. In brace No. 4, on Saturday, he backed his bracemate at 11 and continued until 36, when Dr. McInteer chose to pick him up.
Southern Shadows Story, owned and handled by Lance Servais from Alabama, ran well during brace No. 4 on Friday but found no birds. On Saturday morning, he finished the hour in the first brace but stood only once, backing his brace mate at 13.
Shagtime Sunny, owned and handled by Chris Cagle, Sr., was the only setter among the remaining field of 11 pointers. He hunted well throughout brace No. 4 on Friday but found no birds. During brace No. 3 on Saturday, he failed to back properly and was picked up at 16.
Game Mode, owned and handled by Dr. Fred Corder, competed in the brace No. 5 on Friday and No. 3 on Saturday. On Friday, he had birds once, at 20. On Saturday, at 16 near Russell Grove Church, he pointed, but his bracemate did not back correctly, and the birds were flushed. He then crossed Fayette Corners Road and the McClanahan property onto Dr. Spiotta and had birds at 25. Continuing then until 36, he had an unproductive and then finished the hour.
Gordy Jones traveled twice from Utah to the West Tennessee grounds within a few weeks as he judged the West Tennessee Open in February. He returned to this Invitational, bringing Costas to compete. Costas, running in brace No. 6 on Friday, backed his bracemate at 20 and 35 before having a nice independent find at 40. On Saturday morning, at 13, he pointed with his bracemate backing, and Jones flushed birds. Costas then finished the allotted time but found no more birds. Sponsors, Awards, Food, and Fellowship. The hosts, sponsors, prizes, awards, and meals for this Invitational are so numerous and so outstanding that Quintin Wiseman, assisted by Jay Lewis, spent a great deal of time on the Friday evening of the Purina dinner talking about those whose generosity made the fourth renewal of this young Invitational so spectacular.
He thanked the West Tennessee Field Trial Club members and the landowners of the Dancyville community who so generously enabled the annual competition to be held in Fayette County. Club members who worked most of the day Thursday before the drawing included Bill Currie, Ike Todd, Chris Mullin, and Dale Pool, who got the clubhouse, kitchen, and horse stalls ready before they caught birds and put them out on the three courses. Those four were joined by Allen Currie, who frequently marshaled, while the others hauled horses, provided safety at road crossings, and did everything thoughtful hosts do when they have guests.
The landowners who were invited to dinner and thanked included Bill and Allen Currie, Skip Taylor and Mrs. Jan McCloud, Dr. and Mrs. Eugene Spiotta, Mr. and Mrs. Larry Humber, Ike and Marty Todd, Alex Rickert, Austin Turley, Mr. and Mrs. Ed McClanahan. Wiseman recognized and thanked the judges, reporter, and Mrs. Vera Courtney. Vera and her camera are a much-loved addition to numerous field trials each year, and she again photographed much of the happenings each day, as she has done in each of the four years of this Invitational. She printed 8x10 photographs of the derby group photo and gave them as gifts to each owner.
Three meals a day were provided, with Tasha Wiseman doing much of the preparation and cooking, coupled with the help of West Tennessee Club members. Quintin prepared the beef tenderloin served at the Purina dinner Friday night, and the pork loin dinner served on Saturday night was provided by Whitley Stephenson.
On Friday evening, each dog owner, the judges, and the reporter received warm winter coats embroidered with the Purina logo, the Invitational logo, 2023, and the recipient's name. Caps and swag bags were also given to each dog owner. Purina's sponsorship, which included financial assistance for advertising and the Purina dinner, plus eight bags of dog food for the winner, four for the runner-up, and one for each of the other ten participants, was gratefully acknowledged. Phil and Melissa Town of Rule One Investing were thanked for their generosity, and Garmin was thanked for their gift of their latest tracking collar to the winner. Also, Wiseman strongly touted the quality of Grooms Hand and Derm 360, created by Sam McKee and contained in the swag bags. Wiseman thanked David Williams, the Carroll County Field Trial Club, and Jim Lawless, Kay Morrison, and Brad Hargis from the Pyramid State Park grounds for hosting the Super Qualifiers at their venues.
Other generous donations of dog training given by Allen Vincent and Luke Eisenhart had been received and auctioned, providing money, some of which was used to purchase the saddles given at the Super Qualifiers. Brian and Brooke Sanchez provided a painting of the winning dog to be done by Leah Brigham. In addition to a saddle, the owner of the runner-up would receive a painting of their dog done on a turkey feather by Mike Kearney of Trophy Bone Artistry. The scout of the winning dog would receive a custommade pair of chaps designed and made by Patty Ewer of Custom Leather and Canvas. A Henry 17 HMR Rifle given by Alex and Bryana Rickert had earlier been awarded to David Russell and Haney's Hurricane Seeker.
Two additional awards were announced and would be given based on the outcome of the Invitational. They were the Gary Phillips Breeders Cup Award given annually by Nathan Phillips, which would be awarded to the breeder of the winner and therefore went to Chris Cagle, Sr., who was the breeder of Haney's Hurricane Seeker.
The other award was the Jim Crouse Memorial Plaque for the owner of the National High Point Dog. Going into the Invitational, Chris Cagle, Sr., Mike Small, and David Russell were closely in contention, and the winner would be determined solely by the outcome of this Invitational. Haney's Hurricane Seeker's win resulted in David Russell winning that coveted Jim Crouse Memorial Plaque.
Finally, Quintin acknowledged the wonderful work and support of Tasha, who works throughout the year with him to make this Invitational one of the premiere annual gatherings of those who love the sport of field trialing.
This reporter is panicked that he may have forgotten or overlooked mentioning others who in some way helped make this wonderful fourth year of the U. S. Amateur Derby Invitational the great success it was. There were so many, and Quintin thanked them, even if this scribe failed to write as fast as Quintin spoke. The gathering was outstanding, and dog owners returned to their respective states hoping to qualify and be invited to return in 2024.
Dancyville, Tenn., March 24
Judges: Joe Don House and Steve Hurdle
UNITED STATES AMATEUR DERBY INVITATIONAL [Forty-Five-Minute Heats on two Consecutive Days; Forty-Five-Minute Finals] - 12 Pointers
Winner--HANEY'S HURRICANE SEEKER, 1698759, pointer male, by Ransom-Haney's North Star. David Russell, owner and handler.
Runner-Up--REBEL GOLD, 1701829, pointer male, by Dominator's Rebel Heir-Rebel Maiden. David Williams, owner and handler.

United States Amateur Derby Invitational (from left): Chris Perkins with Perkins Diamond Cutter, Gordy Jones with Costas, Ben DeJonge with Carbonado's Wilberg, Cecil Rester with Rester's Johnny Ringo, Chris Cagle, Jr. with Shagtime Sunny, Joe Worsham with Worsham's Spitfire, Dr. Pat McInteer with Nemaha Touch A Grey, David Russell with Haney's Hurricane Seeker, Mike Small with Small's Five Star, Lance Servais with Southern Shadow's Story, David Williams with Rebel Gold, and Dr. Fred Corder with Game Mode.