Result: U. S. Complete National Amateur Championship
Location: East Windsor, Connecticut
Post Date: May 23, 2023
Submitted By: Thor Kain
This year's renewal of the crown jewel of field trials for amateurs competing in U. S. Complete events was held on the prestigious John E. Flaherty field trial grounds in New Windsor, Conn. For over 75 years, field trial enthusiasts have come to Flaherty to showcase their prized bird dogs. The number of champions named on these grounds is staggering, with multiple in the Hall of Fame. Walking into the clubhouse, one is taken back in time and quickly engrossed in the rich history of these grounds.
No trial happens without the work and dedication of many volunteers. Several people gathered at the grounds weeks before the event to make sure they were in premier shape to hold this event. Tim Cavanaugh and Bill Bonnetti handled the bulk of the work, with Heidi Cavanaugh and Jane Bonnetti covering food and cooking duties. A handlers' ham dinner was held Saturday night with a nice crowd gathering in the clubhouse. Old friends told stories of memorable performances of the past and gave reports on prospects they were bringing along for the future. A few lies may or may not have been told.
John Stolgitis of Ashaway, R. I., and Dave McKay of Perkasie, Pa., were in the judicial saddle. John is a successful pro trainer known for the Chasehill line of dogs, most famously 19x Ch./19x R-U Ch. Chasehill Little Bud. Dave is an amateur field trialer who competes most weekends on the amateur shooting dog circuit. He placed his young prospect, Jolene Jolene, in the prestigious New England Futurity the spring prior; quite an accomplishment for anyone, let alone an amateur. Both men gave all their attention to every dog cut loose, judged positively and fairly, and their decisions were well received.
March 25 dawned overcast, with heavy rain in the forecast. Twenty dogs were drawn to run, and the judges decided to be fair to all; they would watch the weather and stop before the rain started, resuming the next day when better weather was forecasted.
The runner-up, Super Storm, a setter male owned and handled by this reporter, came out of brace No. 1. His bracemate was up early, leaving him the course to himself. He tallied five evenly spaced finds with good manners, and the judges commented that his fast, fancy running style and strong finish to the front to end the hour separated him from all but the champion.
The honor of champion went to Little Miss Margaret, owned and handled by Tim Cavanaugh. She ran in brace No. 2, and all who watched knew she set the bar very high. With six evenly spaced finds, blistering speed and a strong finish gave her an edge; what separated her was a giant cast down an edge on the way back to the clubhouse where she disappeared from sight and was found standing.
The judges commented on several other dogs that caught their eye. American Honky Rock, a setter male owned and handled by Bo Mamounis, was putting down a strong effort until an unfortunate encounter with a bird. Judge Stolgitis liked how strong and powerful he was on the ground. Super Storm Cliff, owned and handled by this reporter, put down a solid effort with five finds but showed his immaturity a couple of times during the hour. Cape Point Lucky Strike, owned and handled by Bill Bonnetti, racked up five nice finds and a solid ground effort. Closest to the winners was Kissamee Grousewoods Tea, owned by Peter Labella and handled by his friend John Olfson. She is breathtaking on point and had her finish been stronger and more forward, she may have changed the outcome.
We hope to have this event on these beautiful grounds in the future. An Amateur Woodcock Championship within a few hours' distance split the amateur walking competitors and lowered the attendance some, but it did not change the quality of the event. Greg Blair and Purina supplied generous amounts of Purina Pro Plan to the winners and boxes of samples for all to take home, and for that, we are grateful. Jameson Crandall is the secretary for the U. S. Complete Shooting Dog Association. He handled the draw and made sure all the expenses were covered. Jameson does a great job for the Association. As previously mentioned, Bill Bonnetti and Tim Cavanaugh wore many hats and are owed thanks for all they do. Finally, we would like to thank all those who came out and made this a great trial.
East Windsor, Conn., March 25
Judges: David McKay and John Stolgitis
U. S. COMPLETE NATIONAL AMATEUR CHAMPIONSHIP [One-Hour Heats] - 8 Pointers and 12 Setters
Winner--LITTLE MISS MARGARET, 1693526, pointer female, by Panola Bacon-Chasehill Little Izzy. Tim Cavanaugh, owner and handler.
Runner-Up--SUPER STORM, 1675530, setter male, by Pennstar-Straight Forward. Thor Kain, owner and handler.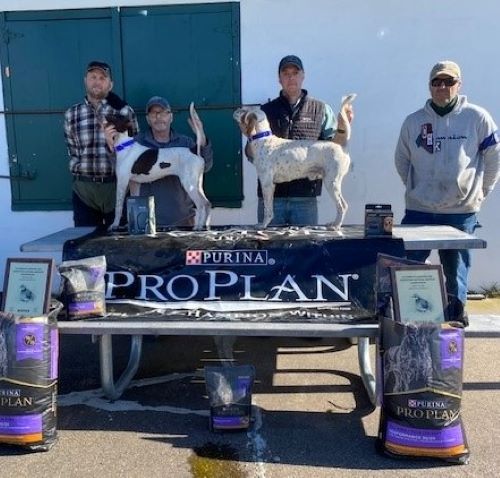 U. S. Complete National Amateur Championship Winners (l-r): Dave McKay (judge), Tim Cavanaugh with Little Miss Margaret, Thor Kain with Super Storm, and John Stolgitis (judge)./i]