Result: Northeast Kansas Field Trial Club
Location: Onaga, Kansas
Post Date: May 26, 2023
Submitted By: Joe Worsham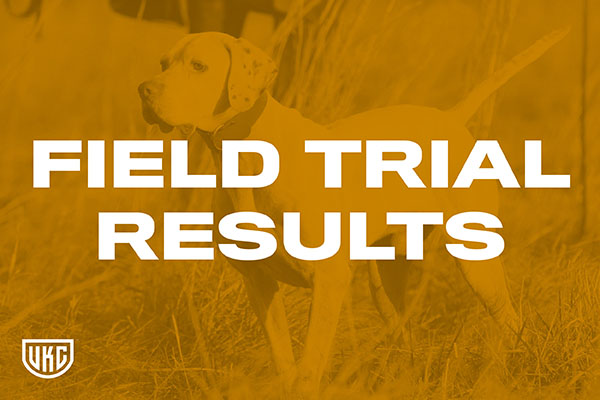 The Northeast Kansas Field Trial Club held its spring field trial on April 13-16 at our home grounds near Onaga, Kan. The weather was terrible, with huge swings in daytime temps during the running. Friday afternoon hit the mid-80s, and then a cold front moved through Saturday mid-day and brought very high winds, rain (1.3 inches of much-needed moisture), and hail. Wind gusts were in the mid-30s to 40 mph, alas, the Kansas Wind. We were later than usual due to the late Easter date. Sunday proved to be a nice day despite continued gusting winds.
The first of April is the traditional pasture burning time. Several landowners delayed their efforts for the field trial to run as usual. We had a number of landowners advise that they were seeing more native quail this year. We did not see any Greater Prairie-Chickens this year as we did not route the courses through the pastures containing leks.
We are blessed with the use of a comfortable, renovated, and well-maintained "One Room Schoolhouse" that serves the area well. Funds collected from the field trial meals and assorted gatherings throughout the year, in addition to the semi-annual biscuits and gravy breakfasts, defray the ongoing costs of the schoolhouse. The walls are adorned with 4-H and field trial memorabilia of bygone days and retired Kansas Field Trial Association Dog of the Year retired plaques. Longtime stalwart Jana Otwell (Queen Bee) passed away this past summer, and we missed her smiling face and wonderful conversations. In past years we were fed breakfast and lunch by the locals, but no more. The Club provided daily lunches and well-consumed dinners each day. I prepared a large pot of soup and was concerned with the choice on Friday during the heat wave; Saturday and Sunday, it was in great demand.
The traditional Friday night Landowners' Banquet was held on Friday night, well attended by local ranchers and spouses. It is not exactly The Cattleman's Ball, but a great time was had devouring the meal and getting caught up with the landowners. Donnie Jeffrey, a longtime field trialer, volunteered to bring walleye and crappie fillets with all the trimmings and also would fry and serve; what a great hit that was. He never slowed down, and thanks to Doug Meyer's assistance, the fish and potatoes were fried and served to a well-appreciated bunch--Donnie and Doug, well done.
Special thanks to our judges; their opinions were well received. Mark and Hunter Livingston of Cedar Rapids, Ia., teamed up as arbitrators of all the stakes but the Shooting Dog Derby. A fine job was done by the father and son duo. Their jobs were made easier by the plentiful bird work in all stakes. Eddie Berendzen and Laney Berendzen of Higbee, Mo., presided over the Shooting Dog Derby. This was Laney's first time judging; she handled the assignment with distinction. It helps to have counsel with your dad, a well-traveled and respected judge. All were very attentive to their duties, and little escaped their view. We appreciate the fine job they did and appreciate their dedication to the sport.
Richard Lewis was on hand as the Chief Dog Wagonmaster, always in the right place and ever helpful to all the details of managing a field trial. Richard is one of the "good ole boys" you can count on. The Club is enjoying the use of the dog trailer on loan from the Whetstone Field Trial Club via Jay Lewis.
We changed the courses and bird planting routine from the past. Everyone appreciated the changes. We used a two-hour continuous loop of the most birdy pastures. Dr. Pat McInteer brought his Mule for bird planting chores, and Jim Otwell loaned the use of his Polaris Ranger. We salted the course with liberated quail each morning. We were happy in that most dogs had bird work of some description. Many dogs had multiple finds pretty good in lieu of the terrible weather conditions.
A great big shout-out to Steve Auxier and Dr. Pat McInteer, who went the extra mile to secure the birds and get them delivered to the grounds above and beyond the call of duty for these guys.
Special thanks go to Nutri-Source for the generous donation of dog feed for the winners of each stake; we appreciate Dave Merritt's assistance in organizing this effort.
We hosted the 33rd renewal of the Midwest Amateur All-Age Classic. The inaugural event was held at the Pony Express Wildlife Area in Osborn, Mo., on March 18, 1990. Winning the inaugural event was Garvin Collins's popular Lamppost Master Rail ("Saddle"), while the runner-up was awarded to Snapjax's Prairie Fire, owned and handled by Joe Worsham.
Worsham's Super Sport won the stake this year with a far-flung all-age race coupled with two pretty finds. Bocomo Cherry was second with a four-find effort; her ground application separated her from the winner.
The advertised Dr. Boucher Amateur Derby Classic, a sponsored Midwest Field Trial Association event, was canceled due to a lack of entries. The Classic was won last year by Jim Corpening's pointer male, Warjam's Big Mac Daddy, who has continued his winning ways.
Jay Lewis's pointer male Bocomo Dutchman won the Northeast Kansas Amateur All-Age Classic. His was a good solid effort with a fine upfront race and three pleasing finds. Second was Worsham's Spitfire, a derby dog just having competed in the United States Amateur Derby Invitational. His time on the ground reflected a good, well-applied, pleasing prairie race. He backed his bracemate and scored an unproductive late in the stake. Steve Auxier's Intensive Spinal Tap showed well on these Kansas prairies. His was a well-done ground race with a single piece of bird work. Birds were at a premium and hard to get pointed due to the passing of a cold front during the running. It rained one and three-tenths inches of much-needed moisture, winds gusting to 40 mph, and very tough conditions. Joe Worsham lost his Worsham's Super Sport dog during the running of the stake. He was found dead by using the Garmin tracking collar. We suspected hypothermia as the temperature had dropped to the low 40s, and he was soaked. "Dave" had made his mark on the field trial scene, winning numerous stakes, open and amateur, as well as Dog of the Year titles and the Midwest Classic the day before.
The Open Shooting Dog Stake featured some good performances with solid races. Fourteen dogs toed the starting line for this stake. Dr. Pat McInteer's Nemaha Magic Marker had a very good performance with three stylish finds on quail. His was a very good effort on the ground, always to the front and searching. Dr. Pat continued his winning ways by handling his pointer male, Nemaha Tap Water, to a well-deserved second place based on his outstanding hunting effort and a great piece of bird work. Third was Beeler's Black Jack (Scott Beeler). Jack had a strong effort and had a single find just before pick-up time. Also noteworthy was Jim Corpening's entry, Warjam's Big Mac Daddy; he scored three times on game and was doing a great job, only to be lost late in the stake. He reappeared just after the tracking collar came into play.
Special shout-out to Cameron Schultz and Chip Martin, who get the long-distance award for coming from Bryan, Tex., and Abilene, Tex., respectfully. Great to see some new faces. Even though they were not in the winners' circle this time, they said they looked forward to coming back. Mike Rost was a new face, as was Doug Watt. We look forward to seeing more of these guys through the years.
The Northeast Kansas Club appreciates the entry from those attending, especially the judges, who were attentive in their official roles.
Onaga, Kan., March 15
Judges: Hunter Livingston and Mark Livingston
MIDWEST AMATEUR ALL-AGE CLASSIC [One-Hour Heats] - 4 Pointers and 1 Setter
1st--WORSHAM'S SUPER SPORT, 1680553, pointer male, by Touch's Knight Rider-Touch's Maswood Anne. Joe Worsham, owner and handler.
2d--BOCOMO CHERRY, 1677071, pointer female, by Westfall's Black Cloud-Bocomo Hot Dotty. Jay S. Lewis, owner and handler.
NORTHEAST KANSAS AMATEUR ALL-AGE CLASSIC [One-Hour Heats] - 7 Pointers and 1 Setter
1st--BOCOMO DUTCHMAN, 1691795, pointer male, by Westfall's Black Cloud-Bocomo Miss Molly. Jay S. Lewis, owner and handler.
2d--WORSHAM'S SPITFIRE, 1701266, pointer male, by Touch's Grey Street-Erin's Miss Daisy. Joe Worsham, owner and handler.
3d--INTENSIVE SPINAL TAP, 1697202, pointer male, by Broken Halo-Rocky River Snow Bird. Steve Auxier, owner and handler.
NORTHEAST KANSAS OPEN SHOOTING DOG] One-Hour Heats] - 17 Pointers and 3 Setters
1st--NEMAHA MAGIC MAKER, 1687208, pointer male, by Nemaha Night Hawk-C E K's Meaculpa. Dr. Pat McInteer, owner and handler.
2d--NEMAHA TAP WATER, 1696256, pointer male, by Coldwater Spectre-Coldwater June. Dr. Pat McInteer, owner and handler.
3d--BEELER'S BLACK JACK, 1679751, pointer male, by Wilson's Hammerin Hank-Wilson's Josephine. Scott Beeler, owner and handler.
Judges: Eddie Berendzen and Laney Berendzen
OPEN DERBY - 6 Pointers
1st--NEMAHA TOUCH A GREY, 1700806, male, by Touch's Grey Street-Touch's Wimbledon. Dr. Pat McInteer, owner and handler.
2d--NEMAHA LIMA BEAN, 1700804, male, by Touch's Grey Street-Jackson's Teardrop. Dr. Pat McInteer, owner and handler.
3d--WAUBEEK SIN AGAIN, 1698168, pointer male, by Waubeek Riff Raff-Brown's Moonrise. Mark Livingston, owner and handler.