Result: Old Hickory Field Trial Club
Location: Lavergne, Tennessee
Post Date: Feb 4, 2022
Submitted By: Jeff Blackwell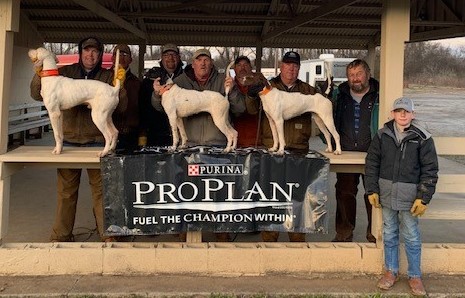 Amateur Derby Winners (L to R): Bonner's Camelot, Dereck Layne, owner-handled Derek Bonner, Judge Kris Clayton, Walden's Ridge Rain Storm, Jimmy Gentry, Judge Chad Adams, Walden's Ridge Slap Shot, owner-handler David Steele, Ronnie Rogers, and Mason Layne.
LAVERGNE, TENN. -- With temperatures in the 20s, partly cloudy skies and strong winds out of the north, the Old Hickory FTC kicked off the Amateur Derby on Friday, January 21, at 1p.m. at the Percy Priest WMA in LaVergne, Tenn. Club members agreed, as cold as it was, this was not the coldest running; one running saw temperatures around 10 !
Nine Derbies were entered and started with Bonner's Camelot, owned and handled by Derek Bonner, earning first place honors. This stylish pointer male had a great limb find past the powerline turn at the 15-minute mark in the first brace. Camelot had a strong, forward race and finished well in front in the banana fields at time. His bracemate, pointer female Walden's Ridge Slap Shot, owned and handled by David Steele, had finds at 8 in the fencerow at the carp ponds and again at 12 inside the hedges before the powerline turn. Point was called for Slap Shot after time but handler took his dog up with no flushing attempt. Steele and Slap Shot earned third place honors.
Judges Kris Clayton, Mooresboro, N.C., native and Chad Adams from Goldsboro, N.C., awarded David Steele's other pointer female Walden's Ridge Rain Storm the second place prize after a divided find at the end of the big bean field and a strong ground race, finishing well to the front coming off "The Knob".
LaVergne, Tenn., January 21
Judges: Chad Adams and Kris Clayton
AMATEUR DERBY -- 9 Pointers

1st--BONNER'S CAMELOT, 1697193, male, by Bonner's Excalibur--Peek's Line Dancer. Derek Bonner, owner and handler.
2d-WALDEN'S RIDGE RAIN STORM, 1692370, female, by High Drive Rocky--Walden's Ridge Chatter Box. David L. Steele, owner and handler.
3d-WALDEN'S RIDGE SLAP SHOT, 1692371, female, by High Drive Rocky--Walden's Ridge Chatter Box. David L. Steele, owner and handler.
VIRGIL BEASLEY, SR. MEMORIAL AMATEUR SHOOTING DOG CLASSIC

Saturday morning brought clear sunny skies but temperatures around the 17 mark. Ice, cold, and frozen equipment delayed the 7:30 a.m. start of the Virgil Beasley Sr. Memorial Amateur Shooting Dog Classic for an hour. Eleven entries and six different handlers would compete for the 40 quart Orca Cooler and to be named Beasley Classic winner.
What seemed like a performance that would be very hard to beat, Ross Leonard guided Nickjack Pathfinder to four finds in brace No. 1. Bird contacts at 10, 16, 30 and 54 minutes had this pointer male flagged as the dog to beat.
Brace No. 3 found Pathfinder's kennelmate, pointer male Seekin A Thrill on point at the 10-minute mark in the banana fields. After a relocation, bird flushed for good find. At 15 minutes, Leonard called point again at the end of the hedge just before the zig-zag into the S-curve fields. All was in order for find No. 2. Eight minutes later birds were flushed for Thrill in the S-curve fields and a great performance was taking shape. Across the dam and through the woods, Thrill was found standing again just before the Knob field for his fourth find. At the 40-minute mark Leonard's hat was in the air for the fifth time as Thrill found game in the Carp Pond fencerow. At time, Thrill was found by handler well in front having already made the first road crossing. Would this strong showing be enough to nudge out his kennelmate?
After a scratch in the 4th brace, the bye dog Thor for President and handler Ronnie Roger moved up from the 6th brace to be paired with Gentry's Gus and hander Jimmy Gentry. A ten-find exciting brace would produce for the judges one of the three placement when the winners were announced. Thor for President, a setter male with plenty of style, finished the hour with six finds.
As handlers, club members and judges gathered at the end of the day, the winners were announced as follows: Third place -- Thor for President and Ronnie Rogers; Second place -- Nackajack Pathfinder and Ross Leonard, and winner of the 2022 Virgil Beasley Classic -- Seekin A Thrill and Ross Leonard.
The Old Hickory Club would like to thank all owners and handlers, Greg Blair and Purina for our add and dog food certificates, TN Farmers Co-op for sponsoring our lunch and the Orca Cooler.
Foremost we thank the Lord for fun, great fellowship and keeping everyone safe!
VIRGIL BEASLEY, SR. MEMORIAL AMATEUR SHOOTING DOG
CLASSIC [One-Hour Heats] -- 9 Pointers and 2 Setters
1st--SEEKIN A THRILL, 1661543, pointer male, by Just Irresistible--Snow Thrill. Ross Leonard, owner and handler.
2d--NICKAJACK PATHFINDER, 1680947, pointer male, by Touch's Smooth Rider--Cocklebur Stripper Candie. Ross Leonard, owner and handler.
3d--THOR FOR PRESIDENT, 1663680, setter male, by Agent J--Forstar Dirty Dancer. Daphne Rogers, owner; Ronnie Rogers, handler.