Event: Can/Am Open Shooting Dog Classic
Result: Setter Springs Field Trial Club
Location: Payette, Idaho
Post Date: Jun 5, 2023
Submitted By: Bill Owen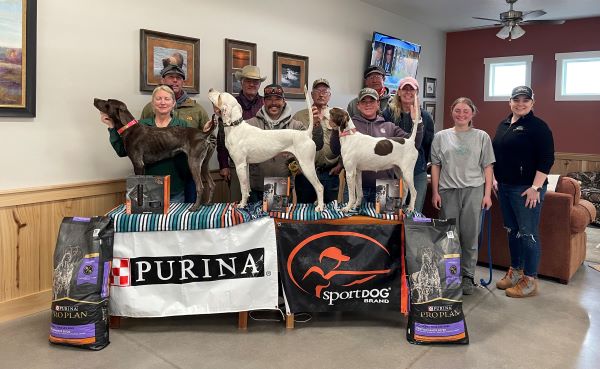 Cam/Am Open Shooting Dog. Front row: Tami Larrondo with Canyon Creek High Tide; Sergio Velez with B K Bonafide Stallion; Bridgette Ledington with Elhew Charming Primrose. Back row: Ray Larrondo; Bill Owen; Jim Ledington, judge; Talmage Smedley, judge; Mel Lueck; Emily Deasy; Courtney Bastian, Purina's rep.
The Can/Am Open Shooting Dog Classic was held starting April 3rd at Prairie Wind Ranch for the third time. With a return to Canada looking very unlikely Prairie Wind looks like our home for as long as they are willing to allow us to hold the trial there. Everyone involved is very grateful to Keith and Bobby Richardson for making Prairie Wind available to us, and so many other clubs, The Clubhouse and associated facilities are as good, if not better, than any I have seen in the country. During the trials, in addition to finds on released chukar, there were finds on wild Huns, Pheasants, and quail.
The Can/Am is also very grateful for the continuing support of our sponsors, Purina and SportDOG. Their support helps us ensure that it is a high-quality trial worthy of being both a qualifying trial for the National Shooting Dog Championship and a Purina Points trial.
Many people contributed to making the Can/Am successful. A big "thank you" goes out to our judges: Jim Ledington and Talmage Smedley who endured very difficult weather and riding conditions while giving every dog their full attention. Mike Wilkin and his lovely wife, Gail, took on the dog truck responsibilities and did a great job of getting to where they needed to be, when they needed to be there. Kristina Wall (Alex Mauck's better half) and Terry Reinke (aka "Field Trial Mom") did an outstanding job of making sure that everyone was well fed - three times a day. Breakfast burritos and coffee were on the dog truck at the end of the first brace of the day - every morning. Lunches and dinners were delicious multicourse meals - with a hot soup or stew every meal. This was very well received as it was unusually cold, wet, and windy for most of the trial. The great food and a very comfortable clubhouse created a warm social atmosphere that counterbalanced the very difficult weather and riding conditions.
The conditions for the trial were very difficult. Cold weather, rain - snow, wind, mud, rocks, and step hills combined to make it hard to get around and uncomfortable while doing it. Our reporter was diverted to driving the dog truck, so the write up is very limited. First place was awarded to Canyon Creek High Tide, a German Shorthair owned by Ray and Tami Larrondo and handled by Ray. Second went to B K Bonafide Stallion, male pointer, owned and handled by Sergio Velez and third went to Elhew Charming Primrose, female pointer, owned and handled by Mel Lueck.
Thanks to all owners and handlers for participating in the 2023 Can/Am.
Payette, Ida., April 3
Judges: Jim Ledington and Talmage Smedley
CAN/AM OPEN SHOOTING DOG CLASSIC [One-Hour Heats] - 8 Pointers, 9 Setters and 1 German Shorthair
1st-CANYON CREEK HIGH TIDE, 1672987, German Shorthair female, by H K's Prime Cut-Uodibar's Waiting For Daylight. Ray & Tami Larrondo, owners; Ray Larrondo, handler.
2d-B K BONAFIDE STALLION, 1692825, pointer mael, by Fastforward's B K Gunner-Wiggins Miss Stella. Sergio Velez, owner and handler.
3d-ELHEW CHARMING PRIMROSE, 1681091, pointer female, by Elhew Snakecharm-Xenia Elhew Sinbad Jesse. Mel Lueck, owner and handler.