Result: Gulf Coast Open Shooting Dog Championship
Location: Union Springs, Alabama
Post Date: Jun 6, 2023
There's a place in the South where the pineywoods and open spaces beckon like a siren song to a diverse group of misfits, called, field trailers. A place of history, constantly manicured, maintained and perfected by the "Boss", the "Chairman", "Mr. Tony." This may be the last report of this reporter as I may have officially run out of words to accurately describe Conecuh Station Plantation, this piece of heaven on Earth, and the generosity and dedication of Tony and Becky Gibson and their team. The best way to explain it may simply be, you have to see it to believe it, so come see it for yourself, and turn them loose. You'd certainly be welcome in this hallowed place where pros and ranks run together seamlessly. Billionaires and paupers, all the same.
So, why is a field trial called the "Gulf Coast" held in Union Springs, Ala. We are a gulf state, true enough, but the Gulf is a good three hours from Conecuh Station, the home of the "Gulf Coast" field trial. The trial was held at Blackwater from its inception until Hurricane Ivan had his way with the grounds. Mr. Fiveash was the long-time steward of the trial, and, after Ivan, Tony agreed to take the trial, for keeps.
The grounds crew, Anthony Martino, Bo Brewer and the Conecuh Station crew deserve special thanks, not only for what they did for this trial, but for the many trials held at Conecuh, this being the second this season. Faye Duncan, George Cole and Steve Hutto prepared breakfast, with Hutto assisting the club. Jinks Crow and Dickson sponsored the dog wagon, which was manned by Bill Clem. Our Fearless Leader, Robert Moorer guided the troops with Bo Brewer and Anthony Martino as Marshalls.
Starting November 28, the Gulf Coast drew a staggering seventy-seven dogs. Seventy-seven dogs, thirty-nine braces, seventy-three pointers, four setters, seventy-seven starters, one champion and a runner-up.
The line-up was a who's who of once and future Champions, with notable performances, to name a very few, by Tracy Swearingen and Erin's Three Leaf Shamrock, Steve Hurdle and CS Code Blue, Jamie Daniels and Dominator's Rebel Queen, and Tommy Rice with Charitable Deed and Panther Creek Rosie. Of all of the high caliber performances, it was Reedy Creek Dial Tone ("Cody") handled by Mike Tracy and owned by Joe McHugh who shone the brightest for judges Will Dunn and Sean Hauser with Bully Rock "Rocco" owned by Karen and Ernie Saniga and Bill and Muriel Primm (Tracy) a close runner-up.
Rocco, who holds multiple championship titles understood his assignment in brace twenty-six. Shooting out of the gate at the Pickett's Road Dove Field, Rocco stood solid at 19 at the North side of the Lake, at 37 beside the Equipment Shed and again at 44 with a strong finish at Pickett's Bottom.
Cody, a consistent winner, with multiple championships and runner up titles, again proved his salt in the penultimate brace of the trial (38). Cody and Town Creek Hardaway Jill turned loose at the greenfield just before "One-Bird George" (Between Sawtooth Oak Flat and Beaver Pond Bottom). This potentially tricky spot was no match for Cody, who, following a picture-perfect find at 6, just before the Original Omer Gibson Property, called by the future Mrs. Tracy, ran a stellar dog race and a second find at 45, only to lay it down again toward the Air Strip with a game winning final cast when time was called. Owner Joe McHugh was in attendance and proudly roaded in his Champion.
Union Springs, Ala., November 28
Judges: Will Dunn and Sean Hauser
GULF COAST OPEN SHOOTING DOG CHAMPIONSHIP [One-Hour Heats] - 73 Pointers and 4 Setters
Winner-READY CREEK DIAL TONE, 1673570, pointer male, by Miller's Dialing In-White Diamond Sally. Joe McHugh, owner; Mike Tracy, handler.
Runner-Up-BULLY ROCK, 1674970, pointer male, by Billy Brag-Bullerina. William & Muriel Primm & Karen & Erwin Saniga, owners; Mike Tracy, handler.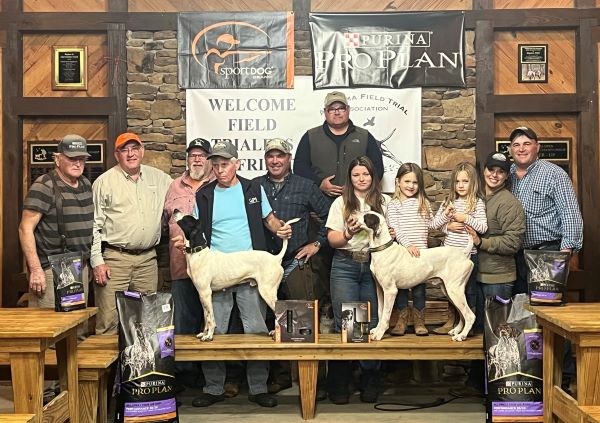 Gulf Coast Open Shooting Dog Championship. Back row, from left: George Tracy, Lawton Huggins, Sean Hauser, Will Dunn, Joe McHugh with Reedy Creek Dial Tone, Robert Moorer, Janet Hinkle, Hadley Mae Hollander, Briar Rose Hollander with Bully Rock, Casey Foster, Mike Tracy.