Result: Region 6 Amateur Shooting Dog Championship
Location: Blue Mountain, Mississippi
Post Date: Jan 28, 2022
Submitted By: Lisa Littell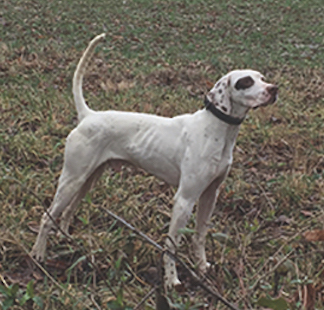 Lawless Speck, Winner of the Region 6 Amateur Shooting Dog Championship.
BLUE MOUNTAIN, MISS. -- The Region 6 AFTCA Amateur Shooting Dog Championship was hosted by the Hell Creek Field Trial Club on January 14-17 and held on the Hell Creek WMA located just outside of Blue Mountain, Miss.
Judges for the Championship were Alan Atkins of Phenix City, Ala., and Brad Kennedy of Red Bay, Ala. Lavon King was originally slated to judge the trial but could not attend due to a work situation. Brad graciously filled the slot. We are extremely thankful for the willingness of these two gentlemen to fill the seat of the judicial saddle, they gave each competitor their undivided attention.
The Championship drew a field of 34 entries and began on a beautiful sunny Friday morning. Weather drastically changed Saturday afternoon to rain with falling temperatures. Heavy rainfall during the night switched to snow and ice by early Sunday morning and caused the running to be postponed to Monday. These drastic changes in weather also prevented five dogs from competing as the handlers did wish to risk driving.
The judges had a tough field of competitors to choose from and bird work occurred throughout all three days of the running.
The championship title was awarded to Lawless Speck and his owner-handler Jim Lawless of Sparta, Ill. Speck is a four-year-old white and liver pointer male. Speck's sire is Touch's Smooth Rider, his dam, Three Stripe's Fireball.
Speck ran in the 10th brace, which was the first afternoon course on Saturday. Speck impressed the judges with his two solid finds and backing of his bracemate. Judges also noted that Speck was always found to the front in his ground race and required little to no scouting. The judges also reported that Jim Lawless did a great job of handling Speck.
Runner-up was awarded to Dragonfly and his owner-handler Jim Hughes of Bessemer, Ala. Dragonfly is a six-year-old white and liver pointer. Dragonfly's sire is The Crowd Pleaser; dam is Miller's Calamity Jane Lady.
Dragonfly caught the judges' eye with his forward moving ground race and clean find during the second brace of the Championship. Dragonfly was well under the handler's guidance throughout his brace.
Congratulations to both handlers and dogs on such impressive braces and your placements!
On Friday evening, attendees were served a delicious pork loin dinner prepared by Tessa Hughes, with mouthwatering desserts that included strawberry cake, coconut cake, and chocolate-pecan pies. Tessa also provided chicken tettrazini for lunch on Friday. Saturday lunch was a body-warming vegetable soup and sandwiches prepared by Jeremy Taylor.
Saturday evening Brian Peterson, Lance Servais and their lovely wives hosted a delicious Italian feast for the attendees. A hot breakfast was prepared each morning by Lisa Little. The meals in the clubhouse was a time of nourishment for both the body and soul as many stories were told and laughter abounded.
The officers of Region 6 would like to thank the handlers for their entries in the championship and your willingness to travel man hours to participate. We would also like to recognize the stake managers Brad Kennedy and Jeremy Taylor, marshalls Joe Hughes and Kent Walker, dog wagon drivers; cooks Tessa Hughes and Lisa Little, and volunteer scouts Lawry Strickland, Hunter Clark, and Scott Little.
Without the work of a team of volunteers this trial would not have happened. Your efforts are evident in every aspect of the Championship.
Blue Mountain, Miss., January 14
Judges: Alan Atkins and Brad Kennedy
REGION 6 AMATEUR SHOOTING DOG CHAMPIONSHIP
[One-Hour Heats] -- 26 Pointers and 3 Setters
Winner--LAWLESS SPECK, 1681205, pointer male, by Touch's Smooth Rider--Three Stripe's Fireball. Jim Lawless, owner and handler.
Runner-Up--DRAGONFLY, 1669453, pointer male, by The Crowd Pleaser--Miller's Calamity Jane Lady. Jim Hughes, owner and handler.