Result: Region 8 Amateur Shooting Dog Championship
Location: Inola, Oklahoma
Post Date: Jan 27, 2022
Submitted By: Dr. Robert Rankin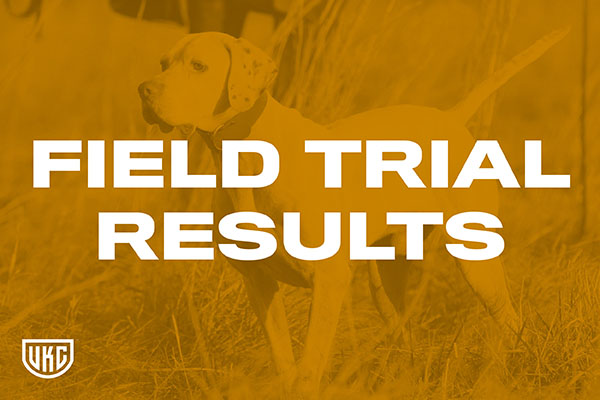 INOLA, OKLA. -- The Region 8 Amateur Shooting Dog Championship was held January 14-15 at the Ingersoll Ranch near Inola, Okla. A Field of thirty dogs vied for the title, with handlers from Wisconsin, Georgia, Nebraska, Iowa, Kansas, Texas and Oklahoma competing.
The weather was beautiful on Friday, but cold and snowy and Saturday and Sunday. Our judges were Tom Milam, Ross, Tex., and Richard Beaver Wichita Fall, Tex.
This year's winner was Iron and Wine, handled by Jon Humphrey of nearby, Claremore, Okla. She ran in the ninth brace in cold, windy, snowy conditions. She had four beautiful finds and a very nice, forward, shooting dog race.
Runner-up went to Ready's First Pitch, handled by Kevin White of Choctaw, Okla. He had two very nice finds and handled exactly how you would expect a fine shooting dog to handle! A total of 37 finds were carded during the trial. Overall it was a very competitive trial with lots of quality performances for the judges to sort through!
THE RUNNING
In the first brace, Cinder (Stapleton) ran well but couldn't come up with any birds. Nemaha Rio (McInteer) had a find at 9, but left point at 19 while his handler was attempting to flush.
Angus (Miller) and Bromance (Humphrey) followed. Both ran and hunted very well, but weren't able to produce any game.
In No. 3, River's Natural (Stapleton) had a find at 47 and a good forward race. Taz (Curtsinger) carded three finds in the final 30 minutes and was staunch and good looking on point. He had a great forward race and was a joy to watch.
Runner-up Ready's First Pitch (White) was braced with Stone (Stapleton) which had a find and a back but couldn't match his bracemate.
Barker's Adeline and Double Rebel Cowboy (Oxendine). Adeline had a find at 48, but struggled with her handle. Cowboy hunted all the right places but was unable to produce any birds.
In No. 6 were Smoke (Stapleton) and Sawney (Miller). Smoke thought he had entered an all-age stake and was picked up by his handler. Sawney worked the hard but was unable to locate any birds.
Griff's Express (Griffin) succumbed to the temptation to put the birds in the air. Topp's First Junior had a nice forward race and was credited with two finds.
Reed's Yellowstone (Reed) and Red Bull (Curtsinger). Red Bull had three well spaced finds and a nice forward race. Yellowstone was credited with a back.
No. 9 had the winner, Iron and Wine (Humphrey), and Fortius A Blazin (Anderson). Blazin was unable to keep pace with his bracemate and relieved by his handler.
Brace 10: Open Range Terminator (Barker) had a lot of energy and range, but was unable to locate any birds. Definitely a dog to keep an eye on in the future. Greypointe Kilomanjaro (Meyer) had a nice find at 10 but was unable to control his desire to chase after a nice find at 16.
In No.11, Nemaha Boot (McInteer) had three nice finds in the first 30 minutes, but then found greener pastures on his own and left his handler. Pete C (Miller) also had three finds at 2, 22, and 29. He also had a back at 30. Pete was a little inconsistent with his race
Reed's Touch of Class (Reed) had a find at 52 but was a little sideways. Topp's Ice Chip (Topp) had two nice finds at 48 and 58 and handled very well.
Griffin's Valiant Skipper (Griffin) was braced with One Day Queen Bee (Hodges). Skipper was still recovering from a recent sickness and was picked up early. Bee was quick and fun to watch before disappearing at the 30-minute mark.
One Day La Bandita (Hodges) had a nice back at 6, but was a little stronger on the ground than need be. Westfall's Tulsa Time (Humphrey) had finds at 6 and 23 with a good forward race.
No. 15, the final brace, had Nemaha's Magic Marker (McInteer) and One Day Lucky Strike (Hodges). Marker had a nice find at 42, but not the race that Dr. McInteer was looking for. Strike had finds at 3 and 11 for Lane Hodges and had a nice forward race.
Inola, Okla., January 14
Judges: Tom Milam and Richard Beaver
REGION 8 AMATEUR SHOOTING DOG CHAMPIONSHIP
[One-Hour Heats] -- 30 Entries
Winner--IRON AND WINE, 1681861, pointer female, by Westfall's True Grit--Hear Her Roar. Jon Humphrey, owner and handler.
Runner-Up--READY'S FIRST PITCH, 1673022, pointer male, by Truly Amazing--Gateway Dialing In. Kevin White, owner and handler.
OPEN DERBY -- 7 Entries
1st--REED'S SUPER SPIRIT, 1691963, pointer female, by Valiant--Reed's Winter Spirit. Jason Super, owner; Kevin White, handler.
2d--OPEN RANGE CHIGGER, 1696691, pointer female, by Open Range Terminator--Open Range Ice Breaker. Bob Barker, owner and handler.
3d--NEMAHA TAP WATER, 1696256, pointer male, by Coldwater Spectre--Coldwater June. Dr. Pat McInteer, owner and handler.