Result: Ohio Valley Circuit Trials
Location: Kevil, Kentucky
Post Date: Aug 11, 2018
Submitted By: Mary Sue Schalk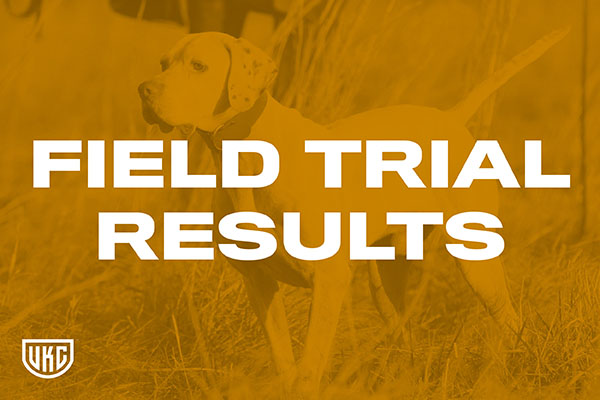 Amateur All-Age Winners. From front left: Matt Pendergest with Ascension, Pat Terrel with Pendy's Good Grace and Mary Sue Schalk with Crouse's Equalizer. Behind: Judge Michael Kennedy, Judge Buddy Morrison and Mike Crouse.
The Ohio Valley Field Trial Circuit wrapped up the 2017-2018 season with their spring event on St. Patrick's Day, 2018. Michael Kennedy of Opelika, Ala., judged his first horseback field trial with veteran Buddy Morrison of McMinnville, Tenn. The event drew two stakes, an Amateur All-Age and an Amateur Derby.
Crouse's Dark Angel and Pendy's Good Grace, both pointer females, kicked off the day's competition in the first brace of the All-Age Stake, handled by Mike Crouse and Matt Pendergest, respectively. Both athletes covered the ground with intense purpose, hunting every stride. Grace earned second place with her front running performance. Mike Small handled Small's White Stryker, braced with Mike Crouse and Crouse's Equalizer. Both pointer males
have been formidable contenders in the horseback field trial circuit. Equalizer proved to have the better day, running strong into the third place spot.
Wrapping up the morning events, Matt Pendergest turned loose Ascension with Alan Benson and Justin Time. Ascension handled well for Pendergest, hunting the edges with classic grace. He finished his hour going away with his tail high and his feet moving with purpose. Justin Time finished his hour.
The Derby Stake drew six pointer males. Don Wiggins handled Snake, braced with Mary Sue Schalk and Crouse's White Dragon. The youngsters burned up the course the first ten minutes. They set the bar high for the rest of the field. Crouse's White Dragon placed third with his solid ground race. Play the Red, owned and handled by Dennis Sneed, and Crouse's Iron Man, owned and handled by Alan Benson, were paired in the second brace. The flashy males looked good on the ground, with Iron Man having a strong ground race. Both finished their half hour.
The top two dogs came from the final brace with Logan's Cowboy and Bill Richards earning second. Crouse's Rebel Ripken ran a stellar ground race and handled beautifully for owner handler Mike Crouse. Ripken had a speedy race to the front, covering the country with an eagerness that had the audience sitting up in their saddles. Logan's Cowboy covered the ground well.
A great day at the field trial provided plenty of helping hands and smiling participants. The Ohio Valley Circuit and Coalfield Field Trial Club extend a warm thank you to those who made the
trip to participate and to help with the running of our field trial event.
Kevil, Ky., March 17
Judges: Michael Kennedy and Buddy Morrison
AMATEUR ALL-AGE [One-Hour Heats] -- 6 Pointers
1st--ASCENSION, 1664823, male, by Reloaded--Dialed In. Matt Pendergest, owner and handler.
2d--PENDY'S GOOD GRACE, 1664858, female, by Reloaded--Dialed In. Matt Pendergest, owner and handler.
3d--CROUSE'S EQUALIZER, 1660748, male, by Crouse's Ebony Masterpiece--Crouse's Gerry Wind. M. D. Crouse, owner and handler.
AMATEUR DERBY -- 6 Pointers
1st--CROUSE'S REBEL RIPKEN, 1673938, male, by Crouse's Ebony Masterpiece--Crouse's Gerri Wind. M. D. Crouse, owner and handler.
2d--LOGAN'S COWBOY, 1669733, male, by Wiggins Elhew River--Wiggins Elhew C.
William Richards, owner and handler.
3d--CROUSE'S WHITE DRAGON, 1673939, male, by Crouse's Zippidy Do--Crouse's
Funseeker Dragon. M. D. Crouse, owner; Mary Sue Schalk, handler.