National Championship 2022
126th Year
March 1, 2022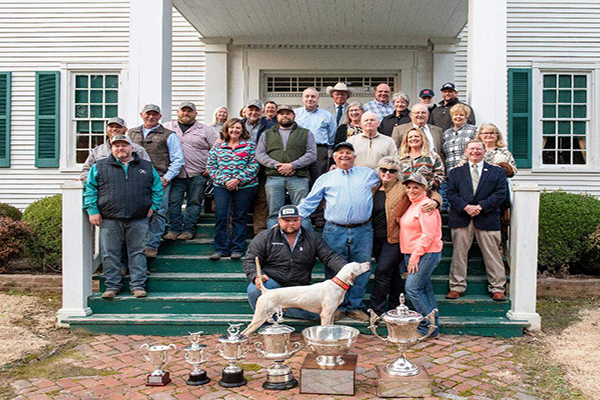 The Winners' Circle. In foreground Korry Reinhart poses the 2022 National Champion Lester's Shockwave.
Sometimes the last is the best. That was the case when Lester's Shockwave ran as a bye dog in the last brace of the 2022 National. Birds had been scarce and it was a do or die scenario for handler Gary Lester and Shockwave. Shockwave made it known early in the heat that he meant business when he recorded his first find at 23 in the Mounting Block field. He went on to record four more flawless finds and a stop to flush on a relocation. He was subservient to Lester the entire three-hours and he hunted the likely places, going on his own to investigate. His speed remained constant during his bid. He stood stately on each of his finds and no exception was taken to his manners at any time. His last find was at 2:50 in Morgan Swamp. He finished in the morning Breakaway field still running strong.
Complete article, submitted by William Smith available in the Results section: Read Now
An official entity of United Kennel Club (UKC), the American Field legacy, mission, and Field Dog Stud Book certified pedigree database is carefully managed by UKC for the continued betterment of field trial dogs. UKC is committed to the American Field community, and all hunters, breeders, clubs, associations, and participants.
Back to American Field News >