Available Now - UKC Field Newsletter - In Print!
March 24, 2022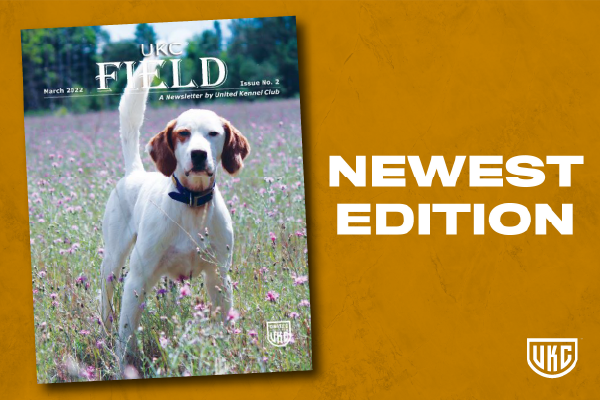 Available through the UKC online store platform, you can sign up for the monthly newsletter, which is to be offered in print and digitally. Get a 1-year subscription of 12 printed newsletters for $29.95.
In the all-new monthly newsletter, you can expect the upcoming event ads, post-event recaps and results you enjoy most. The newsletter will also be a place to scout out up and coming stud dogs, view kennel ads, and read articles of interest. A monthly section, written by UKC's Field Trial Program Manager, Domenick Muoio, has all the important news and updates core to your involvement with American Field trials.
If you prefer to view the newsletter online, it will be available as a PDF (February & March currently available). The online version offers select sections and will be complementary, courtesy of UKC. To hold the newsletter in your hands each month, subscribe today and have it delivered to your door!
Keep up with what's happening in the field trial sport. Take the printed copy to the next American Field event you attend to share it with friends. Event information becomes so simple to access - just grab the newsletter and flip to the page you need. For clubs holding events, the newsletter provides the ideal outlet for your paid advertisements. Event ad listings on the website will remain available as well - via an updated event calendar tool.
You spoke, we listened. As promised, UKC has developed a printed news option in quick order for the valued American Field customer base. Additional plans for even more print opportunities remain on the horizon. This newsletter has everything you've been missing! We deeply cherish the longtime customers who prefer to receive official information in writing. Printed mailings provide crucial news to those who want it, delivered directly to the subscriber, instead of requiring the subscriber to track it down. Sit back and wait for it to arrive. We've got you covered. This newsletter will be an optional monthly service that covers all the need-to-know news in the sport.
How to subscribe?
If you were a paid user on the former American Field website, as a service to you, UKC is in the process of integrating all up-to-date paid website users into the printed newsletter mailing list. If you are a paid website user as of today's date, you are automatically enrolled in the print version until your prior online payment term expires! No action is needed.
To subscribe after today's date, simply purchase your one-year newsletter subscription in the UKC store.
FAQ LIST
Is this the American Field Magazine? This is a newsletter dedicated to UKC/American Field events, reports, results, and news. The all-new printed newsletter is a monthly service on common paper stock. It is an optional subscription. This reimagined offering has all the core news you need and want, and it is not an exact replica of any prior magazines. It is a trusted resource for readers and advertisers alike.
Can I advertise in the newsletters? Event ads will be placed on the website and in the newsletter upon submission by the appropriate deadline. If your event ad is submitted after the publication the deadline, it will be featured online only. Stud dog and kennel ads are welcome. Ad space varies by month. Contact us today for availability.
What is the print advertising deadline? As a monthly newsletter, prompt submission is a must. For event ads to be included, they must be received by the first of the month prior to the month of submission. For example, to run an advertisement in the April issue, the ad must be submitted for inclusion no later than March 1. These deadlines are the same for products, stud dog and kennel ads. Contact us for more information and pricing.
What is the online-only advertising deadline? For minimum advertising requirements to be met, clubs must continue to submit their event ads at least two weeks prior to the event dates. Those ads submitted well in advance and at least one full month prior will receive automatic inclusion in the printed newsletter as well. Submit early and get more bang for your advertising buck!
What is the subscription price? It is $29.95 for 12 copies delivered to your door. Foreign pricing available.
What if I paid online for premium access? Do I have to pay again? As a service to you, UKC is in the process of integrating all paid website users into the printed newsletter mailing list. If you are a paid website user as of today's date, you are automatically enrolled in the print version until your online account expiration date! No action is needed. You will be notified when it is time to renew.
An official entity of United Kennel Club (UKC), the American Field legacy, mission, and Field Dog Stud Book certified pedigree database is carefully managed by UKC for the continued betterment of field trial dogs. UKC is committed to the American Field community, and all hunters, breeders, clubs, associations, and participants.
Back to American Field News >